With the increasing popularity of entrepreneurship in the country one show that has gained a ton of attention in India is the SonyLIVs Shark Tank India. Just a few weeks ago two entrepreneurs stepped into the stage of Shark Tank where they pitched their last-mile delivery electric three-wheeler that went by the name of OTUA. The owners of the electric mobility startup Dandera Ventures asked for Rs 1 crore in exchange for 1 percent equity in their company. Similarly, this time the producer of the country's most affordable electric four-wheeler PMV with his founder Kalpit Patel made its debut on the show in an attempt to acquire some funding for his ambitious automobile.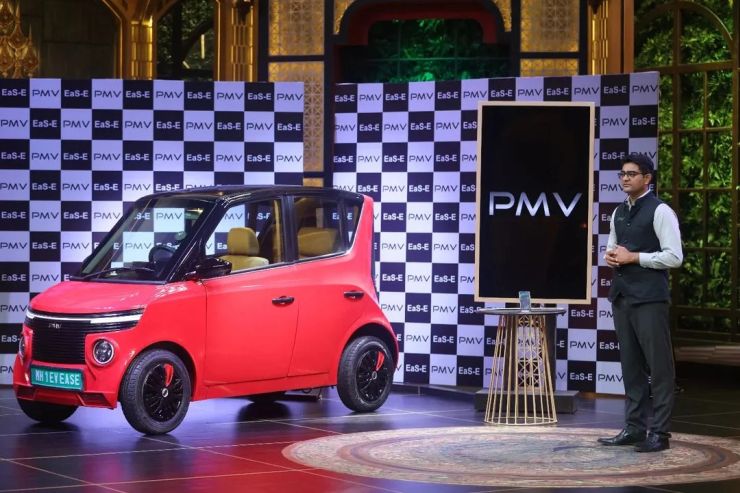 Kalpit Patel, founder and CEO, PMV Electric, requested an investment of Rs 1 crore for 1 percent equity. The sharks were impressed by Kalpit's passion and innovation but noted the early stage of the business and somehow they were skeptical of the decision on the company's success.
Anupam Mittal, one of the sharks, indicated interest in investing in Kalpit as a person rather than simply the automobile. Anupam is the founder of well-known companies such as Shaadi.com, People Group, Makaan.com, and Mauj. He made an offer of Rs. 60 lakhs for Rs. 40 lakhs in debt and Rs. 4 percent equity. Kalpit, on the other hand, responded with a proposal of Rs 1 crore for 2% equity. Following which Anupam revised his offer to Rs 1 crore for 6.67 percent ownership without the loan component after hearing Kalpit's justification. Sadly, Kalpit turned down this offer, but not before captivating the sharks with his inspiring tale and tenacity.
Also read: 10 DC Design cars & how they look in the REAL world: Maruti Swift to Mahindra XUV500
The most affordable electric four-wheeler in the country, the Eas-E, was introduced by PMV earlier in November of last year. The PMV Eas-E electric microcar, which is categorized as a quadricycle, costs Rs. 4.79 lakh for the base trim. In addition to the Eas-E's standard trim, PMV Electric has also launched two further variations, each costing Rs. 6.79 lakh and Rs. 7.79 lakh.
While the base trim has an ARAI-certified range of 120 kilometres, the more expensive trims have larger battery packs and have ranges of 160 and 200 kilometres per charge. The electric motor that powers the PMV Eas-E produces 13 Bhp of peak power and 50 Nm of peak torque from idle. The Eas-E has a peak speed of 70 Kph and can be charged from any 15 amp plug. All three variations have a charge time of 3-4 hours.
The PMV Eas-E has a car-like monocoque body rather than a tube chassis, as is typical of quadricycles, and can accommodate two persons, one behind the other. Additionally, a steering-mounted airbag is provided for the driver. Other features of the Eas-E are comparable to those seen in modern vehicles. Key features of the Eas-E include air conditioning, a digital instrument panel, a touchscreen infotainment system, remote park assist, a remote horn, follow-me-home lights, regenerative braking, cruise control, and electric wing mirrors.
The EV also has the ability to receive OTA (over the air) updates and a highly special function called Feet Free mode that allows it to be driven in traffic using only the thumb controls positioned on the steering wheel. In India, no automobile has this function. The Eas-remote E's park mode, which allows the EV to be parked using a smartphone app called Eas-E connect, is another intriguing feature.
Also read: Upcoming 2022 Maruti Suzuki Vitara Brezza rendered