The younger generation in our country has become obsessed with getting likes, views, shares, and subscribers. As a result, we are seeing more and more young people performing dangerous stunts on public roads, endangering their own safety as well as that of others, all in the pursuit of fame. Recently, a video of a female biker influencer performing wheelies and other stunts on her sports bike in Patna, Bihar went viral on social media.
Hello @bihar_police, is it legal to do this type of stunt on the road? pic.twitter.com/PnhbSObU71

— Abhishek (@AbhishekSay) March 27, 2023
A journalist tweeted the video, asking the Bihar Police if the stunt was legal. The tweet quickly went viral, with many people sharing their thoughts on the matter. Later, it was revealed that the girl in the video is Lovely Sahini, a biker influencer who regularly posts videos of herself recklessly driving her bike on the streets of Patna, often with friends.
Also read: Modified Royal Enfield Thunderbird 500 motorcycle from Eimor Customs look beautiful
In this most recent video of hers that went viral, Sahini and another girl who appears to be her friend was seen riding on a Yamaha R15 sports bike. In the video, she overtakes a motorcycle from the left, and after going to the right she slows down and revs the bike a few times before popping a wheelie. The girl then aggressively turns right and zooms away. We can note that neither the girl driving the bike nor the girl sitting behind her was wearing a helmet which just adds to the risk of life even more.
As mentioned this not the first that this biker influencer has shared a video like this. She has also shared multiple other videos where has been seen doing other stunts. In one stunt she sat on the back seat of her bike after leaving the handle entirely.
Just a few days ago another female tourist in Goa was also seen performing stunts on the famous Parra road in Goa. Recently, foreigners on motorcycles were caught doing stunts on the same road. The picture by Herald Goa showed a cameraman on a bike following the foreigner on her bike and shooting a video.
Why is performing stunts on public roads wrong?
In general performing stunts is not a very safe activity, especially when it is being done on public roads. Performing stunts on roads where there are multiple people and automobiles the risk of getting into an accident increases a whole lot and if the accident gets severe then there can be a loss of life as well. The risk is for both, the person performing the stunts and the people around him or her. Another important reason is that doing stunts on roads is also illegal, so if someone gets caught they can also end up in jail as well.
When is it acceptable to perform stunts?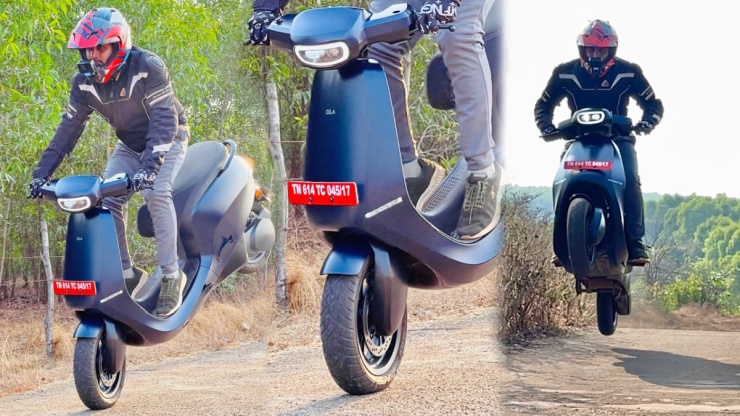 We have got it cleared that performing stunts on public roads without safety gear is illegal and dangerous. However there are certain instances when it is not wrong. If stunts are performed on a closed private road with ample of safety gear and professionals along with proper medical assistance on the go then it is not wrong.
Also read: BSA Motorcycles unveil Gold Star 650: Will Rival Royal Enfield 650 Twins