Many youngsters have taken up content creation as a mainstream job. In order to establish themselves as social media influencers, they often try to create content like videos that can go viral on the internet. One such video made by an Instagram influencer girl has landed her in trouble. People often come up with different ideas to capture attention of the viewers on social media and the influencer also did something like that. She stopped her car on a busy elevated highway in Uttar Pradesh's Ghaziabad district to pose for a reel video.
थाना साहिबाबाद क्षेत्रान्तर्गत एलिवेटिड रोड पर युवती द्वारा रील बनाते हुये सोशल मीडिया पर वायरल वीडियो के सम्बन्ध मे थाना साहिबाबाद पर अभियोग पंजीकृत किया गया है। अग्रिम विधिक कार्यवाही की जा रही है। ट्रैफिक पुलिस द्वारा उक्त कार का 17000 रु0 का चालान किया गया है-एसीपी साहिबाबाद pic.twitter.com/z0byqdvAt7

— POLICE COMMISSIONERATE GHAZIABAD (@ghaziabadpolice) January 22, 2023
The Instagram influencer has been identified as Vaishali Chaudhary Khutail and she was seen recording a video reel on an elevated highway in Ghaziabad's Sahibabad area. Vaishali posted her video on Instagram and soon became viral. The act by the influencer was criticised by many people on social media and Uttar Pradesh police also came across the same. UP police even released a video related to the incident and mentioned that action has been taken against the offender. Traffic police have issued a fine of Rs 17,000 on the Instagram influencer for creating inconvenience for the public on a busy highway.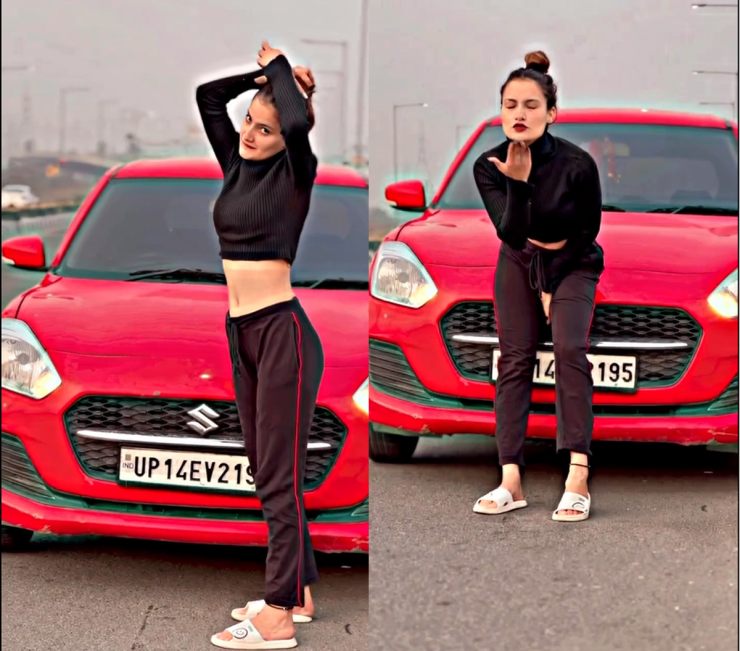 Also read: 10 DC Design cars & how they look in the REAL world: Maruti Swift to Mahindra XUV500
The video has gone viral and it was even featured in many of the mainstream media channels. After the incident, the influencer has come forward and wrote a post on her profile that said she will be coming live on Monday to clarify things to her followers. Vaishali has over 653k followers on Instagram. She even mentions in her story that she has been getting several messages related to the incident and that is the reason why she wants to come forward and clarify things.
View this post on Instagram
This is not the first time, we have come across an incident like this. There have been reports where people have been spotted doing stunts on public roads for the sake of publicity and reach on social media. Doing any sort of stunt on a public road is illegal and it can even land you in jail. In this case, the influencer had stopped the car on a busy elevated highway and danced in front of it. People normally drive cars fast on such highways and from the video, it is quite clear that there was no spot on the road to actually park the car.
She stopped the car in the extreme left lane. It is quite dangerous as it could have easily lead to an accident. The video does show a curve on the highway behind the car. The vehicle coming from behind can lose control or even crash into the Maruti Swift which was used to record video by the influencer. In order to avoid such incidents, it is always recommended to take prior permission from the concerned authorities or else look for a closed road to avoid any incidents. Thankfully no such incidents happened in this case however, it did create inconvenience to other road users and that is probably the reason why cops took action against her.
Also read: Upcoming 2022 Maruti Suzuki Vitara Brezza rendered