Bollywood actress Janhvi Kapoor recently had the privilege of test-driving the highly anticipated MG Comet electric car, courtesy of MG Motor India. In an exclusive promotional video posted on Instagram and Youtube by MG India, Janhvi Kapoor expressed her excitement about being chosen to experience the MG Comet firsthand.
The MG Comet EV's booking started in May 2023, and sales figures for the month of May and June are not out yet. The car is designed as a city runabout, with adequate style and convenience for commuting.
Also read: 10 DC Design cars & how they look in the REAL world: Maruti Swift to Mahindra XUV500
As the video begins, Janhvi Kapoor can be seen stepping into the frame, declaring "Happy you guys picked me to drive the MG Comet. I am so excited." Then she steps into the MG COmet.
Once inside the vehicle, Kapoor's initial reaction is one of sheer delight. "I am in love," she declares, a little too fast we think! She looks clearly impressed by the car's stunning design and futuristic features. The actress goes on to describe the MG Comet as "versatile," alluding to its ability to cater to various lifestyle preferences and driving needs.
Janhvi Kapoor highlights the entertainment quotient of the MG Comet, referring to its seamless integration of Android Auto and Apple CarPlay. She enthusiastically showcases the floating twin display of the entertainment system, demonstrating its user-friendly interface and modern aesthetics.
The video further showcases the unique features that set the MG Comet apart. The video draws attention to the iPod-like buttons on the steering wheel, a distinctive selling point of the car.
During the short drive, as the vehicle gracefully maneuvers on the road, Kapoor can be seen enjoying every moment. Upon stepping out of the MG Comet, she confidently states, "No doubt, it's got everyone's attention on the road." Her words reflect the car's ability to captivate onlookers and turn heads wherever it goes. It turns heads for sure – the tiny two-door premium electric car is fresh on the eyes, and people are still quite unfamiliar with its looks.
As the video concludes, Kapoor concludes her experience by describing the MG Comet as a "total head turner."  She says that remote locking of the car means she can lock her co-stars inside the car as a prank, and says the car is no-nonsense, just like her.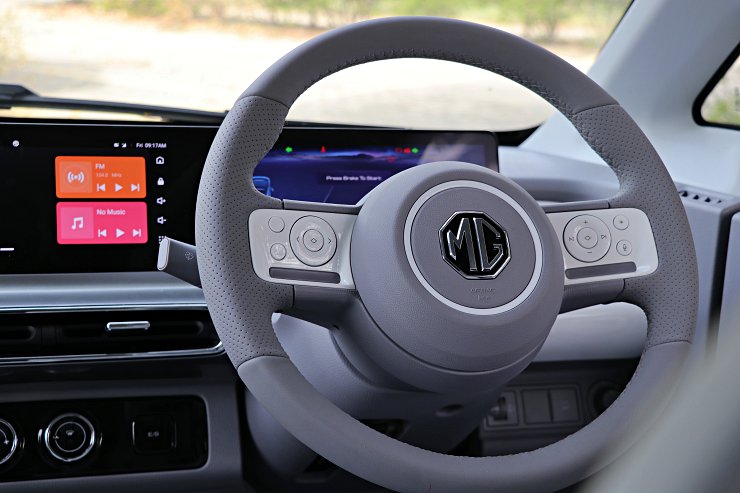 MG Motor India's collaboration is because of Janhvi Kapoor's actress's influence among the youth and it could help the company reaching a wide audience. By choosing Kapoor to drive the MG Comet and share her experience, MG Motor India aims to generate excitement and anticipation for their latest electric vehicle offering.
Janhvi Kapoor's upcoming movies in 2023 are Mar and Mrs Mahi, Bawaal, Bade Miyan Chote Miyan and Ulajh.
Also read: Upcoming 2022 Maruti Suzuki Vitara Brezza rendered