India is a growing market for car manufacturers. Most of the manufacturers currently present in the Indian market are from foreign countries. In late nineties Hindustan Motors, Maruti and other manufacturers where ruling Indian roads. It was at this time that a Kerala-based beedi manufacturer and ayurvedic healthcare service provider, Rajah group decided to enter the automobile sector. They developed an all-new product for Indian market but due to various reasons, the manufacturer could not actually sell the vehicle. The product was an MPV and it was called Kazwa.
Also read: Toyota Innova Crysta base variant modified to look & feel like a higher variant (Video)
In this video, the exterior and interior of the MPV is clearly shown. There are only 3 units of Kajah Kazwa left in the country. The vehicle was first manufactured by Rajah Group which was a tobacco-based company from Kerala. The company used to manufacture tobacco-based products and was also a player in the Ayurvedic healthcare segment. They wanted to expand their business by entering the Indian automobile business. In 1998, Kajah tried to enter the automobile segment by building 4-5 prototype vehicles. This was two years before Toyota entered India with Qualis. However, due to various factors, Kajah could not get approval from the government.
Kajah had sourced components for Kazwa from other vehicles which were present in the market. They did this as it was cheaper than manufacturing their own panel or parts. The exterior of the Kazwa MPV was built completely using fibreglass and sheet metal. You would be surprised to know that Kajah is still in the business of manufacturing fibreglass panels. Many manufacturers like Tata Marco Polo and Ashok Leyland source there panels from Kajah.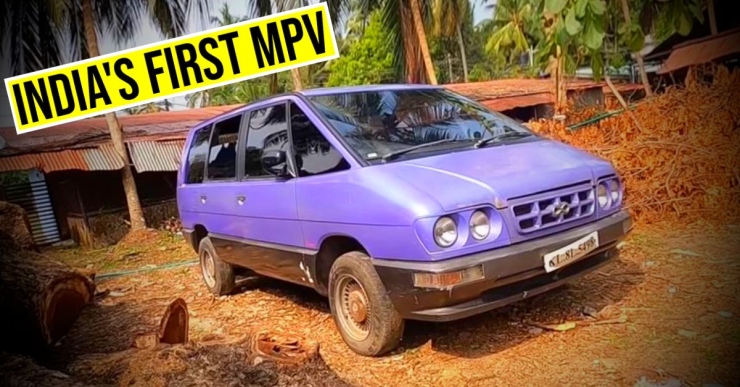 Coming back to the MPV, the front grille gets a logo which looks like an Infinity sign. For an MPV that was released in 1998, Kajah Kazwa looked quite futuristic. Even today, it does not look dated. The MPV was painted in a violet shade which is not very common colour on cars these days. Coming to the side profile, the MPV gets 13 inch wire-spoke wheels which they manufactured themselves. The MPV does not get any sliding doors and there is a cladding on the lower part of the car.
Kajah Kazwa came with features like AC, power steering, power windows and central locking. The MPV is extremely spacious on the inside and the lower window line is helping in making it look even airier. The seats were wider and the fabric seats offered ample support to the occupants. In terms of dimensions, Kajah Kazwa is wider than Toyota Innova. The engine, braking and suspension was supplied from Hindustan Motors. It was one of the vehicles that offered optional features to its customers. Even before sunroof became popular in Indian market. Kajah was offering it as an optional extra. Alloy wheels, powered ORVMs were also some of the other optional extras. Kajah Kazwa was offered with two engine options. There was a 2,0 litre turbocharged and 2.0 litre non turbo diesel engine on offer.
Also read: 10 DC Design cars & how they look in the REAL world: Maruti Swift to Mahindra XUV500