Electric cars are undoubtedly the future of mobility. In India, we have manufacturers like Tata who are leading the EV segment in the country. Other manufacturers like Hyundai Kia, Mercedes-Benz, BMW, and Mahindra are also present in the market. One thing that keeps many people away from electric cars is range anxiety. However, many of the brands listed above offer models with longer driving ranges. Many people are also concerned about the replacement cost of batteries in an EV. Here we have a video of a man from Kerala who owns not one, but 12 electric cars. He saves around Rs 6 lakh every month by using electric cars.
The video has been shared by Baiju N Nair on his YouTube channel. The man seen in the video is Suresh. He runs a number of labs under the name Hi-Tech. Suresh was one of the first owners of the Kia EV6 in Kerala. He was fascinated by the whole concept of EVs and wanted to be an early adopter. He has several labs in various parts of the city, and he uses the Kia EV6 as his personal car for commuting. Not only is he using an electric car, but he has also bought 11 EVs for his business. All of his labs have either a Tata Nexon EV or a Tigor EV for fieldwork. These cars are used by the employees or drivers to pick up samples from customers and for other work.
As a person who owns 12 electric cars, Suresh can be heard saying that it has only benefited him. He has been using electric cars for quite some time, and it is helping him save more compared to a regular ICE vehicle. He mentions that in comparison to a petrol or a diesel car, he is able to save around Rs 6 lakh every month. This was the amount that he would have otherwise spent on fuel for his cars. This is actually a significant achievement, especially for a person who has now completely switched to EVs.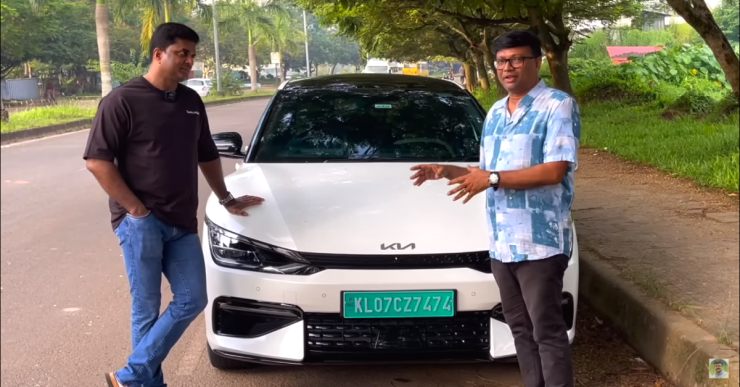 He mentioned that he has driven the EV6 for over 20,000 km and he is absolutely in love with the car. He has not been able to find any faults with the car yet. He uses the car every day, and on a full charge, the car returns around 450 km in the city. On highways, the range goes down slightly. He has done a road trip from Kochi to Munnar and back in a single charge. The owner mentions that you may have to pay a premium initially; however, you save that money within a few years, and after that, it starts to save you more. He also adds that his drivers who use Nexon EV and Tigor EV are also happy with the cars, and when compared to the EV6, the Tigor and Nexon EV require much more maintenance, and they have not faced any issues in terms of service yet. Kia EV6, Nexon EV, and Tigor EV are all value-for-money products, and Suresh encourages others to buy an EV as well.