Supercars and sports cars are becoming much more common on Indian roads. In most metro cities, you would find a decent population of sports cars and supercars. Whenever a common person spots a supercar on the road, they are hesitant to approach the car and take pictures or pose with it because you never know how the owner might feel about it. Many owners are concerned about getting scratches and dents on their cars, so they try to avoid people getting too close. Here, we have a video where a sports car owner stops and takes a picture of a common man who wanted a picture of the McLaren.
View this post on Instagram
The video has been shared by Aamir Sharma on his Instagram page. We are not sure if the car belongs to the person in the video or not. For now, we like to assume that it was his car only. The McLaren owner was probably recording a video or taking a picture of the same. Aamir Sharma is an award-winning interior designer based in Hyderabad. Aamir was recording a video of his sports car when he noticed a person behind the car trying to take a picture.
The person was not standing too close to the car for some reason. He was shying away from taking a picture with the car. Aamir then got out and walked up to the person. He was holding a bag in his hand. Aamir asked him to leave the bag and go stand with the car. Aamir also took the person's phone, and he took a picture on the person's phone. The person who got to pose with the car looked extremely happy and excited.
This was probably the first time he had seen a sports car this close. The video ends there. Aamir posted this video with a caption, "Sometimes people feel shy to get a picture with a supercar, I make sure they can get one." As mentioned above, not all supercar owners are like this. There are even people who let anyone near their cars because they are obsessed with them so much.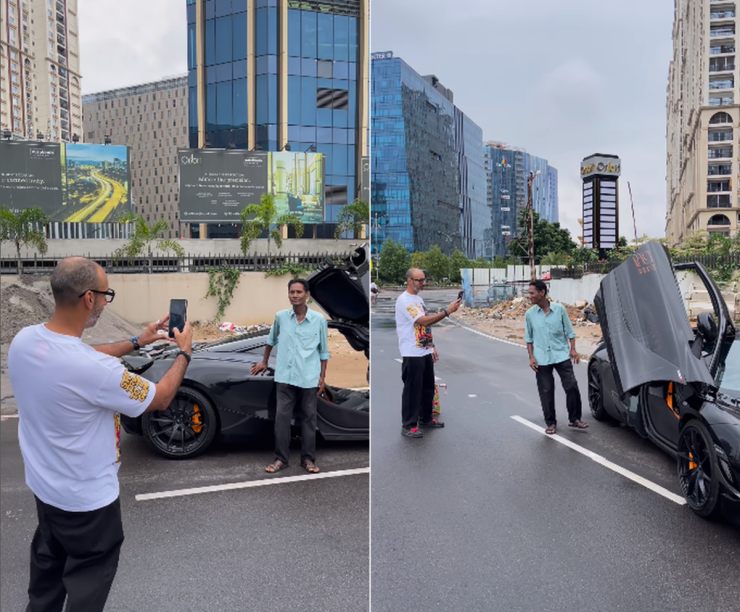 Also read: 10 DC Design cars & how they look in the REAL world: Maruti Swift to Mahindra XUV500
The McLaren 720S seen here in the video is actually a very special car. It was a popular model among many wealthy car enthusiasts in India. Production for the 720S was stopped last year. The McLaren 720S is a sports car powered by a 4.0-liter V8 twin-turbocharged petrol engine. The engine generates a maximum of 720 PS and 770 Nm of peak torque. The engine is mated to a 7-speed dual-clutch transmission. It is an extremely lightweight car as the manufacturer has used carbon fiber on many panels.
It can accelerate from 0-100 km/h in just 2.8 seconds. The top speed of the sports car is 341 km/h. The car has active aerodynamics, and the rear wing is active, changing the angle depending on the speed, turning angle, braking, and so on. McLaren officially entered the Indian market a few years ago, and the first dealership was inaugurated in Mumbai last year. The sports car manufacturer offers all their products in India. The price for the McLaren 720S starts from 4.65 crore and goes up to Rs 5.04 crore, ex-showroom.
Also read: Upcoming 2022 Maruti Suzuki Vitara Brezza rendered