Updated on 31st May, 2012
CNG and LPG cars are indeed very tempting, if you look at the potential cost savings. We bring you a guide to the alternative fuel cars in India
LPG and CNG powered cars are the need of the hour mainly because of ever-increasing petrol and diesel prices and vehicle pollution levels. Emissions coming out of an LPG fueled engine have 10% lesser CO2 content when compared with a petrol engine. Similarly, CNG and LPG-driven vehicles emit lead free, less harmful elements into the atmosphere.
Besides, the operational cost of cars driven by LPG and CNG is a mouth watering 30%-70% lesser compared to petrol or diesel. However, due to lack of infrastructure, except for Delhi and Mumbai, others have to adjust with the scarce availability of LPG and CNG and plan beforehand in case they wish to save money by buying LPG/CNG cars.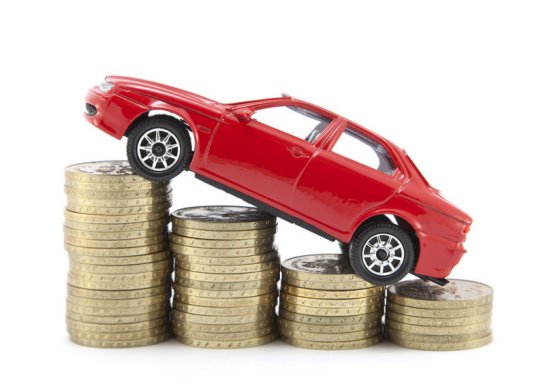 How much difference?
When compared to a petrol car, the cost of a similar LPG car is roughly Rs. 22,000 more and the cost of similar CNG car is roughly Rs. 55,000 more. However, you can recover the initial amount by running the car more in LPG/CNG than in petrol. Since CNG price is lower than LPG, the time of cost recovery is faster. In either case, it would take at least a year and a half to recover the initial cost.
LPG vs. CNG
We are very well aware about LPG's lower ignition temperature and heavier density. Hence, among the two alternate fuels, LPG kits must be double checked periodically so as to ensure no leakages. Now, since manufactures themselves provide us the LPG kits, we need not worry much. On the other hand, CNG is cleaner than petrol as it lacks lead compounds and is colorless, odorless, non-toxic and non-carcinogenic. Even in case of leakage in CNG cylinder, unless the leaked gas comes into contact with fire, there is a low possibility of accidents. It must also be noted that the usage of domestic LPG in cars is illegal and must be forbidden because it has a different composition as against Auto Gas and may damage the vehicle parts besides being unsafe.

Performance
Regarding the performance of LPG and CNG in cars, in both the cases, manufacturers themselves have given data regarding the power and torque of their LPG/CNG models which are lower by 1-10 bhp of power and 5-20 Nm of torque than the corresponding power and torque figures of petrol models. The driving experiences of LPG/CNG car owners confirm the fact that the alternate fuels do cause a dent in the vehicles pick-up and power delivery. Well, that is just a small compromise we have to make in order to save money spent on fuel bills.
Pros & Cons
While diesel is considered as the cheaper fuel that offers lower running costs than petrol, LPG, and especially CNG can drastically lower the running costs of your car. Since LPG and CNG are cleaner fuels, the life of lubricants increases, allowing us to save some more money. A well maintained LPG/CNG car gets a better resale value. However, care must be taken to clean the air filter frequently in case of LPG cars in order to ensure maximum fuel efficiency.
LPG and CNG are not as easily available in all gas stations and hence, we have to research the availability of LPG/CNG filling stations before purchasing the greener vehicles. In the worst case, since the cars come with petrol tanks, we can still manage to save fuel wisely by filling the LPG/CNG tanks wherever available. Regarding safety, a decade ago there were frequent fire accidents due to unapproved less safer LPG/CNG conversion kits. But now, as manufacturers themselves offer factory fitted kits with warranty, people can ensure that they are buying safe LPG/CNG cars.
If you can stretch your budget, and have enough of CNG/LPG filling stations, do consider buying the 'greener' cars for a second time. Due to lack of widespread infrastructure for LPG/CNG filling stations, customers may have to wait for almost double or triple the time in refilling LPG or CNG as against refilling petrol or diesel during peak hours.
Alternate Fuel Cars in India
In this article we will have a brief discussion on all the LPG and CNG cars (with factory fitted kits) available in the country. Maruti Suzuki, being India's largest carmaker with strong sales and distribution networks offers Alto, Wagon R, Estilo, Eeco and Sx4 with factory fitted CNG kits. In the LPG category, Maruti offers Wagon R LPG. Chevrolet India offers the Beat LPG and Spark LPG while in the CNG category it offers Aveo CNG.
SMALL CARS WITH LPG / CNG OPTION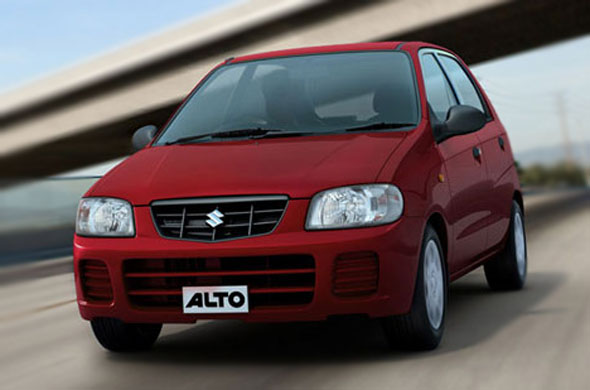 Maruti Suzuki Alto
The country's largest selling car the Maruti Suzuki Alto is available in both petrol and CNG variants. The CNG variant is roughly Rs. 48,000 more than the petrol variant. Alto Green (CNG) gets Maruti Suzuki's i-GPi (intelligent Gas Port Injection system (I-GPI) technology. The Alto CNG is powered by a 796 cc engine (BS IV) that produces 38.8 bhp at 6200 rpm and a maximum torque of 54 Nm at 3000 rpm. The car is fitted with 60 litres CNG tank that occupies the entire boot space. Maruti offers CNG in three trim levels, Green LX and Green LXi.
TABLE
Maruti Suzuki Estilo
Maruti Suzuki Estilo, the successor of the Zen Estilo has been now launched with airbags and ABS in the top variant. However, along with CNG variants of Alto, Wagon R and Eeco, Estilo too gets a CNG kit. Estilo CNG is powered by a 998 cc K-series engine that produces 59.3 bhp at 6200 rpm (CNG mode). The car is fitted with a 60-litre CNG tank that occupies the entire boot space.
TABLE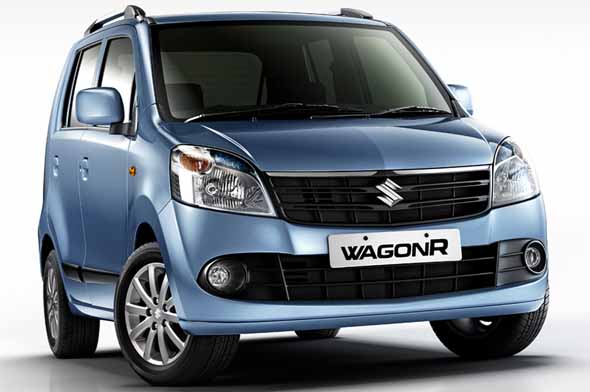 Maruti Suzuki Wagon R
Maruti Wagon R is by far, the most popular LPG/CNG car besides the 800 LPG that can be driven either on petrol or in LPG. Wagon R Duo is fitted with an LPG kit certified by the Department of Explosives and ARAI. Backed by Maruti's technology, the fitment is covered by a complete vehicle warranty. The LPG Kit is placed such a way that the boot space is not reduced.
Wagon R Duo has two tanks, one for LPG (22.5 litres capacity) and other for petrol (35 litres capacity). Owners can choose from LPG to petrol with a simple switch located near the right hand side of steering.
Wagon R is powered by a 998 cc, 3-cylinder engine that produces a maximum power of 62.5 bhp at 6200 rpm (LPG mode) and maximum torque of 85 Nm at 3500 rpm (LPG mode). In petrol mode, the same engine produces 68 bhp at 6200 rpm and 90 Nm at 3500 rpm of maximum torque.
Maruti Suzuki launched the Wagon R LXi CNG in August 2010. Wagon R CNG is powered by a 998 cc K-series engine that produces 59 bhp at 6200 rpm (CNG mode) and 77 Nm at 3500 rpm of maximum torque (CNG mode). The CNG Technology of Wagon R features Maruti Suzuki's intelligent Gas Port Injection system (I-GPI) and fully compliant with BS IV emission norms. Wagon R CNG has a 60 litres CNG tank.
TABLE
Chevrolet Spark
Chevrolet Spark, the small car from GM has a comfortable cabin, refined engine and decent fuel economy. The Spark is attractive to many small car buyers because of its competitive price and 'zero maintenance' 3 years warranty. GM offers Chevrolet Spark LPG in two variants: LS and LT. The LPG kit of the car is placed in such a way that the cargo space is still available just like in the Spark petrol.
TABLE
Chevrolet Beat
Chevrolet Beat, the stylish small car from GM will attract many buyers just by its looks. Beat is sold as the next-generation Spark in other markets. Like Spark, the Chevrolet Beat LPG also comes with a 3 years 'zero maintenance' warranty. The company claims a mileage of 13.30 kmpl for the Beat LPG. GM offers Chevrolet Beat with LPG kit equipped with Advanced Multipoint Sequential LPG Injection Technology that overcomes the limitations of the regular Venturi kit used widely today.
Chevrolet Beat LPG has a 'push to change fuel mode' button that allows the driver to easily change from LPG to petrol and vice versa. Additionally, the fuel system automatically shifts to petrol when there is no LPG left.
TABLE
Hyundai Santro LPG
Hyundai launched the Santro LPG in September 2008. The Santro is one among the top ten largest selling cars in India. Santro comes in three trim levels, non-AC, GL Plus and GLS. Hyundai offers GL Plus and GLS with factory fitted LPG kits.
TABLE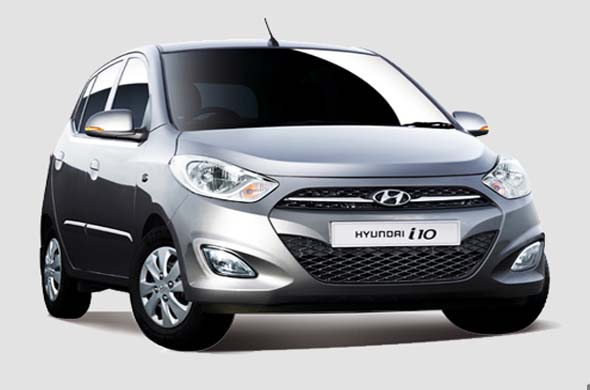 Hyundai i10 LPG
Hyundai launched the i10 LPG in November 2011.  The i10 LPG is roughly Rs. 30,000 more than the petrol variant.  The i10 LPG version is available only in two variants, the 1.1-litre Era LPG and the 1.1-litre Magna LPG.
TABLE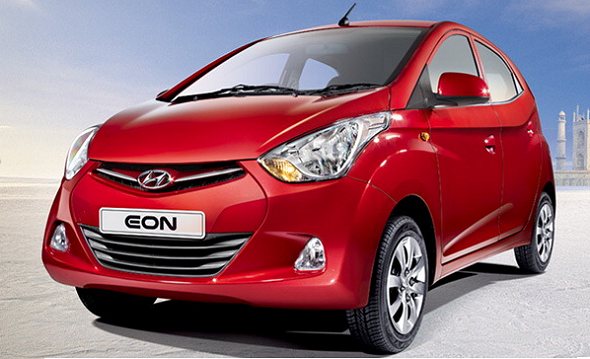 Hyundai Eon LPG
Hyundai launched the Eon with LPG option in January 2012. The Eon LPG is roughly Rs. 28,000 more than the corresponding petrol variant. The Eon LPG is available in three variants, the Eon D-Lite LPG, the Eon Era LPG and the Eon Magna LPG.
TABLE
Tata Indica eV2
The Tata Indica eV2 is a good 'value for money' car known for its spacious interiors and mass market appeal. The diesel Indica eV2 variant is quite popular among taxi operators and the middle class buyers who want a practical family hatch. But the petrol eV2 eXeta didn't sell well. Tata Motors, however did not lose hope and offered LPG variant of eXeta in two trim levels, GLE and GLS.
TABLE
SEDANS
Maruti Sx4 CNG
The Maruti Sx4 is known for its full-load of equipment and high ground clearance giving a macho look from any angle. While competitors offer diesel variants in this segment, Maruti has taken a different route and offers CNG variant for the economy conscious buyer. The Sx4 is powered by a 1.6 litre petrol engine that produces 103.2 bhp at 5600 rpm and 145 Nm at 4100 rpm of maximum torque. The SX4 CNG is fitted with 60 litres CNG tank that occupies significant part of the boot.
TABLE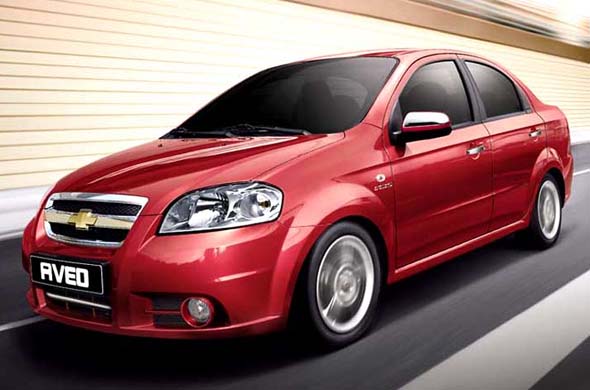 Chevrolet Aveo CNG
The Chevrolet Aveo is known for its spacious interiors and low cost of ownership. Chevrolet decided to give a green version of the Aveo a go and launched the CNG variant in May 2010. Only one variant is offered — the 1.4 CNG.
GM claims the mileage figures of close to 50 per cent more than the Aveo petrol sedan and 25 per cent more than a diesel powered car from the same segment. The CNG Aveo retains the much-acclaimed GM 3 year/100,000 km unconditional service warranty which has become a benchmark in the Indian automobile market now. Aveo CNG occupies considerable boot space of the car.
TABLE
Hyundai Accent LPG
Hyundai launched the Accent LPG in May 2009. The Accent still continues to pose as a decent looking sedan with practical roomy interiors suiting the requirements of a family well. However, the performance of the 1.5 litre engine is average.
TABLE
Multi-Purpose-Vehicles (MPV) with CNG / LPG options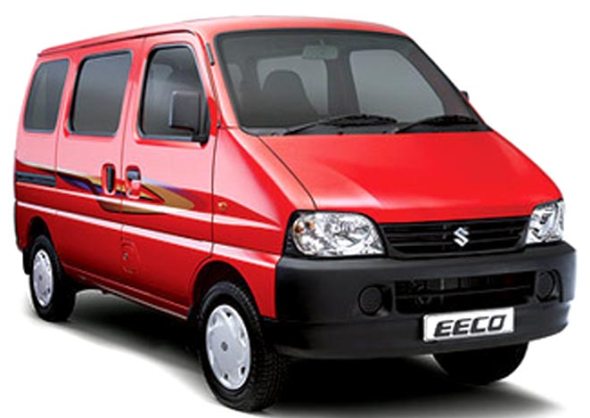 Maruti Eeco CNG
Maruti Suzuki's latest MPV, Eeco is offered with a factory fitted CNG kit in the 5 seater version. Eeco is powered by a 1196 cc engine that produces maximum power of 63 bhp at 6000 rpm in CNG mode and 73 bhp at 6000 rpm in petrol mode while the maximum torque is 83 Nm at 3000 rpm in CNG mode and 101 Nm at 3000 rpm in petrol mode. Maruti Suzuki claims a fuel efficiency of 20 km/kg of CNG.