Content creation and recording videos social media platforms like Instagram have now become a thing among youngsters. We scroll through many such trending videos on daily basis through our smartphone screens. This trend has slowly started influencing many young people and in order to make unique content, many of them have started doing stunts on public roads. Lately we have been getting several reports from Uttar Pradesh where youngsters and social media influencers are doing stunts with vehicles for the sake of making viral videos. Here we have a video of a Lucknow youth who is held for standing on top of a car.
उत्तर प्रदेश में इन दिनों रील बनाने का बुखार युवाओं के सिर चढ़ कर बोल रहा है. इस बीच लखनऊ में कार की छत पर चढ़कर एक युवक स्टंट करते हुए नजर आ रहा है. जिसका वीडियो सोशल मीडिया पर तेजी से वायरल हो रहा है. pic.twitter.com/173A8eao6f

— Radheshyam (@Radhesh29804450) February 22, 2023
The video has been shared by a Twitter user named Radheshyam. The video is from Uttar Pradesh's capital Lucknow. In this video a young boy can be seen standing on top of a Maruti Suzuki Swift hatchback. The car looks modified and it comes with tinted glasses which is illegal in India. Thankfully the car is not in motion and the person standing on the roof of the car has a hookah which is a single- or multi-stemmed instrument for heating or vaporizing and then smoking either tobacco, flavored tobacco. The person is definitely doing this to make a viral video.
Also read: Man drives car with helmet after getting "No Helmet" challan in Swift Dzire (Video)
The young guy standing on the roof can be seen posing for the camera that is moving around the car. Unlike some of the other cases that we have come across recently, the car is not moving here. However, the guy is doing this stunt at a public place. According to reports, this stunt is being done outside the Ekana Stadium in Lucknow. The video was posted on social media and it soon became viral on the internet. Doing such stunts at a public road is completely stupid.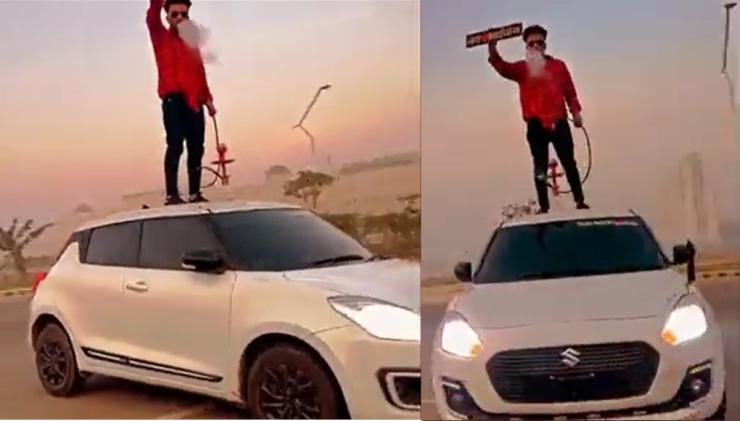 As per reports, the Police have come across the social media reel and have started investigating the matter. It is not clear whether the cops have identified the owner and the person standing on the roof of the car. This is not the first time, we have come across such an incident. In January this year, a social media influencer identified as Vaishali Chaudhary Khutail was seen recording a video reel on an elevated highway in Ghaziabad's Sahibabad area. The video became popular on social media and soon UP police acted in this matter. Traffic police issued a fine of Rs 17,000 on the Instagram influencer for creating inconvenience for the public on a busy highway.
Similarly, a man from Uttar Pradesh who had posted a video of him drinking and riding a bike on the expressway was fined Rs 31,000 by the cops. People have even posted a video of them sitting on the bonnet of a car that is moving through a busy road. In this case also police had acted in a manner that the social media influencer was fined Rs 70,000. Recording such videos without taking precautions and flaunting rules is illegal and this can even lead to accidents as people on road might get easily distracted after seeing people on road like this.
Also read: Modified Royal Enfield Thunderbird 500 motorcycle from Eimor Customs look beautiful