Mahindra & Mahindra launched the Mahindra Bolero VLX with CRDe technology, an advanced version of its multi utility vehicle, the Mahindra Bolero, in Jaipur on September 29, 2008.
The Mahindra Bolero VLX will be priced at Rs 6.90 lakh (ex-showroom, Jaipur). Along with the Mahindra Bolero VLX, Mahindra also launched a special edition of the Bolero with new features.
पूर्व भारतीय बल्लेबाज सुरेश रैना ने आज (06 सितंबर) सभी तरह के क्रिकेट से संन्यास का ऐलान कर दिया। इसके साथ ही वह अब इंडियन प्रीमियर लीग और घरेलू क्रिकेट में नहीं खेलेंगे। ऐसा माना जा रहा है कि रैना अब विदेशी लीग में खेलते हुए दिखेंगे।https://t.co/B8229AJ5of

— NewsBytes हिन्दी (@NewsbytesHindi) September 6, 2022
The Mahindra Bolero special edition will be priced at Rs 6.49 (ex-showroom, Jaipur.) The Mahindra Bolero special edition will be available in two colors: golden sahara beige and mist silver.
The Bolero VLX will have a 2.49 litre Common Rail Diesel engine (CRDe) that will produce 97 Hp.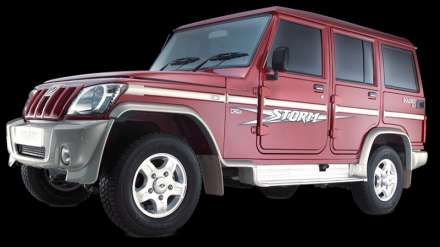 Mahindra has said that in the Bolero VLX, greater ease of driving is achieved because the injection pressure is independent of the engine speed and flat torque over a wide speed range. The VLX has an advanced active surge damper that reduces jerks during gear shifts. It is also expected to handle rough terrain better using the NGT 530R transmission and upgraded front suspension. The Bolero VLX will have reduced Noise, Vibration, and Harshness (NVH) levels.
(For more Mahindra stories, scroll down to the bottom of the page)
[sc name="Used Cars City Widget Shortcode"]
The other features of the Bolero VLX include a sophisticated Voice Assist System (VAS) which warns the driver in case the door is left open or a seat belt is unfastened.
The interior of the Bolero VLX is plush with dual-tone upholstery, stylish dashboard, a leather wrapped steering wheel, and a smart instrument cluster. Mahindra has said that the new Bolero will come with an electronic computer-controlled engine management system.
Mr. Pawan Goenka, President, Automotive Sector, has been quoted as saying, "This rugged, yet stylish SUV has enough power to whip up a storm and is ideal for the young, urban customer who takes to the city and the open road with equal ease."
The Mahindra Bolero VLX will be available in toreador red, Java Brown, and Diamond white. The special edition would be available in mist silver and golden sahara beige colours.