Mahindra Electric owns a Formula E racing team and they are one of the most popular teams in the championship. Mahindra has been present in the Forluma E championship since the series started and every year they name their set of vehicles. However, this year, Mahindra gave the chance of naming their vehicle to the Internet and the answers have come. The social media platforms where Mahindra officially asked the question has chosen the name Electro McElectroface!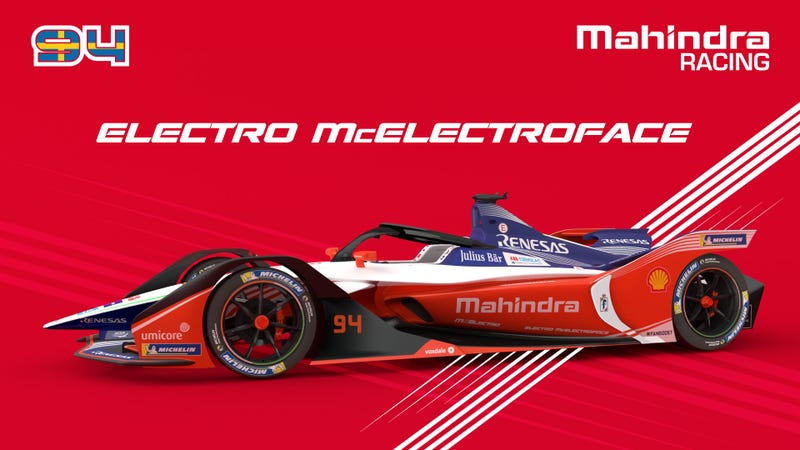 Well, the name is not very unfamiliar because most of us have heard about the name 'Boaty McBoatface' in the past in which the netizens were asked to choose a name for a British vessel and the results turned out rather surprising. While the name chosen by the netizens was not used to name the boat, Mahindra has not done any such thing. The Boaty McBoatface name was chosen in 2016 in an online poll. However, the final name given to the vessel was RRS Sir David Attenborough. The chosen name was given to the autonomous underwater vehicle (AUV) on the RSS David Attenborough ship.
Mahindra has not played any such games and has named their vehicles same as the ones chosen by the Internet. Mahindra has not backtracked on their word and for the entire season of 2018-19, their cars would be known as Electro McElectroface. Now that is taking the internet's sense of humour in the right spirit!
Mahindra's Formula E team fields two cars for the races. Jerome D'Ambrosio will take control on the number 64 car and would be known as the Falcon. The first race of the season would take place in Saudi Arabia and the Falcon is the national symbol of the country. The other car, which carries the number 94 and would be piloted by Felix Rosenqvist and Pascal Wehrlein would be honoured with the new name chosen by the Internet – Electro McElectroface. The first race is scheduled to take place on 15th December, which is today and Mahindra has officially entered with the new name, bringing an end to the rumours.
Mahindra team is the only Indian team to participate in the Formula E series. Earlier, the brand became the first Indian constructor to participate in the MotoGP World Championship in 2011. Mahindra uses their own cars for the championship which they developed in the second season. Since then, the manufacturer is using vehicles that have been developed internally.
Mahindra is also one of the leading manufacturers when it comes to the electric vehicles in the Indian market. It is currently the only manufacturer that offers an affordable electric vehicle in the Indian market. Electric vehicles are said to be the future of mobility in India and around the world. Mahindra would certainly play an important role in bringing new affordable electric vehicles to the Indian market in the future.