In India, there is a community of car enthusiasts who have a penchant for collecting vintage vehicles. On our website, we have showcased numerous impeccably maintained and fully restored vintage automobiles. This time, we are proud to present an exceptionally unique vehicle: the Mahindra FJ-460 DX pickup truck. For those who may not recall, this truck was the pickup variant of the popular Mahindra minibus frequently seen on our roads. It was offered in both 2WD and 4WD configurations, and the FJ-460 represented the 4WD option. Feast your eyes on this stunning, completely restored Mahindra FJ-460 DX pickup truck, boasting an exquisite appearance.
The video has been uploaded by Kamcustoms, showcasing their exclusive restoration work on this truck. The pickup truck featured in the video is a remarkable example of a modified and fully restored vehicle. Originally manufactured by Willys Motors, it was known as the Jeep Forward Control. Eventually, Mahindra also began assembling it in India.
Also read: 10 DC Design cars & how they look in the REAL world: Maruti Swift to Mahindra XUV500
Kam Customs has performed multiple modifications on the pickup truck, transforming it into a vehicle suitable for tackling extreme off-road terrains. One of the standout features of this truck is undoubtedly its paint job. The entire vehicle has been repainted in a captivating combination of Candy Yellow and white, lending it a retro aesthetic that complements its overall design. Moving to the front, you'll find a substantial vertical slat grille flanked by two round headlamps. The front bumper has also undergone modifications, now equipped with a custom-made metal bar that proves useful during off-roading adventures.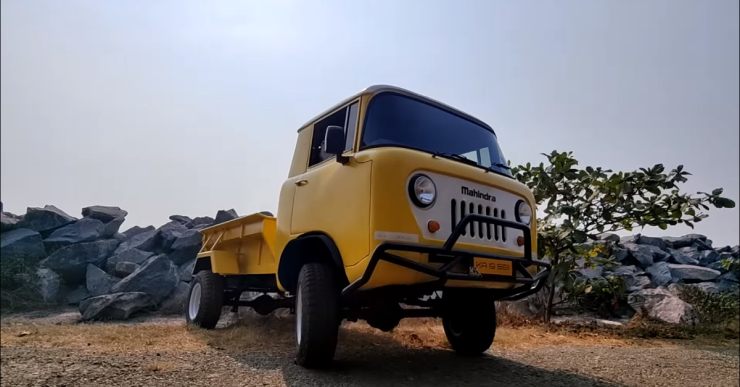 While the cabin's overall design remains unchanged, notable modifications can be observed, such as the installation of custom-made fenders. A significant alteration noticeable from the side profile is the replacement of the truck's original steel rims with aftermarket off-road rims, paired with Maxxis Bighorn off-road tires. As for the rear, the tub exhibits a distinct appearance compared to the original unit. Kam Customs undertook a complete rebuild, crafting custom-made panels and an entirely new bed, granting the truck a unique identity.
The Mahindra FJ-460 DX enjoyed significant popularity in the southern regions of India, particularly within coffee estates and plantations. Its robust appearance and 4WD capability made it well-suited for navigating steep gradients while transporting heavy loads in the cargo bed. In fact, its popularity was such that it even replaced tractors in certain estates, as driving tractors on such terrain posed a risk of flipping over on the steep uphill sections.
The engine of this specific Mahindra FJ-460 DX had to be replaced as it did not comply with the emission regulations. The truck now features a 3.3-liter Simpsons diesel engine, coupled with a 4-speed gearbox. Additionally, a 2-speed transfer box has been installed. To improve its load carrying capacity, a few modifications were made to the truck's axles. The overall work done on this Mahindra truck appears to be meticulous and well-executed.
Also read: Upcoming 2022 Maruti Suzuki Vitara Brezza rendered