The sales leaders in the SUV segment in March are exactly who you think they are – Mahindra Scorpio is the high largest selling SUV, while Toyota Fortuner rules the upper end of the market
The sales of sport-utility vehicles in India continue to grow. With more players entering the market, the competition and choice is getting wider. Take a look at the choice of SUVs available in India now, from the humble Maruti Gypsy to the Landcruiser Prado among premium SUVs, and on to the Cayenne, LC200, Q5, Q7, X5 and others in the luxury segment. Suggested read: SUVs in India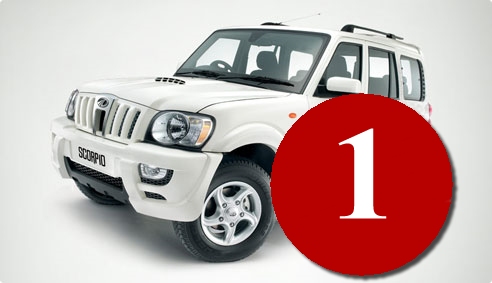 Among all SUV sales in India, the Mahindra Scorpio, priced between Rs. 9 lakh and Rs. 12.5 lakhs, continues to sell the most units, nearly twice the amount of its nearest competitor. In March, over 4,100 Scorpios were sold, while its closest competitor, the Tata Safari, managed to sell 1,966 units. The rivalry between the Scorpio and the Safari dates back to 2002, ever since the Scorpio launched. The Safari is bigger and heavier, and more spacious than the Scorpio, but the Scorpio scores with its peppy engine and slightly better handling than the Safari.  Also read: Mahindra Scorpio vs Tata Safari
If you look at SUVs in the Rs 20 lakh price range, the Fortuner is a clear winner. In March, 980 Fortuners were sold. Toyota has been steadily selling over 900 Fortuners month on month. This just goes to show how much trust customers put in the Toyota badge and are willing to pay a premium for it. The Fortuner's closest rival is the Ford Endeavour, which sold about 330 vehicles.
Skoda's Yeti has seen numbers move up marginally, but still below the Endeavour. However, if you look at 5-seater SUVs alone, then the Yeti is the leader among them in sales numbers. The newly launched BMW X1 isn't quite an SUV in the true sense, but has been selling very well, considering it is more expensive than the Honda CRV. Over 200 X1s were sold in March, compared to just 56 Honda CRVs.
The most inexpensive and basic among all the SUVs is the Maruti Gypsy, which despite being nearly 25 years old in the Indian market, continues to sell in decent numbers, thanks mainly to the armed forces and institutional sales. Over 600 Gypsies were sold in March. The Gypsy's numbers however vary sharply month on month, as it relies mainly on bulk orders. Numbers for the recently launched Mahindra Thar were not available. Maruti's premium SUV, the Grand Vitara, continues to languish due to the lack of a diesel engine and image issues. It is significantly better value for money compared to the Honda CR-V, but has failed to capture the imagination of the Indian SUV buyer. In March, 14 Vitaras were sold. Read: Second hand SUVs in India
Honda's CRV is also getting trounced by a more recent rival, the Mitsubishi Outlander. Month on month, Mitsubishi has managed to sell more Outlanders than Honda, despite Honda being a more favorite brand among car buyers. The Outlander is a better value-for-money deal than the Honda though.
Read: Yeti vs CRV vs Outlander vs  X-Trail vs Vitara
In the coming months the SUV sales charts could get rocked a little more with the impending launch of Mahindra's W201 and a refreshed Captiva, not to mention the likely introduction of a refreshed Tata Safari.
March 2011 SUV sales in India
| | |
| --- | --- |
| Scorpio | 4144 |
| Safari | 1966 |
| Fortuner | 980 |
| Gypsy | 606 |
| Endeavour | 331 |
| Yeti | 275 |
| Captiva | 220 |
| BMW X1 | 213 |
| Pajero | 128 |
| Santa Fe | 121 |
| Outlander | 77 |
| CRV | 56 |
| Prado | 43 |
| BMW X5 | 30 |
| Xtrail | 29 |
| Vitara | 14 |
| Montero | 14 |
| Thar | NA |