Mahindra has unveiled the Thar.e electric SUV concept in Cape Town, showcasing its commitment to electric mobility. The new SUV will be built on the INGLO platform, which will serve as the foundation for upcoming Mahindra electric vehicles.
The electric Thar introduces a fresh and distinct design language, departing from the traditional ICE-powered Thar's resemblance to the Jeep Wrangler. This unique design is underpinned by a dedicated electric vehicle platform, diverging from the conventional ladder-frame chassis of the regular Thar.
Also read: 10 DC Design cars & how they look in the REAL world: Maruti Swift to Mahindra XUV500
Unlike its three-door counterpart, the Thar.e electric SUV exclusively features five doors, emphasizing practicality and accommodating a larger vehicle profile. The concept vehicle boasts raised suspension, exuding a robust presence complemented by the Thar's iconic upright and boxy dimensions, reminiscent of a rugged and capable off-roader. The exterior is characterized by 'flat panels' and exposed door hinges, contributing to its muscular and utilitarian aesthetics.
The futuristic appeal of the Thar.e concept is evident, notably showcased through its distinctive design elements. A pair of quartered square headlamps adorns the rectangular grille, likely to incorporate modern LED illumination. The vehicle's imposing presence is further accentuated by a substantial front bumper, drawing inspiration from contemporary SUVs like the Ford Bronco and classic Land Cruisers.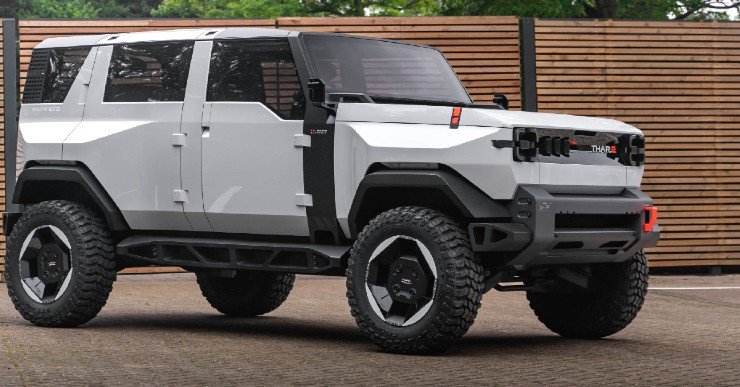 The rear of the Thar.e exudes an all-black allure, while the interior adopts a clean and minimalist approach. A flat dashboard, three-spoke steering wheel, and prominent central screen characterize the cabin. Unlike some of Mahindra's previous INGLO concepts, the central touchscreen doesn't engulf the entire dashboard.
As a concept, the Thar.e electric SUV embodies Mahindra's visionary approach to electric mobility, combining innovative design with forward-looking technology.
Range not known
As the concept is still in its developmental phase, Mahindra has yet to divulge comprehensive details about the new Thar.e. However, in its production iteration, the vehicle could potentially feature a 60 kWh battery pack sourced from BYD, a car manufacturer with its own presence in India. There are indications that electric motors from Volkswagen might also be imported.
Consistency seems to be the aim for Mahindra's vehicles based on the INGLO platform, with all potentially sporting the same battery packs. While an 80 kWh battery pack is available, the Thar is likely to opt for the smaller variant. Anticipations suggest that the vehicle could cover a range of approximately 300 km on a single battery charge.
Despite the excitement, the Thar.e's market debut is not imminent. If it materializes at all, production could potentially commence around 2027. In the interim, several other Mahindra electric models from the BE range are poised to make their way to the market.
Also read: Upcoming 2022 Maruti Suzuki Vitara Brezza rendered