The Mahindra Thar is purely for offroad enthusiasts and has been some time in the making. It finally drove off overseas to Italy and South Africa, but it could soon be available at a showroom in India too.
At first sight, it would look just like the old MM540 / 550 that Mahindra makes for the Indian army and was sold in the domestic market till early 2000. But look under the hood and the chassis and you'll see that some people at M&M have been busy raiding the parts bins of the Scorpio, Xylo and Bolero, while given an old 550 body shell to play around with.
The Mahindra Thar was on display at the Auto Expo 2010 and reactions were mixed. For one, the model on show was a completely dressed up version with acres of plastic and dangly bits, not quite what one would expect on a hardcore jungle-bashing machine. But below all that makeup, it is quite a competent offroader mechanically. The less-dressed Thar prototype has been seen on a couple of Mahindra Great Escape offroad adventure drives in India.
Mahindra has used its new generation independent torsion-bar front suspension system from the Scorpio for the Thar. At the rear it has the leaf-spring suspension setup from the Bolero. Under the bonnet, Mahindra has plonked in the Euro IV compliant 2498 cc CRDe engine from the Xylo that develops 105 bhp at 3,800 rpm and has 247 Nm of torque between 1,800-2,000 rpm.
The engine is mated to a full-synchromesh 5-speed gearbox and a manual shift Borg-Warner 4×4 transfer case, with a 2.48:1 low-ratio for pure off road use. It sports open differentials at front and rear (with the front differential chassis mounted). The front wheels feature auto-locking hubs similar to the four-wheel drive Scorpio and Bolero. The Thar has a kerb weight of 1.75 tons and 200 mm of ground clearance at its lowest point. Related: SUVs in India
The body style of the Mahindra Thar is essentially old-world Jeep, and has the classic MM 550 look. It's a three door, two-seater (four is an option). In Italy, it also comes with a hard-top option, but it's essentially a soft top. It has a hydraulic clutch and power steering, booster-assisted brakes with discs in front and drums at the rear, and broad 235/70 tyres on 16-inch wheels. That about ends the list of "comforts and conveniences" that the Thar offers.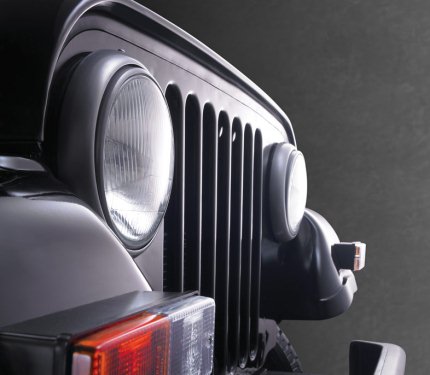 Speculation has been rife about the Mahindra Thar's launch. Calls to Mahindra only indicated that it would be "launched soon." Another source indicated a January roll out. Homologation has already been done in India, and now all that's left is to put a price tag to it. That's where it becomes sticky. The Mahindra Thar is likely to be priced between Rs. 7 lakh to Rs 9 lakh. It's likely to be a low-volume vehicle purely aimed at enthusiasts in the domestic market. The big volumes for this will likely come from the Indian army which has been one of Mahindra's biggest customers for the older CJ and 550 range of vehicles.
It would be interesting to see what options Mahindra is willing to offer with the Thar, such as lockable differentials, roll cage, air-conditioning and off-road spec tyres. If you wanted a no-nonsense option to the Maruti Gypsy for offroad use, this is a good vehicle to put your money on.
Mahindra Thar technical specifications
Engine
Euro IV 2498 cc, CRDe, Turbo diesel
Power
105 bhp @ 3,800 rpm
Torque
247 Nm @ 1,800-2,000 rpm
Transmission
5-speed manual
4×4 Transfer case
Borg Warner – 2 ratio manual
(High: 1: 1, Low: 2.48:1),
Front auto locking hubs
Front axle
Full floating 4.3:1
Rear axle
Semi floating 4.3:1
Suspension
Front: Independent, torsion bar
Rear: Non-independent, leaf spring
Brakes
Front: Disks
Rear: Drum
Tyres
235/70 R16
Ground clearance
200 mm
Approach angles
Front: 46 deg, Rear: 30 deg, Ramp: 15 deg
Kerb weight
1,750 Kg
Wheelbase
2,430 mm
Front track
1,445 mm
Rear track
1,346 mm
Length
1,710 mm
Width
2,430 mm
Height
1,930 mm
Mahindra Thar video review – we take the Thar offroad and on-road!