Current generation Mahindra Thar has been in the market for the last couple of years. Ever since it got launched in the market, we have been seeing variety of videos related to the SUV online. While some of them are related to modifications, others are related to off-roading and tips and tricks for the owners. Here we have a video where a Mahindra Thar owner is seen showing a trick which is quite useful for car owners who are living in areas where the temperature drops drastically. In this video, the Mahindra Thar owner is seen using Vodka in his car as wiper fluid.
View this post on Instagram
The video has been shared by raghurajthappa on his Instagram page. In this video, the Mahindra Thar owner is seen taking a sealed bottle of Vodka from his SUV and breaking the seal. When asked, the vlogger mentions that it is not for him but his vehicle. The bonnet of the Mahindra Thar was already open and he lifts the cover of the reservoir where you usually add water to be used as wiper fluid. He simply pours a whole bottle of Vodka into the reservoir. This is probably the first time, we have seen something like this on video. It may look odd but it is actually a very useful trick for people with cars living in area where it gets extremely cold.
Also read: Buying a pre-owned Mahindra Thar is better than buying a new one: 5 reasons
As we can see in the video, the Mahindra Thar was probably parked at a mountain pass. We can see snow-packed mountains in the rear. Normal water in these conditions tend to freeze and this would create problems for the driver whenever he or she would try to clean his windscreen. In this case, the owner has used alcohol or Vodka which is different from regular water. Regular water would simply freeze in these conditions but alcohol won't.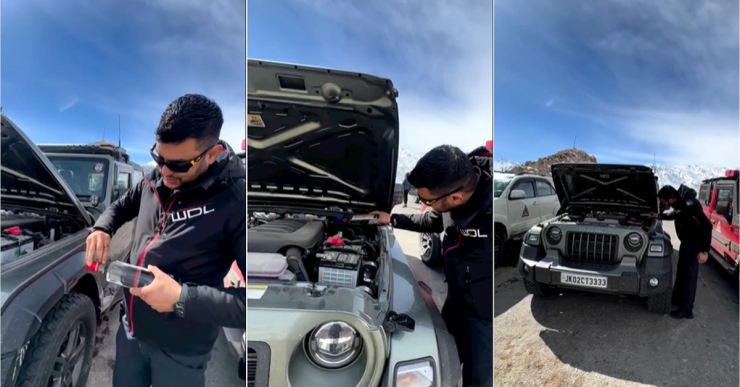 The freezing temperature of vodka is around -26 degree celsius. This means, it would still flow easily through the pipes and clean the windshield whenever needed. It would also act as a anti-freeze for the windshields when the car is being driven through snowy conditions. This method is extremely useful in such conditions however it is bit on the expensive side as you would have buy a bottle of alcohol every time you go out on a trip. There might be time, when you would need more than one bottle. The owner in this case used Vodka because it is colourless. We are not sure whether the owner would be mixing it with water and diluting it.
Mahindra Thar has proven itself in the market since its launch. The SUV is currently the most affordable 4×4 SUV available in the market. Mahindra also launched a much affordable 4×2 variant of Mahindra Thar which uses a 1.5 litre turbo diesel engine and a 2.0 litre turbo petrol engine. The 4×4 variants of Mahindra Thar use 2.2 litre turbocharged diesel engine that generates 130 bhp and 320 Nm of peak torque. The petrol variant uses 2.0 litre mStallion turbocharged engine that generates 150 ps and 320 Nm of peak torque. Both petrol and diesel engine are available with manual and automatic transmission. Mahindra will also be launching a more practical 5-door version of Mahindra Thar in the market soon.
Also read: 10 DC Design cars & how they look in the REAL world: Maruti Swift to Mahindra XUV500