Mahindra Thar is one of the most popular lifestyle SUV available in the market. The current generation SUV was launched in the market few years ago and it quickly became popular among buyers for its looks, off-road capabilities and the price. It is one of the most affordable 4×4 SUVs in the market. Mahindra is offering Thar with both petrol and diesel engine options. We have seen several modification videos of Mahindra Thar online and here we have a video where Thar petrol owner has installed an aftermarket CNG kit in his petrol Thar.
The video has been uploaded by  Harshit Noida se on his YouTube channel. In this video, the owner of this Mahindra Thar talks about the reason why he actually took this decision and ended up installing CNG to this SUV. The owner mentions that he bought a brand new Mahindra Thar petrol SUV a n year ago. He opted for Petrol variant mainly because of the 10 year rule in Delhi NCR region. After buying the car, he took it on many road trips but, the main issue with the petrol version is its fuel efficiency.
Also read: Buying a pre-owned Mahindra Thar is better than buying a new one: 5 reasons
Mahindra Thar especially the petrol version is an expensive car to run and it was returning him around 10 kmpl only. As the Thar was not offering a great fuel economy, the overall expense on all those road trips were going up. After some time, the usage of Thar reduced in his household and that is when is father suggested him to install an aftermarket CNG kit in the SUV. He started his research and got in touch with vendors who were selling CNG kits for Mahindra Thar. Initially, he had no luck as there is no proper kit that would fit in a Thar. Later his father only arranged him a kit that was already being used in another vehicle.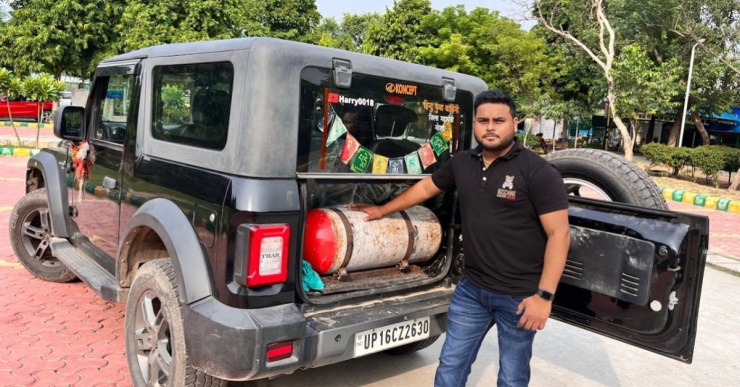 The used kit was installed in Mahindra Thar for testing purposes and since then he has been using it without any major issues. The owner mentions that he was not at all interested in getting a CNG kit installed in the Thar as it would affect the overall performance of this SUV. He decided to go with CNG to lower down the running cost and it did help. He mentions that he has been using the kit for last one month and he feels that the running cost has come down from Rs 10 to Rs 5 per kilometer. He mentions that this is not the final setup. They are still testing the CNG kit and so far, they have not found any problem with the car.
Vlogger then sits inside the Thar and takes it out for a spin. He wanted to check how the SUV would perform after this modification. The vlogger mentions that the power delivery on the SUV is less aggressive now but, he cannot feel any lag while driving the car. The owner mentioned that this setup is currently suitable for city and highway driving and the owner can go back to petrol mode when he wants to go off-road.
Also read: 10 DC Design cars & how they look in the REAL world: Maruti Swift to Mahindra XUV500