While some people use high-end bikes on Swiggy to gain attention, there are a few individuals who genuinely utilize high-end bikes for their daily chores. Here, we have an owner of a Honda Goldwing, who is using it for regular errands. While this may be a common occurrence in many developed countries, it is undoubtedly a rare sight in India.
The video was recorded by a passerby on the road. It was recorded in Kerala but the exact location remains uncertain. In the footage, the Honda Goldwing Trike can be seen parked by the roadside. Inside a shop, the bike's owner is observed purchasing his daily necessities, while a few onlookers begin to admire the imported machine.
Also read: Modified Royal Enfield Thunderbird 500 motorcycle from Eimor Customs look beautiful
Subsequently, he opens the storage compartment of the Goldwing and places his shopping inside. The person riding the bike appears to be a relative or domestic helper of the owner. Babu John, the proud owner of this bike, gained internet fame last year when the Goldwing Trike was first spotted. The Honda Goldwing Trike is a truly unique motorcycle. It was imported to India last year, but customs authorities promptly seized it. To secure the release of this motorcycle, a hefty duty of Rs 24 lakh was paid. The total cost of importing the bike to India amounts to around Rs 38 lakh, with an additional Rs 24 lakh paid as clearance duty.
The owner of the bike, Mr. Babu John, is an NRI who imported this trike from the UAE. He initiated the motorcycle's import in 2018, but due to various reasons, the Customs Officials held his bike, resulting in him gaining possession of it only in 2019. To secure the release of his motorcycle, John had to resort to legal action and approach the court.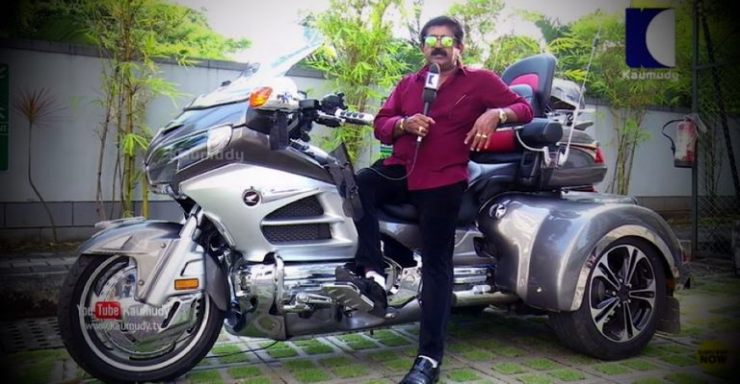 Honda Goldwing Trike
While many of us are familiar with the Goldwing, known for being a luxurious palace on wheels, the trike version takes luxury to another level. It is not officially offered in Indian market. It is equipped with a powerful 1,832cc, six-cylinder engine that delivers an impressive maximum power of 118 Bhp. This inline-six-cylinder engine produces a delightful sound. Weighing almost as much as a small car, the massive Goldwing Trike even comes with a reverse gear, courtesy of Honda. Additionally, it boasts a generous fuel storage capacity of 55 litres.
Despite being the world's largest motorcycle market, high-end cruisers, trikes, and sportbikes remain a rare spectacle on Indian roads. The majority of Indians opt for entry-level commuter segment bikes, which are more practical for everyday use in a country like India. As a result, high-end motorcycles or cars garner significant attention when spotted on public roads. Things are however slowly changing and we have started seeing a rise in number of expensive and performance oriented bikes on our roads.
Owning such motorcycles in India requires deep pockets, primarily due to the hefty import taxes that nearly double the vehicle's price. Nonetheless, there are numerous enthusiasts who bring these machines to India and ride them on public roads.
Also read: BSA Motorcycles unveil Gold Star 650: Will Rival Royal Enfield 650 Twins