Buying a car is a dream for many people in India. There are many things in life that hold sentimental value, and a car is one such thing. If it is the first car in a family, the emotional connection with it is altogether different. Due to various reasons, people often sell their first car and upgrade to a better model. However, there are times when they think about it. Here, we have a story of a man who has been hunting for his first family car, a Tata Indica, for ten years and has finally managed to get it back.
View this post on Instagram
The post was shared by Saurabh.kmph on his Instagram profile. He had been searching for his family car for the last ten years and finally managed to trace it and buy it back. The owner posted a picture of himself with the Indica and wrote, "A ten-year chase finally comes to a glorious end. I tracked down my family's first brand-new car in Akola, which we had purchased in 2003 and sold in 2013. The owner and his family were kind and generous enough to sell it back to me. So, once again, after almost twenty years, I welcome the car back into my family. It is currently getting restored at a remote place in Maharashtra. Thanks a lot to all my followers as well! I could have never felt so motivated to track my car down without your support. A lot more to come, stay tuned!"
In the pictures, Sumit can be seen sharing images of himself with his parents standing next to their 20-year-old Indica. The owner used the car for about ten years and sold it in 2013. Tata Indica was a revolutionary product from the Indian car manufacturer. Tata unveiled the Indica at the 1998 Auto Expo. It is considered India's first domestically designed vehicle. Its popularity soared after its launch, with Tata Motors receiving over 115,000 bookings in just two weeks following the price announcement. Initially, the Indica was released with a starting price of Rs 2.59 lakh, ex-showroom, while the top-end version was priced at Rs 3.9 lakh.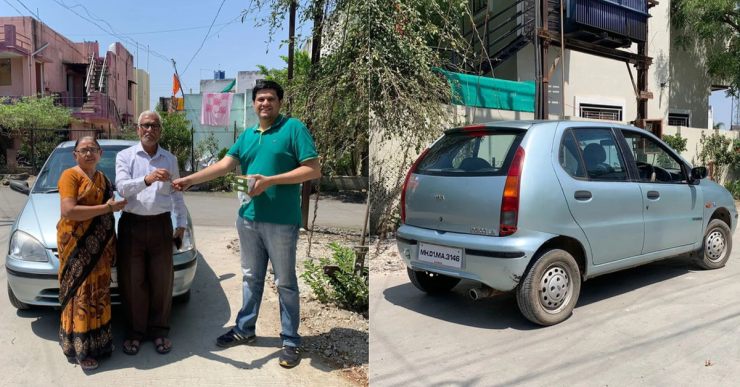 Also read: 10 DC Design cars & how they look in the REAL world: Maruti Swift to Mahindra XUV500
Before launching the Indica in the market, Ratan Tata had hinted that the Indica would offer a spacious cabin and great fuel efficiency. Both of these things, along with an attractive price tag, made this hatchback popular among buyers. The hatchback even offered features like AC and power windows, which were usually seen on expensive cars at that time. The Indica's exterior was designed by The Italian design studio I.DE.A Institute, while the engine and other components were designed in-house. The Tata Indica was rivaling against cars like Fiat Uno, Maruti 800, and Maruti Zen in the segment.
The Tata Indica became popular among customers from both passenger and commercial sectors. In many places, the hatchback became popular as a taxi cab, while others used it as a personal vehicle. Tata offered the Indica with both petrol and diesel engine options. It was offered with a 1.4-litre petrol engine and a 1.4-litre diesel engine. It was the first hatchback to get a diesel engine in India.
CarToq Shorts: Skoda launches Slavia Anniversary and Kushaq Lava Blue