The trend of performing dangerous car stunts for garnering a few likes and shares on social media is unfortunately becoming more popular. Amidst the instances of people driving recklessly and flouting the traffic rules openly, an incident of a person sitting on the bonnet of a moving car is going viral on the internet. Thankfully, like in most cases, the offender has been nabbed by the traffic police following immediate action.
#Viral #Video ग्रेटर नोएडा का बताया जा रहा हैं।जहां स्टंटबाज कार के बोनट पर बैठ स्टंट करता नजर आ रहा है।पुलिस की फ्लैशर लाइट भी कार में लगी हुई।वीडियो वायरल होने के बाद पुलिस जांच में जुटी।@noidatraffic @noidapolice@Uppolice @dgpup @myogiadityanath pic.twitter.com/v5Bk3369le

— Hussainjaved (#India News ) (@hussainjaved81) March 2, 2023
In a video which is going viral on the internet, a person, who has been identified as Nakul, is seen sitting on the bonnet of a moving Maruti Suzuki Alto. The incident has been reported from the Kailashpur village of Greater Noida, where this Alto with the person sitting on his bonnet is driving on an empty public road near the Ambedkar park area.
Also read: 2022 Maruti Suzuki Alto 800 spied ahead of launch (Video)
According to Additional DCP of Central Noida, Rajiv Dixit, this video of a person sitting on the bonnet of a moving car is an old video recorded many months ago. However, the video has gone viral only recently. The video shows how the person continues to sit on its bonnet, while the Alto is driven on public roads.
Arrest after the video became viral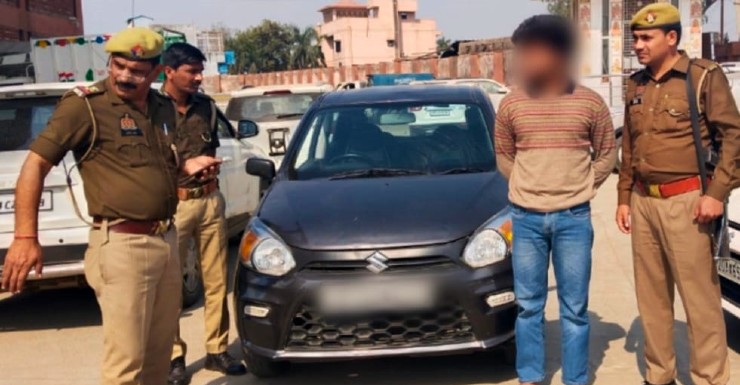 Based on the information fetched from the video, the Noida police have arrested the person and seized the Alto seen in the video. The police have also imposed a penalty of Rs 26,000 on the car owner for driving the Alto dangerously on a public road and putting the lives of other people at risk. Under the IPC section 151, the license of the Alto owner has also been suspended.
In recent times, such incidents of people performing stunts on moving cars on public roads have been becoming more frequent. For gaining a short-lived frame of attention through likes and shares, people perform car stunts like these on public roads, upload videos of their ordeal and make them viral on social media.
At the same time, local police teams have also become more alert and are keeping an eye on such nuisance-creating elements of society. Based on the details of the registration of the cars involved in such accidents and the recognition of people visible in such videos, the local police teams are now able to catch the offenders after a prompt investigation and swift action.
Also read: Tata Nano modified into a vintage car