The kind of things people get up to these days to go viral! Facebook Live videos can be very useful when you do it for a useful purpose. But you have to ensure that you do not break the law or endanger road users while doing it!
A  man in Kerala thought he had good enough reason to do a Facebook Live. He had just gone to a petrol pump and found that the pump did not have petrol at all. He found this strange, and thought he should do a Facebook Live video about.
Also read: Modified Royal Enfield Thunderbird 500 motorcycle from Eimor Customs look beautiful
All fine up to this point, right? The only problem is, he did the video while riding on the bike! With the phone held in one hand, he rode the bike and shot himself talking to its camera. We can see that he takes his eyes off the road once in a while, and we can see that the phone is not mounted on the motorcycle, and is held by him in his hand. Not a good idea at all. He asks his audience, why does this pump not have fuel, and what is the use of having a petrol pump where there is no fuel?
Anyway, we do not know if he really went viral or not. The entire incident happened in Cheruthoni, a village in Kerala's Idukki district. He posted the video to a Facebook page called Shaji Pappan, named after a character in an old Malayalam movie. However, the Live video came to the notice of the local RTO who identified the rider, called him to the office, and had his license suspended for three months. He has also been asked to do community service at the local Idukki Medical College, and to get training at the Institute of Driver Training and Research at Malappuram in Kerala at his own expense.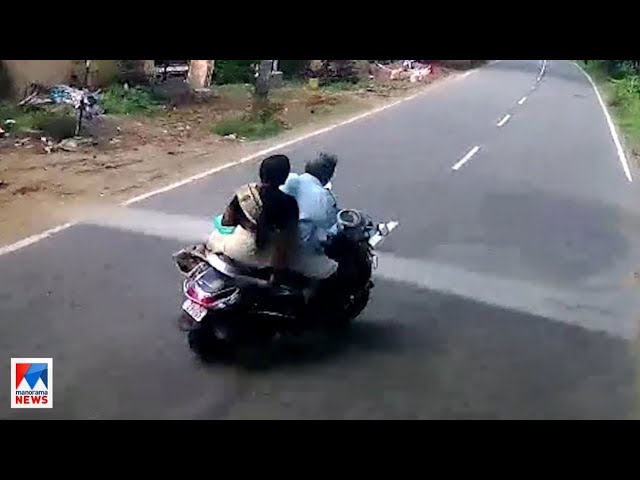 R. Ramanan, the RTO of Idukki told Media One Tv channel that doing a Facebook Live while riding a motorcycle is even more dangerous than making phone calls while riding. The RTO said that there was no way he could concentrate on the road while doing this live video.
The RTO also said that instances of reckless riding and driving are increasing, there would be increased inspections and checking on the road.
Kerala has recently seen an increase in incidents of dangerous riding – mostly by young people, who try to get internet fame by creating some viral video or the other. Often this includes swerving through traffic, overtaking dangerously, leaning over dangerously while riding fast around blind corners. The videos are then posted to Instagram or Facebook after adding some celebratory or macho background music. This inspires others to make similar videos – and often gets people into trouble. There are cases where drag races on public roads have led to innocent road users getting injured, and in some instances, even dying as someone lost control and crashed into them.
Kerala, unlike many states, has wide police presence everywhere – but the instances of dangerous riding are too widespread and it is impossible catch them all. The government and MVD have appealed to road users to desist from indulging in these dangerous habits and trends.
Also read: BSA Motorcycles unveil Gold Star 650: Will Rival Royal Enfield 650 Twins