We all know how social media has become an integral part of our lives. A variety of videos come across our feed daily. While most attempt to make viral content, only a few succeed. We have come across several viral videos in the past featuring cars and bikes. Summer has started in most North Indian states, and this is an issue for many two-wheeler riders. Usually, there is no protection from the scorching sun, and the seat covers on these bikes get extremely hot when parked under the sun. Here we have a funny video of a biker who is putting Dermicool powder on the seat of his bike to beat the heat.
View this post on Instagram
The video has been shared by NaughtyWorld on their Instagram page. In the video, we see a man standing next to a Bajaj Pulsar motorcycle. Judging from the registration number, it looks like the video was recorded somewhere in Gujarat. The video is intended to be funny and shows how people can beat the heat. The man in the video puts a tray of ice cubes on the seat to bring down the temperature. Then he uses a head massage oil that is commonly used in India.
After pouring the oil, he brings out the powder, which is meant to protect people from rashes, itches, and germs during summer. This powder has a cooling sensation that makes people feel good during the extreme summer season. Even after putting the powder on the seat, the man was not satisfied and brought in menthol soap and shampoo. After doing all this, he sits on the bike and takes it for a ride.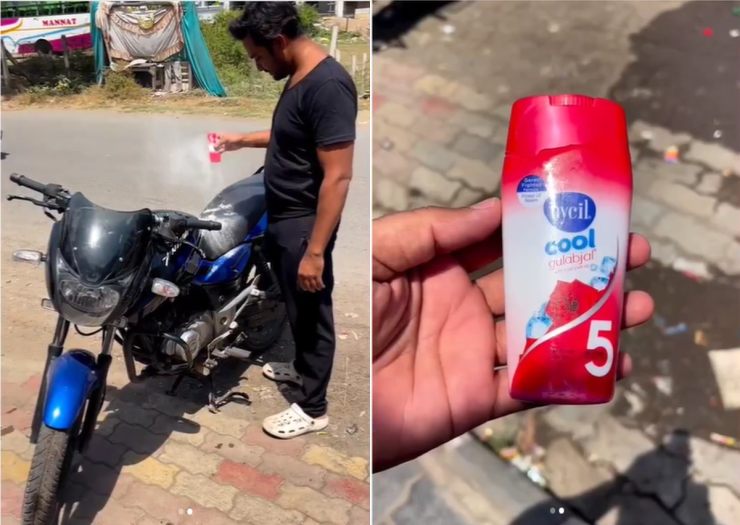 Also read: Modified Royal Enfield Thunderbird 500 motorcycle from Eimor Customs look beautiful
The video is meant for entertainment purposes only. The man in the video was just trying to show how hot it had become. Surprisingly, the song used in the video was released by a brand called Dermicool powder; however, the person in the video used powder from a different brand. The extreme heat is a problem for people, especially two-wheeler riders. Many parts of the country have already started recording temperatures of 40 degrees Celsius and above. It is recommended to stay indoors to avoid heatstroke and sunburns.
If you are working and use a two-wheeler to commute, ensure that you wear full-sleeve clothes, sunglasses, a full-face helmet, and gloves to avoid direct contact with the sun. Also, ensure that you park your bike in a place with some shade. This way, you won't find it difficult to sit on the seat. This advice is for people who are riding a two-wheeler. If you are driving a car, then you should get the AC checked. Ensure that it is working fine. Other than this, you can use accessories like sunblinds and roller windshields to ensure that the cabin does not get extremely hot when parked outside. Just like with bikes, please try to find a parking space under a shade or in the basement to avoid issues. You can also install a solar powered exhaust fan which can push out hot air from the cabin when the car is parked outside.
Also read: BSA Motorcycles unveil Gold Star 650: Will Rival Royal Enfield 650 Twins