A cross-continent road trip may seem like a daunting and impossible idea, but many motoring enthusiasts have successfully completed such an adventurous feat. Despite the many challenges involved, the end result is rewarding and brings a unique sense of accomplishment. One such remarkable journey was undertaken by Lakhwinder Singh, who drove his Toyota Tacoma pickup truck from the USA to India.
In a YouTube video uploaded by 'Ride and Drive', Mr Singh shared his detailed experience of driving from the USA to India in his white-coloured Toyota Tacoma. The rugged vehicle, sold by Toyota in the USA for $60,000, was his daily driver. He also explained the physical and mental challenges he faced while obtaining permits and visas for entry into different countries.
Also read: 10 DC Design cars & how they look in the REAL world: Maruti Swift to Mahindra XUV500
The journey began from Mr Singh's home in Sacramento, California, and covered 22,000 km and 23 countries. The 53-year-old driver shared that the entire road trip cost him Rs 1 crore, which he bore entirely on his own. During his travels, Mr Singh paid four fines for overspeeding, including one in Serbia, two in Turkey and one in Pakistan. He also paid for fuel expenses by swiping his credit card at all stations. Alongside describing his expenditures, Mr Singh also shared the challenges he faced during documentation and paperwork for crossing all the countries. Obtaining visas for Iran and Pakistan was especially long and arduous, taking three years to execute the plan.
Vehicle sent by sea route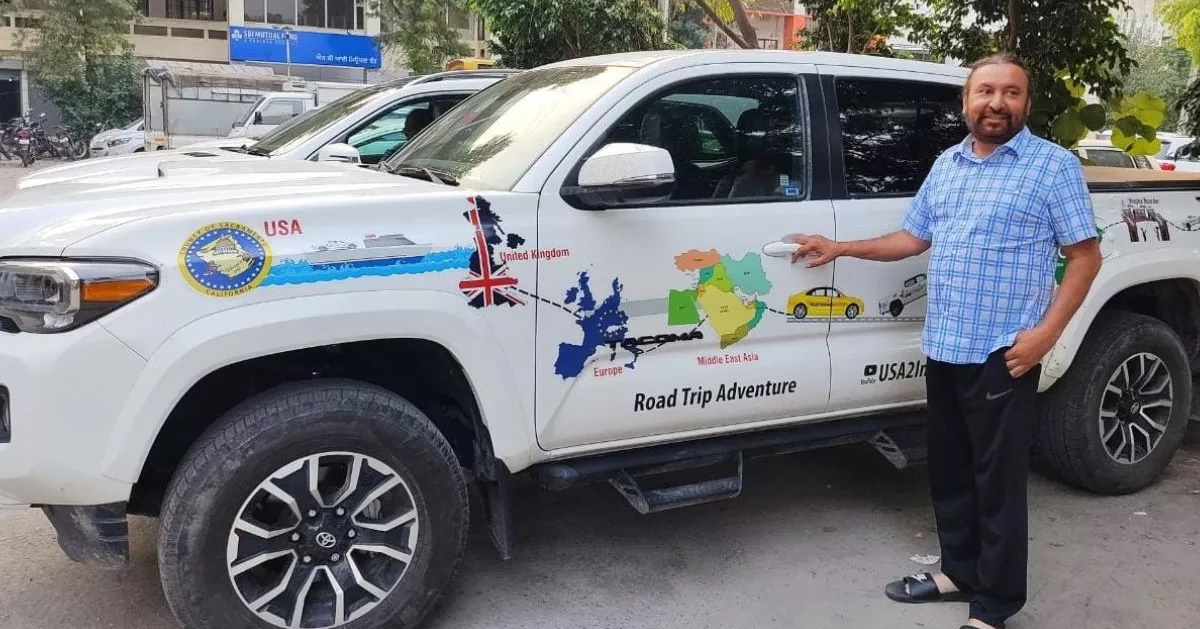 While his journey covered a 22,000 km distance, it was not entirely road-based. Mr Singh transported his car from the USA to the UK and then from London to Paris through a sea route, by shipping his car. He also explained that he obtained only a single-entry visa for all the countries through which he drove, as he wouldn't be driving the Tacoma back to the US. Instead, he would be shipping the pickup truck from India to the US by air or sea route.
During the video, Mr Singh also described his experiences while driving on the roads of different countries. He mentioned that the roads in European countries, including the famous Autobahn in Germany, were the smoothest and best to drive on. Despite the challenges he faced, Lakhwinder Singh successfully completed his cross-continent road trip, which was a truly remarkable and inspiring accomplishment.
Also read: Upcoming 2022 Maruti Suzuki Vitara Brezza rendered