Tata Motors will launch a limited edition Manza 'Celebration' variant by the end of this month (September 2011). The celebration variant will come with feature highlights like reverse parking sensors, 'leather feel' seats and a rich ebony black interior color scheme. Only 1,000 units of the celebration edition will be available for buyers.
The celebration edition will be pitched above the Manza Elan (top-end variant) and hence will get all the features of the Manza Elan plus the aforementioned three features.
CarToq spoke to Tata Motors dealers who said that the special edition will be priced roughly Rs. 10,000 more than the Manza Elan. The Manza celebration edition will likely be priced at Rs. 6.93 lakh (Safire petrol) and Rs. 7.77 lakh (Quadrajet diesel).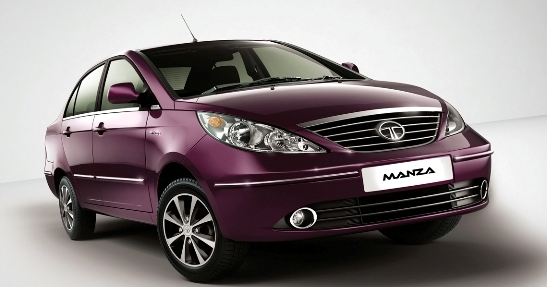 Is it worth the extra price?
The Manza Celebration edition will offer three exclusive features: reverse parking sensors, leather feel seats and rich ebony black interiors for the extra price of Rs. 10,000 (approx). If you tend to buy the first two equipments (out of the three exclusive features) from third party vendors, it would cost around Rs. 8,000.
For instance, the reverse parking sensors (audio) will cost roughly Rs. 3,000 while the after-market leather seat covers (like leather feel covers) will cost at least Rs. 3,500. As the new equipment (parking sensor) will be covered under manufacturer warranty, it does sound very reasonable.
So how does the Manza Celebration edition stack up against its chief competitors in terms of features? Let's find out.
Manza Celebration vs. Etios VX & VXD vs. Dzire ZXI & ZDI
Price
The Toyota Etios VX is priced at Rs. 6.86 lakh, very close to the Manza celebration with an estimated price of Rs. 6.93 lakh. Similarly, the Etios diesel VXD is priced at Rs. 7.87 lakh, which is close to the Manza celebration edition's estimated price of Rs. 7.77 lakh.
The Maruti Suzuki Dzire is a cheaper car, priced at Rs. 6.39 lakh which is Rs. 47,000 less than the Manza petrol Celebration edition. The diesel version of the Dzire too, is priced at Rs. 7.19 lakh, which is Rs. 58,000 less than the Manza petrol celebration edition, which makes it an attractive option.
Our take: So Manza is priced similar to Etios, but is more expensive compared to Dzire.
Exterior
All the three cars come with a chrome strip on the front grille, alloy wheels, body colored ORVMs, body colored door handles, front fog lamps, rear defogger/demister and an antenna.
While the Etios VX/VXD gets a thick chrome garnish on the boot, Manza has a heavy dose of chrome on the rub rails, door handles, around front fog lamps and bottom weather strop. The Dzire has minimal chrome inserts, found only on the front grille and the boot.
The Manza Celebration variant also features a seven speed front wiper with smart wipe (sensors which adjust the speed of wipers automatically based on the amount of rain), motorized clear lens headlamps, clear lens side indicator lamps, follow me home headlamps and exclusive tyrian wine body color.
Our take: The Manza and the Etios come out equally matched on looks, while the Dzire lags.
Interior
The Manza Celebration variant will come with 'leather feel' seats while the Etios VX/VXD comes with fabric upholstery in black & red (dual tone). Apart from the door pockets and bottle holder on the floor console, the Manza gets a storage tray under the co-driver seat, while in the Etios you get seven bottle holders but no storage tray.
The Dzire, on the other hand, gets front door pockets, front seat back pockets (both sides) and a driver side ticket holder.
The glove box in the Manza has a card holder and pen holder while the Etios gets a chilled glove box that is far more useful. All the three cars come with a power outlet and a tachometer.
The Manza also gets light intensity adjustment for the instrument cluster, front and rear cabin lights with twin spot lights and illuminating ring around keyhole.
Our take: The Manza is better equipped when it comes to interiors and hence has a slight edge over Etios and Dzire.
Comfort and Convenience
Both the Manza Celebration edition and the Etios top-end variants come with AC and all-four power windows. However, the Manza gets heating, ventilation and AC with electric controls while the Etios only gets an AC with a clean air filter. The Dzire top-end variant has automatic climate control.
The audio system in all the three cars comes with a 2-DIN head unit with four speakers. However, the Manza gets CD player with two tweeters, USB & aux-in port while Etios gets DVD player but no USB, no aux-in port, nor tweeters. The Dzire lacks both USB and aux-in port. So the Manza is far ahead in this respect.
The Manza comes with more convenient features like a one shot power window-down movement for the driver side, power windows operation up to 30 seconds after ignition off, adjustable headrest on front seats and rear seats, driver seat height adjust, 100% rear seat fold back and Blue 5 (Bluetooth connectivity). These features are NOT available in Etios VX/VXD and Dzire ZXI/ZDI, hence Manza has an edge over other cars here.
Our take: Manza clearly scores over its rivals when it comes to comfort and convenience features.
Safety
The Manza Celebration, Dzire top-end variants and the Etios top-end variants are equipped with dual front SRS airbags, ABS, EBD and immobilizer. The Dzire also has seat belt pretensioners & force limiter for front seats, headlight on reminder (audio) and 'key not removed' warning.
While the Etios has only driver seatbelt warning and door ajar warning, Manza comes with warning buzzer for driver door open with key/headlamp/taillamp on, warning for seat belt not fastened and retractor, pretensioners & load limiters on front seat belts.
All the three cars come with almost same level of safety features and hence there is no outright winner here.
In Summary
The Manza Celebration, with its additional features, makes it probably the best compact sedan in its category when it comes to offering features at the best possible price. So if you were planning for a top-end compact sedan soon, you might want to shortlist the Celebration edition.
Features Comparison: Manza Celebration vs Etios VX/VXD  vs Dzire ZXi/ZDi
[table id=210 /]