Maruti has been a very familiar brand among Indians for decades. One of the cars that put this brand on the radar of Indian car buyers was the Maruti 800. It was launched in 1983 and remained available in the market until 2014. Even today, there are several Maruti 800 owners who have maintained their cars well, with many of them being modified by the owners themselves. Here, we have a video showcasing an extreme-looking Maruti 800, shared by Deepraj Chari on his Instagram profile. This Maruti 800 hatchback has undergone extreme off-road spec modifications, giving it a rugged appearance.
View this post on Instagram
In the video, we can witness a heavily modified Maruti 800 on the road. While modifications of this nature are completely illegal in our country, we do have several workshops and garages that specialize in working on such special purpose vehicles. Deepraj Chari, a young businessman from Goa, has modified the Maruti 800 to resemble a monster truck. Although it may still look like a Maruti 800, everything apart from the outer shell has been replaced with parts from a Maruti Gypsy.
This Maruti 800 transformed into an off-road truck is essentially an extensively modified Gypsy SUV. The chassis of this car has been replaced with that of a Gypsy, a highly popular 4×4 SUV among off-roaders. It's worth mentioning that the latest generation Jimny is also available in the Indian market now. While we've seen several examples of modified Maruti Gypsys from different parts of the country, this is probably the first time we've come across a Gypsy that utilizes a Maruti 800 shell. At first glance, it may appear to be a straightforward task. Many might assume that Deepraj simply removed the shell of the Maruti 800 and installed it on top of the Gypsy chassis.
Also read: 10 DC Design cars & how they look in the REAL world: Maruti Swift to Mahindra XUV500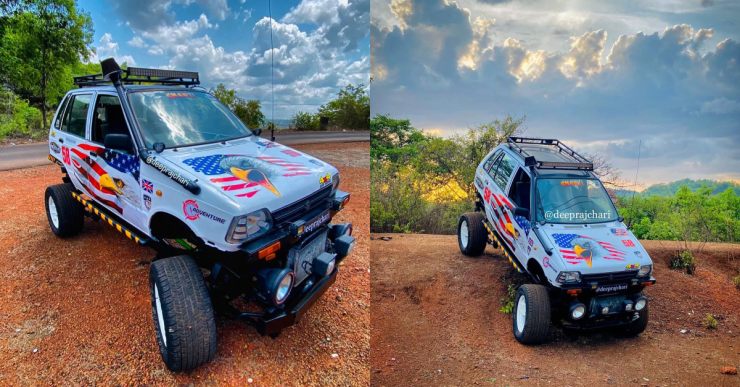 However, we can be certain that it required much more than that. Although specific details about the modifications made to this car are not available, we can attempt to explain the visible modifications shown in this video. The overall height of the car has been increased, making it taller than a stock Gypsy, thanks to upgraded suspension and a lift kit. It now bears a striking resemblance to a monster truck. The steel rims have been swapped out for aftermarket units.
Towards the front, a section of the Gypsy chassis extends out, which Deepraj has ingeniously utilized to mount auxiliary lamps. The radiator grille on this car is positioned behind the lights, partially exposed, presumably to enhance cooling. The stock 800 headlights have been retained, and there's even a functional snorkel. Additionally, there is a metal bar on the side of the car that can serve as a footboard or rock sliders. Climbing in and out of this car will be a challenge for everyone involved.
The original engine of the Maruti 800 has been replaced with the one found in the Gypsy. Not only that, but the gearbox has also been upgraded. The car is equipped with a 4×4 system, making it highly capable off-road. With all these modifications in place, this Maruti 800 monster truck boasts an imposing appearance and seems even more capable than the recently launched Jimny.
Also read: Upcoming 2022 Maruti Suzuki Vitara Brezza rendered