In a CarToq.com poll after the launch of the new Verito, the Maruti Suzuki Dzire still emerged as the best-looking entry-sedan that includes the Toyota Etios also.
Among the 416 votes polled, Dzire got 44% while the Verito came a close second at 39%. So the newly designed Verito does go a long way in negating the  disappointment with the drab looks of the earlier Verito. The Etios was closely the least favourite, with only 17% thinking it was the better looking sedan. See poll.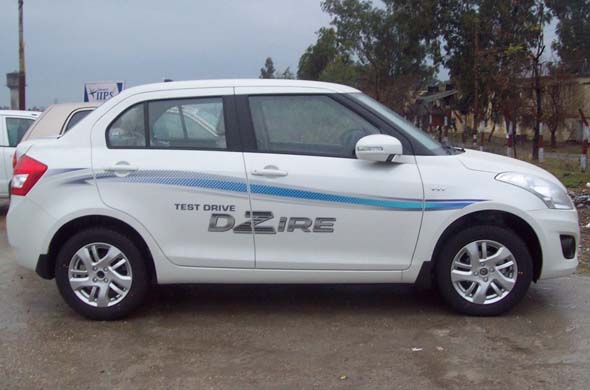 Why the Dzire won?
The Maruti Dzire clearly has a sportier look compared to the Verito or the Etios, with swept back headlamps and curved front fenders. The car is under 4-meters in length and sports a tiny, notchback like boot, which makes it look quite unique. The rear of the new Dzire also looks a lot better than its earlier version, and it has more curves and modern styling compared to the squared off design on the Etios and Verito – which seem quite basic.
In comparison, the Verito and the Etios are more boxy cars, but the Verito has actually managed to appeal to a larger set of people than the Etios.
What has Mahindra changed in the Verito?
Mahindra, after the break-away from Renault, rebadged the Logan as the Verito and had done some minor cosmetic changes. But customer feedback was still poor as the car had many design quirks that needed correction. See Verito video walkaround.
The refreshed Verito addressed all these needs with a total of 23 changes to the looks of the car. The new-look Verito gets new headlamps, grille, bumper and fog lamps. The design of the wipers has been corrected to function properly for right-hand drive cars. The boot lid has been redesigned, with a new rear bumper, new tail-lamps and mirrors. On the interiors, the power-window switches have been moved to the door. The car gets powered mirrors and electric central locking. The center console has been redesigned and it now has a new music system and electric AC controls. It also gets new alloy wheels on the top-end variant.
The good traits of the Verito have been retained. The car is one of the widest in its class and can seat three in the rear comfortably. The boot is spacious at 510 litres, making it the second best in the segment, after the Toyota Etios.
Feedback on Verito suggests the new design should help attract more buyers, but the segment leader is still the favourite choice when it comes to looks and design also.