Maruti Suzuki seem to have played its cards real well with the Eeco this time after its adisappointment with the Versa.
The Maruti Eeco was launched at Auto Expo 2010, and the back-to-basic MUV was a hot favourite rightaway. The super-cheap vehicle made sense for a lot of people looking for basic transportation.
We do not have any numbers yet, but indications are that the Maruti Eeco has climbed to the top of its segment and has become the most sought after MUV.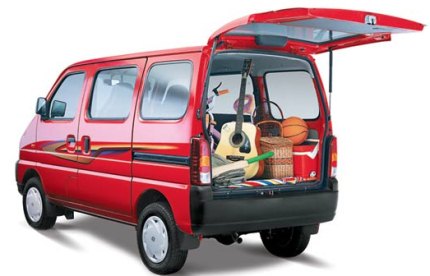 Bookings are shooting up, and the waiting list for the Eeco is 2 to 3 months. We noticed the demand for the Eeco immediately after the news of its launch spread, and in January and February, we got the maximum number of requests for more iformation on our Eeco stories. We recently did a road test of the Maruti Eeco, where it had us floored with its simplicity and no-nonsense attitude.
As we said in our review, the Eeco has loads of cabin space and the 1300 cc petrol engine surely has enough steam to lug this MUV along. The buyers who are queuing up for the Eeco range from businessmen to doctors and farmers who want basic transportation at an affordable cost.
A Maruti Suzuki spokesperson said, "The product has received overwhelming customer response for its attractive power, good air-conditioning, looks and high utility value All these features along with attractive prices have got us many more buyers than what we had planned. This has resulted in a shortfall in supply as compared to the huge demand and we are now trying to increase production so as to match the demand scenario."
Maruti has seen the demand for the Eeco and has quickly ramped up production. The Eeco enjoys this top position as it is the only model available at this low price point in the entire Automobile sector.