Big disappointment for all those who landed here looking for more information on the so-called Maruti EECO. It is nothing but a slightly face-lifted Versa van, according to AutoCar India.
Update: Maruti Eeco road test – we test drive the Eeco and bring you everything you want to know!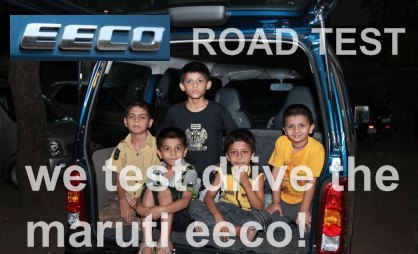 So there goes all your dreams of a big surprise from Maruti Suzuki at the Auto Expo 2010.
According to the magazine's website, the biggest change in the Maruti EECO is the new KB series engine which does duty in the Ritz. This is obviously a much more engine than the old motor, meeting Euro IV emission norms. Other changes are to the bumper and headlights. Nothing to get all kicked about, right?
We had earlier speculated that the Suzuki APV which is currently being sold in some international markets is the Eeco. Not even that, sadly.
On the other hand, everything is not lost, however. Remember that the Versa was a very practical van, and is still being used by some radio taxi companies. If they could get the seating right – they never provided any thigh support unless you are a kid, and price it really low, there might still be a market for the new Eeco avatar of the Versa. Remember that the Versa was being sold at super-low prices.
The last price we remember for the Versa was between Rs 3.65 lakh for the low end model. Even that could not get it any sales. Now, in the new seven seater avatar, if they could price it even lower, with a better engine and interiors, would it have a chance? Maruti certainly seems to think so.