Maruti Suzuki has launched a refreshed version of its Versa van at the Auto Expo 2010, named EECO.
Update: Maruti Eeco road test – we test drive the Eeco and bring you everything you want to know!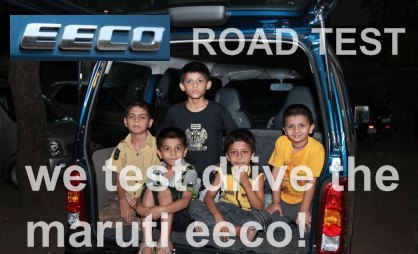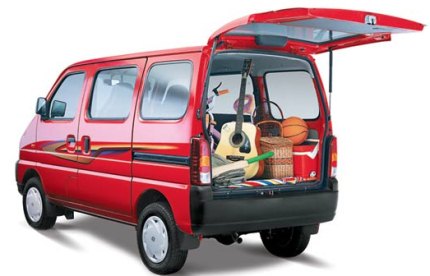 The company has clearly decided to play the price game here, and we think that is a good thing. The Versa was unpopular largely because it was to costly. Maruti Suzuki could not do much about adding a diesel option – so they did the next best thing – downsized the erstwhile Esteem's 1300cc engine, made it BSIV compliant, and plonked it in the new Eeco. Then they chopped off the tall roof, moved the engine up front instead of under the driver's seat – and voila, you have the new Maruti Suzuki Eeco, priced Rs 2.75 lakhs ex-showroom Delhi!
Eeco – power and fuel efficiency
The 1200 cc engine offers 73 bhp @ 6000 rpm, and a maximum torque of 10.4 kgm @ 3000 rpm. 73 bhp should be enough when the Eeco is used as a five-seater – but as a 7-seater, we have our doubts.
Fuel efficiency is a claimed 15.6 kmpl, very good for a petrol engined MPV.
Not a bad deal. We laughed when we heard the name for the first time, but at this price, Maruti might possibly have the last laugh.
The Eeco would be available in both 5-seater and 7-seater options. The price of the AC version will cost Rs 2.89 lakhs while the 7-seater Eeco will be priced Rs 2.75 lakhs.
There will also be an electric Eeco some time in the future – the company displayed one at the Auto Expo, but no time-frame is given for the same. An Eeco CNG would also be launched in due course.
As far as looks go, we don't think it matters much to the segment the Eeco is targeting. The bumpers are now different and better looking, headlights have changed, and the high roof has vanished. But it is unmistakeably a Versa, still.
You also get one-piece seats like in the Nano or the Hyundai i10, dual tone interiors, flat loading bay, tubeless tyres and six colours.
At this price, it is possible that Maruti Suzuki can finally start phasing out the Omni, its most basic vehicle in India.