The Suzuki Concept RIII surprised everyone – this is going to be a world premier of a six-seater MPV for the Auto Expo 2010.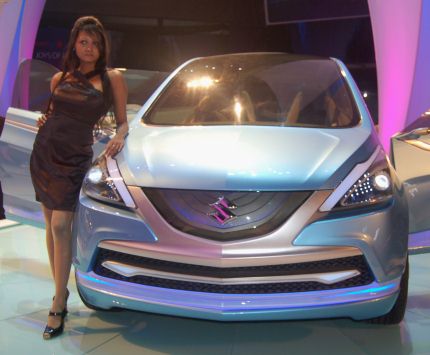 Update: Maruti Concept R3 unveiled
We have no idea what this looks like – no spy shots have leaked, and it looks like Maruti managed to keep this a surprise till now. Our own wild guess is that this will be new generation Suzuki APV, which will be produced probably in 2011. Much, of course, would depend on what the audience response to the Concept RIII MPV when it is displayed in the Maruti "Joys of Life" pavilion. The new MPV was designed over a period of nine months by Maruti Suzuki's Indian designers.
MPVs are a favourite as large family cars as well as taxi cabs in India, so we won't be surprised if the Concept RIII attracts large crowds at the Auto Expo 2010. Also read Small car launches at Auto Expo 2010
It is believed that the Suzuki Concept RIII will be built on a stretched SX4 platform. Engine choice is still unclear – Maruti Suzuki's current engine range does not include an engine powerful enough for the 7-seater MPV – other than the top end SX4 engine. The other option is that considering the Suzuki-Volkswagen alliance signed recently, the company may even have the option of one of their powerful diesels for the Concept RIII. However, this is probably a decision that will be taken much closer to the actual launch than today.
Pricing also would be a factor in sales – Maruti Suzuki enjoys immense trust in the Indian market, so if the pricing is right alongside that of the Mahindra Xylo or the Toyota Innova (we are still unclear about the price of the Tata Indicruz MPV) much sales are certain.
Maruti Suzuki's new car launches at Auto Expo 2010 include the EECO and possibly the Suzuki Kizashi.