Updated: Maruti Suzuki Eeco launched at 2010 Auto Expo. Click for more.
Update: Maruti Eeco road test – we test drive the Eeco and bring you everything you want to know!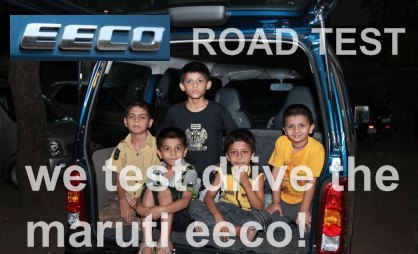 Eeeks. Yikes. What a name.
Update 2: The EECO is powered by a 1196 cc petrol engine that produces 73 bhp and 101 Nm of torque. 5-speed transmission, sliding doors, and 5 and 7 seater configurations. Yes, it is confirmed that this is a small MPV to replace the Versa.
Update: The latest is that the Maruti Suzuki EECO is really a van. It is the replacement for the Versa. So in spite of anything else you hear, it is likely that it is the Suzuki APV which we talked about earlier. There are some photos doing the rounds, but they are super bad – we are waiting for some good photos.
Earlier, we heard about a so-called Maruti Suzuki Eco – we thought that would be the Suzuki APV, a van to replace the Versa.
Now, the Economic Times is reporting that nah, it really is a 1.2 liter car which may or may not have 2 or three rows, is a small car, and will be in the C segment.
We can't make head or tail of that. All we know is that unlike the indifferent name Eco which we heard earlier, we are going to get something that will be called the Eeco.
The available information is confusing it looks like someone has rushed to print without really figuring out what is going on.
The the so called Eeco is a car from Maruti, it cannot have three rows. Cars don't have three rows, period. The ET story though calls it a family car.
And then we are told that the Eeco will cost under Rs 4 lakhs. Nice.
Basically, what we think is that this is the replacement for the Versa, and just like Maruti tried to sell us the Versa pretending that it is a car, they are going to sell us the Eeco telling us that it is a family car too. Sort of like Mahindra used to tell us the Scorpio was a car.