The Maruti Suzuki Ertiga was first introduced in India in 2012, and offers ample cabin space, comfortable seating, as well as an array of features that make it an ideal car for long journeys. It comes with various safety features such as airbags, anti-lock braking system (ABS), and electronic brake-force distribution (EBD). Over the years, Maruti Suzuki has updated the Ertiga with new features and upgrades. The latest version of the Ertiga boasts a refreshed design, a more powerful engine, and improved fuel efficiency. Here's a look at the Ertiga's variants, and let's find out which of these is the most value for money.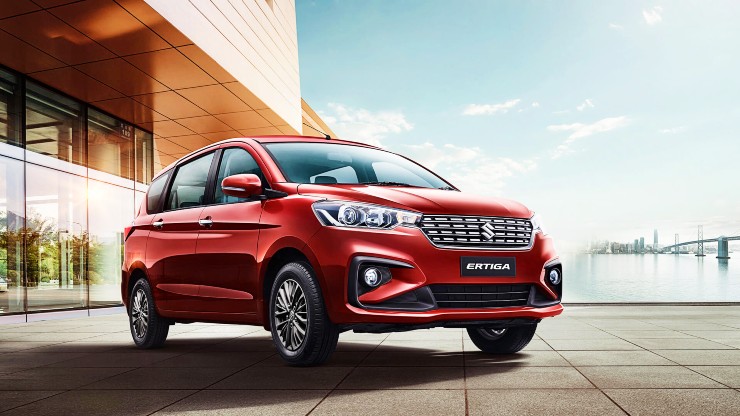 Maruti Suzuki Ertiga: Top Competitors
The Maruti Suzuki Ertiga competes with the likes of Kia Carens with the latter being a bit more expensive.
Also read: Maruti Suzuki XL6: New TVC released
Maruti Suzuki Ertiga Variants
The Maruti Suzuki Ertiga has 9 variants, as listed below:
| | |
| --- | --- |
| Variant | Price (ex-showroom, Delhi), in INR |
| Ertiga LXI | 8.35 lakhs |
| Ertiga VXI | 9.49 lakhs |
| Ertiga VXI CNG | 10.44 lakhs |
| Ertiga VXI AT | 10.99 lakhs |
| Ertiga ZXI | 10.59 lakhs |
| Ertiga ZXI Plus | 11.29 lakhs |
| Ertiga ZXI CNG | 11.54 lakhs |
| Ertiga ZXI AT | 12.09 lakhs |
| Ertiga ZXI Plus AT | 12.79 lakhs |
Maruti Suzuki Ertiga: Quick Review
The Maruti Suzuki Ertiga is a versatile and practical MPV. The Ertiga boasts a refreshed and chic design that gives it a more premium look. The front grille, headlamps, and taillights have been rehauled. The spacious cabin can comfortably seat up to seven people and comes with features such as a touchscreen infotainment system, automatic climate control, and power windows. The second-row seats can be adjusted for more legroom, while the third row can be easily folded down to create extra luggage space.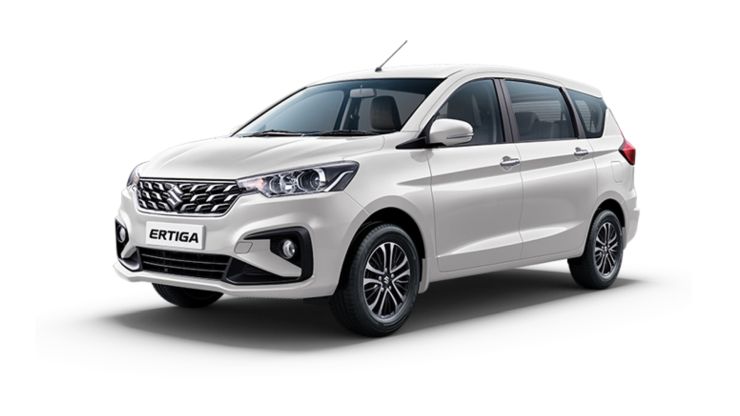 Engine and performance: The engine is responsive and provides adequate power. The throttle responses are quick, and the gear ratios are well defined. Mid-range performance, however, can seem lackadaisical and the engine could become noisy at higher rpms. The acceleration, though, remains quite good.
Ride and handling: The Ertiga's ride quality is outstanding; it remains comfortable and the suspension does its job well. It goes over potholes and broken roads quite smoothly and there's barely any rocking or side-by-side motion. However, at high speeds, there is some vertical movement from the rear, but it is not very noticeable. Steering is smoother and better than in the other Marutis, and a nice heft to it. Its wider track and a tighter chassis make turning corners a breeze. It turns into corners sharply and confidently.
The engine starts up with little noise and no vibrations can be felt in the cabin. It remains silent at idle. The clutch is light and so is the gear shifter. Even its gates are well-defined.
When you release the clutch, the car gets a move on without throttle input. Throttle response is adequate. Low speed driveability is excellent; in lower gears, the car can pull at anything over 1,000 rpm. On the open road, the Ertiga feels sufficiently quick. Power delivery is linear, and there is enough performance available to get the job done. The Ertiga is more suited to a sedate driving style and you can comfortably cruise at 100 km/h and 120 km/h.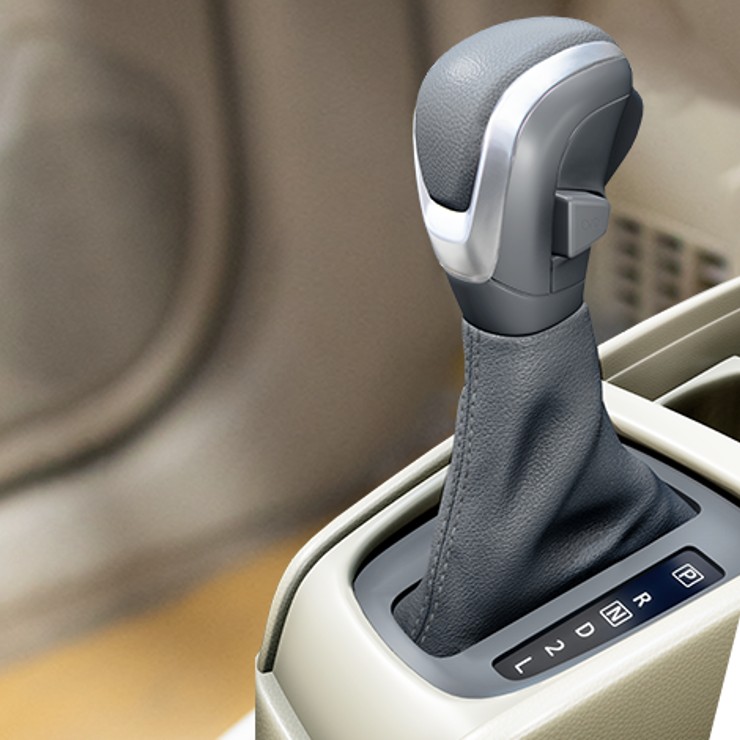 Comfort and space: The interiors are spacious and plush, with well-cushioned seats. The cabin is larger than earlier and the backrest recline function makes the third row more usable.
Safety: In terms of safety features, the Ertiga comes equipped with dual airbags, ABS, and EBD as standard across all variants. Additionally, the top-end variant comes with features such as rear parking sensors, a reverse camera, and hill hold assist.
Mileage: Mileage across variants is pretty consistent, from 20.3 km/l to 20.51 km/l, and goes up to 25 km/l for CNG variants.
Concluding remarks: The Maruti Suzuki Ertiga is a robust choice among MPVs in India. It is compact in dimensions, has breezy controls and good all-round visibility. The petrol engine is smooth, refined and performance is adequate. It is a practical car and meets expectations quite well.
Maruti Suzuki Ertiga: Most VFM Variant
The most value-for-money variant for the Maruti Suzuki Ertiga is the Ertiga VXI. It is priced at Rs 9.49 lakhs (ex-showroom, Delhi).
Most VFM Variant in Comparison with the Base Variant
The base variant for Maruti Suzuki Ertiga is the Ertiga LXI, priced at Rs 8.35 lakhs (ex-showroom, Delhi). In terms of features, the VFM variant has a few added features over the base variant. These are keyless entry, OEM audio system with electrostatic touch buttons and 4 speakers, multi-function steering wheel, day/night IRVM, a USB charger in front, rear AC vents, co-driver seat back pockets, split type luggage board, passenger side sunvisor with vanity mirror, Dazzle Chrome-tipped parking brake lever, gear shift knob with Dazzle Chrome finish, and body-coloured ORVMs.
Most VFM Variant in Comparison with Top-end Variant
The top-end variant for Maruti Suzuki Ertiga is the Ertiga ZXI Plus AT, which is priced at Rs 12.79 lakhs (ex-showroom, Delhi). The Ertiga ZXI Plus AT has automatic transmission, and has additional features over the VFM variant. These are reverse parking camera, 7-inch Smartplay Pro touchscreen, infotainment system, 2 tweeters, Android Auto, Apple CarPlay, Arkamys audio system, Internet connectivity, automatic climate control, cruise control, low fuel indicator, fog lights, turn-by-turn navigation system, Surround Sense powered by Arkamys, knee/curtain airbags, follow-me-home headlights, sculpted dashboard with metallic teak wooden finish, metallic teak wooden finish on front door trims, plush dual tone seat fabric, driver and co-driver side back pockets, leather wrap steering wheel with metallic teak wooden finish, machined two-tone alloy wheels, new back door garnish with chrome insert, and chrome-plated door handles.
Key take-outs from the base, VFM, and top-end variant analysis above
There is a marked difference of over Rs 4 lakhs between the prices of the base variant (Ertiga LXI) and the top-end variant (Ertiga ZXI Plus AT), whereas the most VFM variant (Ertiga VXI) is slightly higher priced than the base (with a difference of a little over Rs 1 lakh). It might make sense to opt for the Ertiga VXI if you are looking for something more than the basics in the model and don't mind spending a little extra.
In conclusion, the Maruti Suzuki Ertiga is a practical and affordable car that offers a combination of style, performance, and versatility. Not only is it spacious and comfortable, but also its styling is sleek, and its performance decent.
Also read: 10 DC Design cars & how they look in the REAL world: Maruti Swift to Mahindra XUV500