The official launch of the Maruti Suzuki Jimny is just a few days away, and the excitement surrounding its arrival is growing. While Maruti Suzuki claims that the Jimny is a niche vehicle, it is entering a segment that is already dominated by the Mahindra Thar, another popular lifestyle off-roader. On paper, the Mahindra Thar appears to be a larger vehicle, belonging to a higher segment. We stumbled upon a YouTube Shorts video that showcases both SUVs parked side by side, offering a glimpse of how they compare in terms of size.
The YouTube Shorts video, uploaded by "Wildarm Vehicle," captures the Maruti Suzuki Jimny and the Mahindra Thar parked in their natural habitat—a picturesque mountainous valley. The video highlights the advantage of the Thar over the Jimny in terms of dimensions, with the former appearing larger in comparison. However, in the real world, the difference may not be as significant, as both SUVs boast a robust and muscular road presence.
Also read: Maruti Suzuki greenlights Jimny for launch in India
Let's delve into the dimensions. Both the Maruti Suzuki Jimny and the Mahindra Thar measure 3985mm in length. However, the Thar is wider and taller, measuring 1820mm in width and 1850mm in height, while the Jimny is 1645mm wide and 1720mm tall. This indicates that the Thar is 175mm wider and 130mm taller than the Jimny, establishing its significant size advantage. Additionally, the Thar boasts a higher ground clearance of 245mm compared to the Jimny's 210mm.
Nevertheless, there is one area where the Maruti Suzuki Jimny clearly surpasses the Mahindra Thar—wheelbase. The Thar has a wheelbase of 2450mm, whereas the Jimny boasts a wheelbase of 2590mm. This suggests that the Jimny offers slightly more interior space than the Thar, which is why it has the luxury of additional rear doors, while the Thar remains a strictly three-door SUV. It's important to note that both SUVs accommodate four passengers.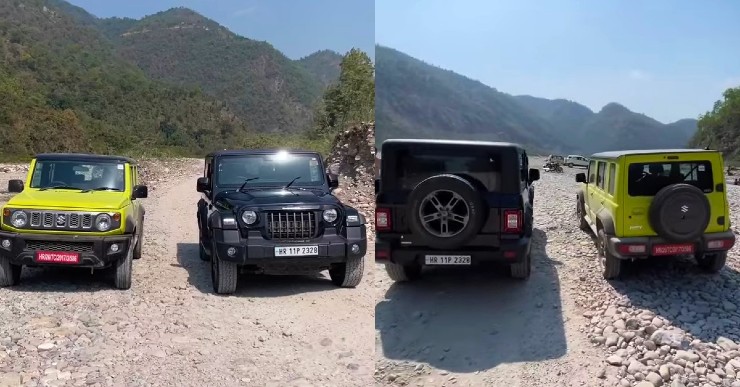 In terms of drivetrain options, the Mahindra Thar is available in a variety of variants, including petrol-manual, petrol-automatic, diesel-manual, and diesel-automatic. On the other hand, the Maruti Suzuki Jimny is exclusively equipped with a petrol engine and offers both manual and automatic transmission choices. Furthermore, while the Mahindra Thar is available in both rear-wheel drive and four-wheel drive configurations, the Maruti Suzuki Jimny comes standard with a four-wheel drive system.
Overall, the Maruti Suzuki Jimny and the Mahindra Thar each have their own unique strengths and features, catering to different preferences and requirements of SUV enthusiasts. The choice between the two ultimately depends on individual preferences and priorities.
Also read: Upcoming 2022 Maruti Suzuki Vitara Brezza rendered