Maruti Suzuki has taken the covers off its Maruti R3 MPV concept Multi Purpose Vehicle (MPV), at the Auto Expo 2010.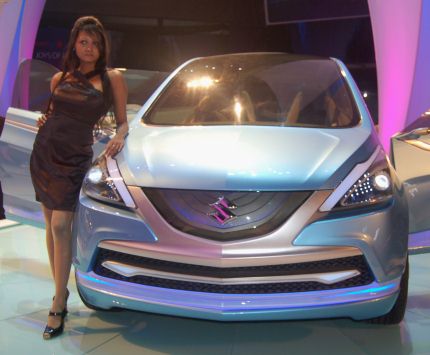 Scroll to the bottom for Maruti Concept R3 photo gallery
At the unveiling of the concept car, Managing director and CEO Shinzo Nakanishi said that the Maruti R3 MPV concept will carve a new segment in the Indian market. Described as a family car, the six-seater will cater to large families.
The concept design aims to optimize interior space without compromising on the elegance and compactness of the exterior.
The exterior of the Maruti R3 concept has flowing lines that start from the front of the vehicle and move to the rear. There are concealed rear tail lamps, a glass roof, aluminum accents on the side, and a chrome grille.
The interior design cues are derived from the fluidity of flowing water giving the appearance of elements merging into another.
Maruti's theme for the Auto Expo 2010 is 'Joys of Life."
Mayank Pareek Maruti Suzuki Executive Officer, Marketing and Sales said "Over the years, Maruti Suzuki has ushered in millions of joyous moments in the form of delivering reliable products, offering prompt and careful after-sales services, and forging a long-term relationship with its valued customers. 'Joys of Life' as a theme celebrates this long history."
Maruti had showcased the concepts for the Maruti A-Star and Swift at the Auto Expos held in previous years. The production models of both the cars have been successful in India, the Maruti Swift more so.
The Maruti R3 MPV concept car will be designed entirely in India over a period of nine months. It will also be built primarily in India to keep costs down.
Maruti has not divulged any information as to when the Maruti R3 MPV concept will go into production or its expected price and specifications.