Mercedes Benz launched the SLK 350 roadster in New Delhi today, priced at Rs. 61.9 lakh ex-showroom Delhi. This two-seater convertible sports car replaces the older SLK 200 that was already on sale in India. The car is fully imported and can be bought off the shelf in India.
This car is aimed at young businessmen who love to drive themselves and enjoy a bit of open-top motoring.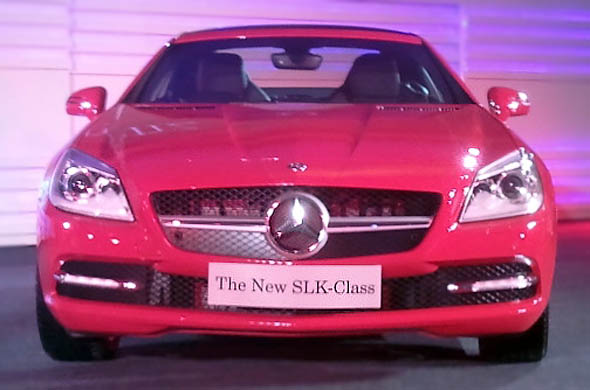 Looks
The low-slung, sporty stance of the two-seater SLK is the first thing that catches your eye. Mercedes too has started using LED daytime running lights upfront and LED tail-lamps. The roof of the SLK is one of its most unique features, as it features a panoramic-glass roof with "Magic sky control". This is essentially a system that darkens or lightens the tint of the glass roof depending on your mood and the weather, offering you a clear view of the sky at all times. And if you want to experience the wind in your hair, the roof neatly folds away into the boot at the touch of a button, turning it into an open-top roadster.
Dual HID adaptive projector headlamps and large Mercedes logo on the grille dominate the front, while the car sits really low at just 1.3 metres in height. It rides on 17-inch alloys with low-profile tyres.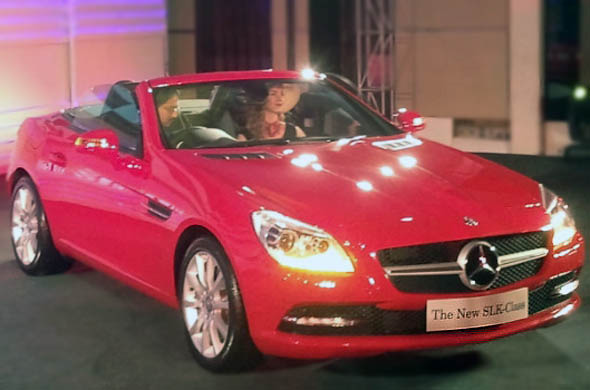 Comfort and equipment
The car is essentially one that pampers the owner. It comes with a Harmon-Kardon seven-speaker, 6 CD sound system, climate control, air-scarf (that blows warm air around your neck in cold climate), six airbags, choice of leather upholstery (customizable) and many other features for a complete sports car driving experience.
And then there is the attention-assist system, which detects if a driver is drowsy and warns him to freshen up and drive. The car also has automatic "Distronic" braking as an option, which tracks the distance between the vehicle ahead and the car automatically applies the brakes if the distance reduces. The "Parktronic" system besides warning about parking distances also instructs the driver on parking procedures such as angle at which the driver needs to turn etc.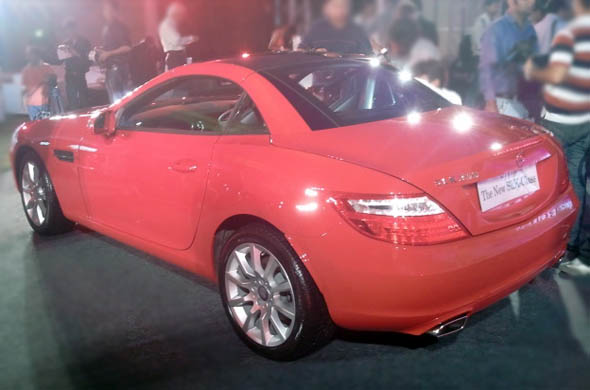 Power and performance
The new SLK 350 is powered by a V6, 3498cc petrol engine that puts out 370 Nm of torque and 306 bhp of power. This engine is mated to an automatic seven-speed transmission with G-tronic manual shift option. It also features Mercedes "Blue-Efficiency" system, which is essentially a whole bunch of technologies to reduce emissions and improve mileage. The start-stop feature that switches off the engine at idle and restarts when you want to move is one of these.
Mercedes claims the top speed of the SLK 350 roadster is 250 kmph.
Mileage
Fuel efficiency is one of the last things customers of sports cars think about, but in this case it is quite good. The SLK 350 gives a claimed mileage of 14.08 kmpl under standard European test conditions, with the in-city mileage measured at 10.1 kmpl. However, in real world conditions, don't expect the car to give more than 8-9 kmpl.
As Debasis Mitra, director, marketing and sales, says, "Driving an SLK is like taking your girlfriend to a fine restaurant on a date. You don't look at the bill, do you?" We get the point.
Target customer
Mercedes isn't putting out any sales targets for the SLK, but says that it will appeal to young, rich businessmen and entrepreneurs who like driving and enjoy open-top motoring. The SLK 350 competes directly with the Porsche Cayman S and Boxter, priced at Rs. 61 lakh and Rs. 57 lakh, ex-showroom, respectively. Says Mitra, "We've preconfigured the cars in our showrooms, so you can just walk-in and pick one up with minimal waiting periods."
It's not likely to be the only car in a person's garage, and would likely be the third or fourth car in a family – a car that's purely meant for individual use.
Owning a Mercedes is set to become cheaper as the company is considering leasing cars to individuals. The leasing business has not yet started, but will be operational in a couple of months, said Mitra.
Start saving if you want one!
[table id=51 /]