If you are looking for a diesel small car, a hatchback, that gets you the most bang for the buck; there is quite a range of cars to pick from. We pick the top five most fuel-efficient diesel small cars in India.
In India, there are no less than 13 models of diesel hatchbacks on sale at the moment, with more on the drawing board, thanks to the sharply rising price of petrol.
The best part is, all the diesel variants of small cars available in India give great mileage, and carmakers are sparing no effort in flaunting their mileage figures. "Delhi to Chandigarh in just 10 litres," reads a hoarding for the Tata Indica eV2 on NH1. Work out the economics, and that's just Rs. 400 for a trip to Chandigarh, a distance of 250 km. That's about as much as a train or luxury bus ticket these days, and if about four people share the cost, it's just about Rs. 100 each. That's really cheap!
We've cobbled together a line-up of the top five most fuel-efficient diesel small cars in India, based on manufacturers' claims for mileage (ARAI certified), allowing you to make an informed decision on your next diesel small car (Actual mileage you get from your car might vary). 
Ranking them on the basis of their mileage claims, here's the line up of the top five most fuel-efficient diesel small cars in India:
Chevrolet Beat TCDi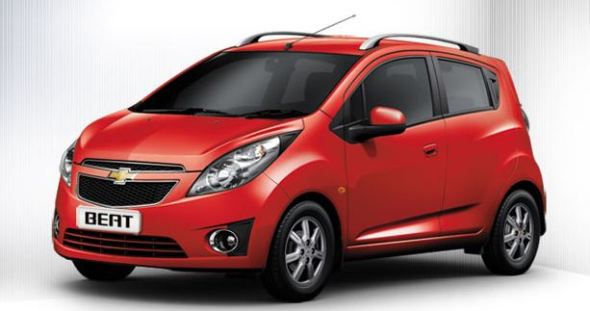 The Chevrolet Beat is going to stir up the small diesel hatchback segment. The car is set for launch in July and was recently previewed to the media in Talegaon, Maharashtra. The Beat looks identical to its petrol sibling on the exteriors. But under the hood, the car has a 936 cc, 58 bhp, 3-cylinder diesel engine that puts out 150 Nm of torque mated to a five-speed gearbox. The engine is a derivative of the Multijet engine that is used in the Fiat Punto, Maruti Swift and Tata Vista. The Beat diesel also features electronic power steering, which is a first for General Motors. The company claims an ARAI-certified mileage of 25.4 kmpl. Also see: Cheapest diesel cars in India
The Beat retains its unique proposition of radical styling, spacious cabin and compact size. The only downside is poor boot space. The Beat diesel is priced between Rs. 4.51 lakh and Rs. 5.69 lakh. Also read: Beat diesel road test
Tata Indica eV2
The Tata Indica has been around since 1998, but has steadily been upgraded to meet changing customer demands. However, fit and finish continue to be an issue with the Indica. But with claims of 25 km per litre of diesel, some of the car's build-quality shortcomings can be forgiven. The Indica has been a very popular car in the commercial market, and there's no reason why those looking for cheap and affordable motoring shouldn't look at the car.
The Indica eV2 puts out 70 bhp of power and 140 Nm of torque from a 1.4 litre turbo diesel engine, mated to a 5-speed gearbox. Prices of the Indica eV2 are pocket-friendly as well, ranging from Rs. 4.20 lakh to Rs. 5.11 lakh ex-showroom Delhi. Also see: Most fuel-efficient entry level diesel sedans
Toyota Etios Liva D-4D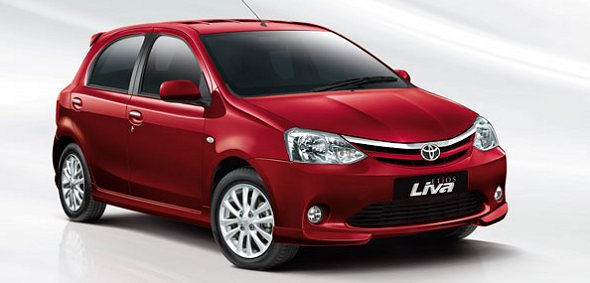 The Liva is a conservatively styled practical hatchback with lots of interior space. It is powered by a 1.4-litre D-4D diesel motor that puts out 67 bhp of power and 170 Nm of torque. The engine pulls the car effortlessly at average speeds though feels strained a bit in highways. Nevertheless, it has a claimed fuel economy of 23.59 kmpl and being Toyota, it will return consistent fuel economy in the long run as well.
The Liva may not impress you with its features list. The interiors look cheap, but since its Toyota, we expect the parts to last long. The Liva diesel is available in two variants: GD priced at Rs. 5.77 lakh and GD SP (Safety Package) priced at Rs. 6.08 lakh. Also read: Toyota Liva diesel road test
Nissan Micra dCI & Renault Pulse dCI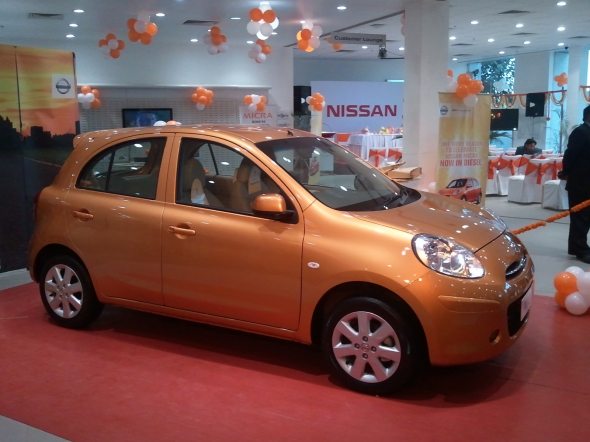 The Nissan Micra is quite deceptive for its specifications. It's a small car, at premium hatchback pricing, but low on power. The Micra has a 1.5 litre engine that puts out just 63 bhp of power and 160 Nm of torque. The same engine is used in the Renault Pulse, which is just a badge-engineered Micra. However, the lazy power figures driving a car that's under a ton, churns out some great mileage figures. The Micra and Pulse return a claimed 23.08 kmpl.
The Micra is very comfortable to drive, stylish looking and is quite fast. Expect a similar experience from the Pulse as well. The Micra diesel is available between Rs. 5.96 lakh – 6.41 lakh while the Renault Pulse diesel is priced in the range of Rs. 6.12 lakh – 6.63 lakh.
Maruti Suzuki Swift DDiS
The Maruti Suzuki Swift is the largest selling premium hatchback. Its sporty looks, consistent performance and low maintenance appeals to large set of buyers. The Swift is powered by a 1.3-litre DDiS motor that puts 74 bhp of power and 190 Nm of torque. The engine is known for its strong mid range punch though it has turbo lag below 2,000 rpm. The claimed mileage of Swift diesel is 22.9 kmpl.
The Swift has spacious interiors at the front though the rear is little cramped with limited legroom. The boot too, is below average (210 litres only). However, Maruti's large service networks, low spare parts costs and high resale value more than makes up to the shortcomings of the Swift. The Swift diesel is priced in the range of Rs. 5.53 lakh – Rs. 6.77 lakh. Also read: Best premium diesel hatchbacks
What we think
Mileage claims alone are not enough to justify buying a car. For instance, the Maruti Ritz and Maruti Swift diesel are also extremely fuel-efficient, giving a mileage of over 21kmpl. These cars also benefit from a huge service network backing. In fact, one also has to look at ownership costs, serviceability, drivability and overall comfort.
On a pure price proposition, the Chevrolet Beat and Indica eV2 are hard to ignore. Of course, image also matters and many individual buyers are likely to pick cars that look more classy or drive better and may be willing to sacrifice a couple of kilometres on mileage. On these counts, the Volkswagen Polo, Suzuki Swift, Hyundai i20 and Ford Figo score pretty well as good cars for individual buyers to consider.
Fuel-efficient diesel hatchbacks' specifications at a glance
[table id=708 /]