If you have a large family and are looking for a fuel-efficient MPV (Multi Purpose Vehicle), here's a list of the best options for you.
The growth of the utility vehicle market over the last couple of years has pushed many car makers to launch new models in this fast growing segment. This was quite evident at the Delhi Auto Expo 2012 where car makers displayed many upcoming utility vehicles such as the Maruti Ertiga, Nissan Evalia, Chevrolet Enjoy and the Hyundai Hexaspace concept.
Gone are the days when MPVs were looked at only as chauffeur-driven vehicles, which are high on maintenance and running cost. Today, MUVs are sophisticated, have decent fuel efficiency and are as easy to drive as hatchbacks and sedans. CarToq picks the top five diesel seven-seater MPVs which are high on fuel efficiency.
Maruti Suzuki Ertiga diesel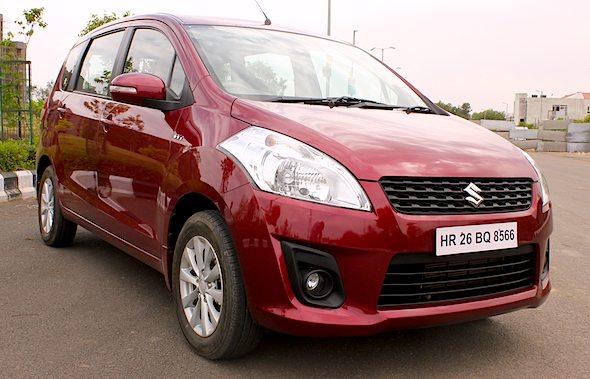 Claimed mileage: 20.77 kmpl
Price: Rs. 7.30 lakh – 8.45 lakh
The Ertiga diesel is powered by a 1.3-litre DDiS motor which also powers the SX4 diesel sedan. The engine puts out 89 bhp of power and 200 Nm of torque and is mated to a five-speed manual transmission. The engine is known for its mid range pull and great levels of refinement.
The Ertiga is built on the Swift platform and that shows in its car like handling manners. If you had been driving a hatchback or a sedan and are looking to upgrade to a spacious MPV which has seven seats, the Ertiga makes lot of sense. Also see our Maruti Suzuki Ertiga Video Review
USP: High mileage, compact size, handling
Mahindra Bolero
Claimed mileage: 15.96 kmpl
Price: Rs. 6.42 lakh – 7.08 lakh
The Bolero is powered by an M2 CRDI (common rail direct injection) engine that makes 63 bhp of power and 195 Nm of torque. The new engine is mated to a five-speed manual transmission. Though the power is just adequate to drive around the town, the Bolero cannot hold up to other MUVs when it comes to highway performance. Also read: Tata Sumo Gold versus Mahindra Bolero ZLX
The Bolero lacks refinement and ergonomics are poor, it lacks safety features such as ABS and airbags even on the top-end variant. However, it has a wide appeal in semi-urban and rural areas for its rugged nature. The Bolero sold more than 1 lakh units in the 2011-12 financial year, which says a lot about this utility vehicle's demand in the market.
USP: rugged nature, price
Tata Sumo Gold
Claimed mileage: 14.7 kmpl
Price: Rs. 5.76 lakh – 7.10 lakh
The Sumo Gold is now powered by a 3-litre, CR4 (Common Rail) BS-IV compliant engine that makes 83.8 bhp (85 PS) of power and 250 Nm of torque. It is mated to a five-speed manual transmission. The engine offers decent mid range performance, but with all occupants on board, it runs out of breath soon. The ergonomics are also poor making it uncomfortable for long drives.
The Sumo Gold offers more space than its direct rival, the Bolero. It offers phenomenal headroom and adequate legroom for all the passengers. Like the Bolero, the Sumo Gold lacks safety features such as ABS and airbags. Further, its boxy design and poor handling characteristics shows its age.
USP: Interior space, price
Mahindra Xylo
Claimed mileage: 13 kmpl
Price: Rs. 7.47 lakh – 10.47 lakh
The Xylo facelift comes with a 2-.2-litre mHawk engine, but only in the top-end E9 variant. This engine puts out 120 bhp of power and 290 Nm of torque. The performance of Xylo E9 is better than the Xylo powered by the 2.5-litre mEagle that puts out 112 bhp of power. The cabin is well insulated from the engine noise offering good overall comfort during long drives.
The Xylo comes with plenty of features such as dual airbags, ABS, cruise control, stability control, Bluetooth connectivity, dual air-conditioning, voice command activation system and steering mounted audio controls. It has a tall body offering ample headroom for all three row passengers. Legroom is great while the shoulder room is adequate. The only drawback is the very small boot space available when all the three rows are used up. Also read our Maruti Suzuki Ertiga vs. Mahindra Xylo: Comparison
USP: Space, features, price
Toyota Innova Diesel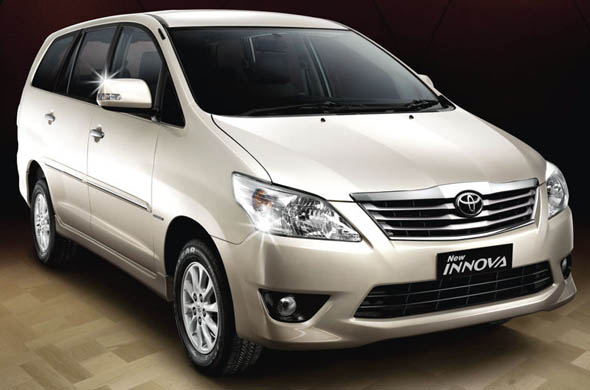 Claimed mileage: 12.99 kmpl
Price: Rs. 9.14 lakh – 13.58 lakh
The Innova is powered by a 2.5-litre diesel engine that puts out 102 bhp of power and 200 Nm of torque mated to a five-speed manual transmission. The Innova is a breeze to drive in city traffic conditions while at highways if feels a bit strained especially when driven above 120 kmph with seven people on board. Also read: 9 reasons that make the new Toyota Innova a great car for its features!
What makes the Innova, a great people mover is its car like drivability, predictable handling and spacious interiors. Further, the Innova offers good comfort for front and middle row passengers, while the third row offers decent comfort for two passengers. Head room and shoulder room are just adequate while the boot space is scarce when all the three rows are in use.
USP: Reliability, drivability and handling