If you are looking for a spacious small car below Rs. 4 lakh, there are plenty of cars for you. You can choose from cars like the Maruti Suzuki Alto, Alto K10, Wagon R, Estilo, Hyundai Santro, Eon, i10, Chevrolet Spark, Tata Nano and Indica.
However, not all cars have spacious interiors that can accommodate five passengers and luggage when required. CarToq has narrowed it down to the top four, most spacious hatchbacks under Rs. 4 lakh (ex-showroom, Delhi).  Let's take a quick look at these  cars and what they offer.
Tata Indica eV2 Xeta GLS
Price: Rs. 3.83 lakh
The Indica eV2 is popular among cab drivers because it has plenty of interior space. The rear seat has enough shoulder room for three passengers to sit abreast. The boot space of the Indica is also a commendable 220 litres. Also read: Tata Indica e-Xeta: what's new and what's not
On the downside, the high set steering wheel of the Indica may not suit all and will especially be a hindrance to people of average or below average height. But apart from these drawbacks, the Indica is a good car which offers a spacious cabin and good mileage.
The Indica eV2 Xeta is powered by a 1.2-litre petrol motor that puts out 65.3 bhp of power and 99.8 Nm of torque. Expect a fuel economy of about 17 kmpl from the Indica eV2 Xeta. The Indica is not a feature rich car per say but you do get basic features like power steering and AC.
Hyundai i10 Era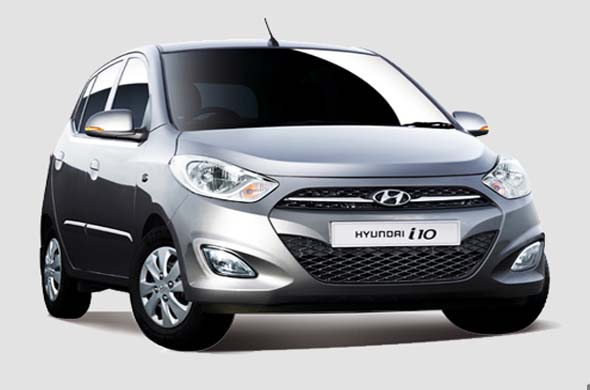 Price: Rs.  3.99 lakh
The i10 is compact looking from the outside but on the inside it is surprisingly spacious. Thanks to its tall boy design, the i10 offers plenty of headroom in both the rows and even six footers won't complain.
The front seats offer reasonable comfort and small things that matter like, the position of gear lever are also spot on. This makes driving the i10 a pleasurable experience even for long continuous drives. The interiors have plastics that are soft to touch, while fit and finish is commendable.
The rear seat of the i10 is not as wide or spacious as the Indica but can actually seat three average sized people. The legroom is sufficient even for the middle passenger and the 225 litre boot is useful for weekend trips and family outings.
The i10 Era is powered by an iRDE2 1.1-litre, 4-cylinder engine that puts out 67 bhp of power and 99 Nm of torque. It has an ARAI-certified mileage of 19.81 kmpl. With regard to features, the i10 Era comes with AC, but no power steering.
Maruti Suzuki Wagon R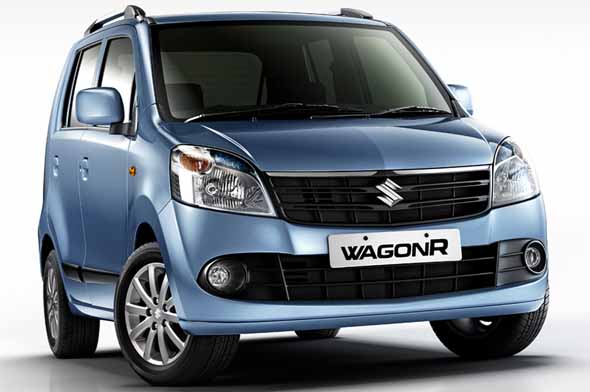 Price: Rs. 3.77 lakh
The Wagon R is a practical city car and offers decent space for four passengers. The tall boy design means that the Wagon R offers plenty of headroom, hence tall passengers will feel comfortable in the car. The rear seat is best for two passengers as there isn't enough shoulder room for three passengers. The 180 litre boot isn't great but since the Wagon R is tall, you can pile up more bags vertically allowing you to carry more luggage than the actual boot can accommodate. Also read: Best first cars under Rs 6 lakh: Petrol Hatchbacks
The Wagon R is powered by a 1-litre, 3-cylinder petrol engine that puts out 67 bhp of maximum power and 90 Nm of torque and has an ARAI-certified mileage of 18.9 kmpl. The Wagon R LXi gets features like an electronic power steering, front power windows and central locking.
Maruti Suzuki Estilo VXI
Price: Rs. 3.97 lakh
The Estilo is a bit smaller than the Wagon R in terms of actual size but manages to offer almost the same amount of space inside. However, headroom is not as good as in the Wagon R. The front seats offer good overall support and placement of all controls is great. The rear seat is not as wide as that of the Wagon R and is best suited for two. The Estilo has a 212 litre boot which is better than the Wagon R's 180 litre boot.
It is powered by the same 1-litre, 3-cylinder petrol motor as in the Wagon R and has an ARAI-certified mileage of 19 kmpl. The refined engine's performance is good but it easily runs out of breath on the highway. As far as daily city driving is concerned the Estilo feels at home for the most part.  The VXI variant gets power steering, AC, all four power windows, remote keyless entry and a rear parcel tray.
Summary
If you are looking for a spacious hatchback below Rs. 4 lakh, the Indica, the i10, the Wagon R and the Estilo are good options. There are other small cars that are below Rs. 4 lakh as well but cars like the Santro (which is nearly as spacious as the Estilo) are also decent buys.
The Eon for one, has good headroom and boot space, but has limited legroom for rear seat occupants. The Nano offers plenty of space on the inside, but the seats lack under thigh support. However, cars such as the Alto, Alto K10, A-Star and Spark have very limited rear leg and head room and are hence not a part of our compilation.
*Prices mentioned are ex-showroom Delhi and may vary