The former captain of the Indian cricket team, MS Dhoni, is renowned for his passion for both the sport and vehicles. After retiring from cricket, Dhoni has been spending his time indulging in his love for retro and classic cars and bikes. If you've been following our page for some time, you would be aware that MS Dhoni is a significant car and bike enthusiast, possessing an entire garage dedicated specifically to showcasing his prized possessions. Recently, Dhoni visited the JSCA stadium, and upon leaving, he was approached by a police officer who wanted to take a photo with him. "Captain cool" graciously stopped and posed for the picture.
View this post on Instagram
The images of MS Dhoni posing with the cop have already gone viral on the internet, amassing over 33,000 likes. A video is also circulating online, depicting Dhoni driving his Mercedes-Benz GLC luxury SUV. As the cop approaches the car, he asks Dhoni for a selfie. Dhoni can be heard calling someone else to come and take a picture. The officer took a photo, and Dhoni departed the scene.
Usually, MS Dhoni is spotted in various classic cars and SUVs. He has been seen driving his green-colored Nissan 1-ton SUV on multiple occasions. He also owns a first-generation Mahindra Scorpio, along with several other SUVs, including a Hummer. The GLC seen in the video is typically used by his wife Sakshi. Lately, MS Dhoni has been dedicating considerable time to his classic cars. He is one of those individuals who not only enjoys collecting classic cars but also utilizes them frequently.
Also read: 10 DC Design cars & how they look in the REAL world: Maruti Swift to Mahindra XUV500
Dhoni was recently observed driving his Pontiac Firebird Trans Am muscle car on the road. Reportedly, it is a 1973 model car that Dhoni had restored. A few days prior to this, he was seen driving his Rolls Royce Silver Shadow Long Wheelbase luxury sedan on the streets of Ranchi. He also frequently rides his bikes, such as the Yamaha RD350 and RX100, for short trips. He has been seen cleaning his bikes on numerous occasions.
View this post on Instagram
Turning to the Mercedes-Benz GLC SUV, the deep blue GLC appears as appealing as the other vehicles in Dhoni's garage. The GLC showcased in the video is the 220d diesel variant. While this car has been part of Dhoni's garage for quite some time, this is arguably the first instance where Dhoni has been captured with it. The GLC 220d is powered by a 2,143 cc, 4-cylinder, turbocharged diesel engine that produces 168 Ps and 400 Nm of peak torque. It comes equipped with the 4Matic system, which is the all-wheel-drive system offered with numerous Mercedes-Benz cars.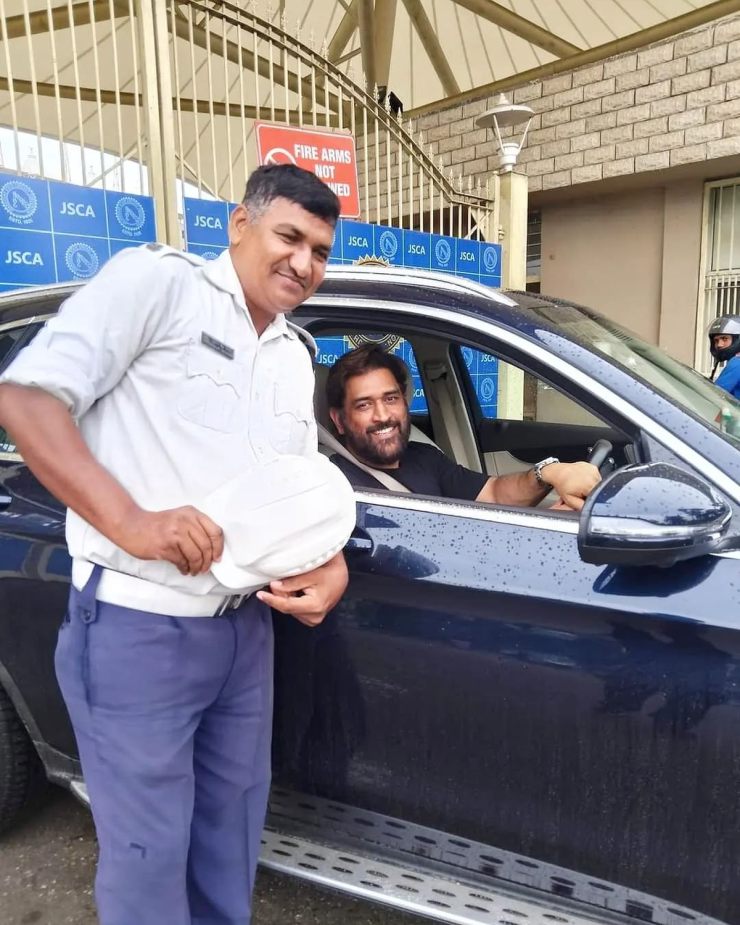 Beyond his vast collection of classic bikes and cars, Dhoni also possesses contemporary vehicles like the GLC. He has also acquired a Kia EV6 electric crossover, being among the first Indian celebrities to do so. In addition, he owns a Jeep Grand Cherokee TrackHawk. Some of the bikes in his garage comprise Yamaha RD 350s, RX 100s, Harley Davidson Fat Boy, Kawasaki Ninja H2, Confederate X132 Hellcat, and many more, all housed within his garage. He has even constructed a garage to proudly exhibit all of his vehicles.
Also read: Upcoming 2022 Maruti Suzuki Vitara Brezza rendered