Former captain of Indian national Cricket Team MS Dhoni is a person who is known for his performance on the ground and also for his love for cars and bikes. He even has a two-storey glass building which he uses to park all his motorcycles and some of his vintage cars. Like many celebs, MS Dhoni also has an electric car in his garage. He last year bought a Kia EV6 which is flagships electric crossover from the manufacturer. While electric vehicles are gaining popularity in India, MS Dhoni in one of his recent interview said that electric vehicles are not the solution. What did he actually mean by this statement? we explain.
View this post on Instagram
The video has been shared by lighthorium on their Instagram page. In this short clip that is circulating on the internet, MS Dhoni can be heard saying that he feels electric vehicles are not solution. The comment section of this video is filled with statements that are mostly against the cricketer. Listening to the video carefully lets you understand that the cricketer is not against electric vehicles. This is just a part of his statement. He continues to say in the video that he feels, the way electricity is produced in the country should also be changed.
Also read: Modified Royal Enfield Thunderbird 500 motorcycle from Eimor Customs look beautiful
He feels, there is no point in using an electric car or a bike if the electricity needed to recharge those vehicles come from a thermal power plant. We should look for greener and more sustainable sources to generate electricity. In Thermal power plants, Coal is used as a major source to generate electricity. We all know that coal is a non-renewable source of energy and it leaves an impact on the environment too. The whole process of generating electricity by burning coal also pollutes the environment which means, the electricity used to charge the electric cars cannot be called green or eco-friendly.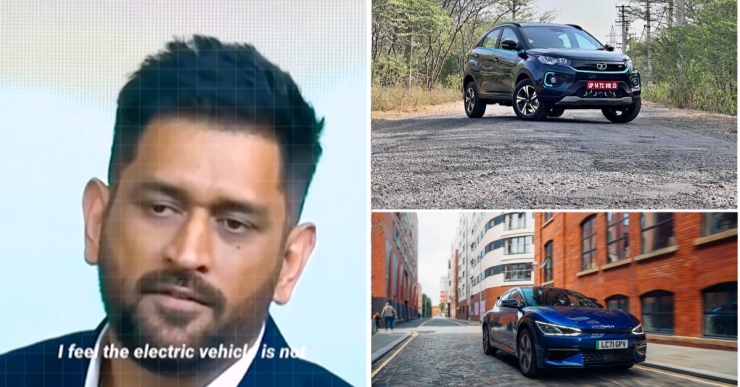 They are harming or damaging the environment in one way or the other. One of the way we can resolve this issue is by switching towards renewable sources of energy like wind and solar energy. There are proven techniques to generate electricity from these sources. Many people have already shifted to solar energy and are using it for both their house and their vehicles. This is one way, people can ensure that they are actually driving a green vehicle. Most people are currently buying electric cars in the country because they are cheaper to own in the longer run and the car does not pollute. However, the zero tailpipe emissions is just one of the aspect of the electric vehicle.
MS Dhoni is avid car and bike collector. He has a soft corner for two-stroke motorcycles from brands like Yamaha, Yezdi, Jawa, BSA, BMW and Norton. He has motorcycles like Yamaha RX100s, RD350s and so on. He owns bikes like Suzuki Intruder M1800R, Kawasaki Ninja ZX-14R, Kawasaki Ninja H2, Harley Davidson Fat Boy, Ducati 1098 and the ultra-exclusive Confederate X132 Hellcat, TVS Apache RR310 and Ronin in his garage. He also has cars like Mini 3-door, Rolls-Royce Silver Shadow, customized Nissan Jonga, Hummer H2, Pontiac Firebird Trans Am, Land Rover Freelander, Audi Q7, Mitsubishi Pajero SFX, Mercedes-Benz GLE. Kia EV6, and many more.