The former captain of the Indian Cricket team, MS Dhoni, is known for his performance on the ground and his love for classic cars and bikes. He is so fond of these machines that he actually built a building to display all his vehicles. Lately, several videos have surfaced where people are actually spotting MS Dhoni on the road with his vehicles. A few weeks ago, he was seen driving a Pontiac Trans Am in Ranchi. Now, there's another video where Dhoni is seen arriving at his house in Ranchi on a very rare motorcycle – a Honda NSR 150 SP.
The video has been uploaded by CricSpot on their YouTube channel. It's a very short video where the former skipper is seen riding a bike and entering his residence. You might remember the gate from the video where MS Dhoni was trying to start his Yamaha RD350 motorcycle. In this video, nothing like that happens; MS Dhoni rides the motorcycle into the premises through the open gate, and the gate closes within seconds.
Also read: Modified Royal Enfield Thunderbird 500 motorcycle from Eimor Customs look beautiful
The bike seen in the video is a Honda NSR 150 SP sports bike. It's not a new model. As we already know, Dhoni has a soft spot for classic bikes, and this video proves the same. We get a glimpse of the bike's registration number in the video. We checked the numbers online and found that the bike isn't registered under Dhoni's name yet; however, an NOC was issued a few months ago to the Jharkhand RTO. This is a 1998 model motorcycle, but it looks quite impressive for a bike that is 25 years old. It seems like Dhoni only recently acquired this motorcycle.
Speaking of the bike itself, Honda introduced the NSR 150 SP as a model specifically for the Asian market. It was launched in 1997 and was never officially available in India. The motorcycle was styled in Italy, and the engine was built in Japan. Honda produced this motorcycle in Thailand and Malaysia. A variant of the NSR 150 was also manufactured in Taiwan. The Taiwanese version of the NSR 150 was less powerful compared to the ones manufactured in Malaysia and Thailand.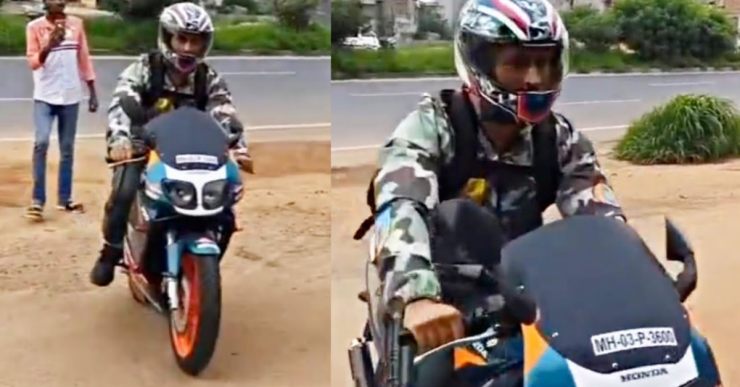 The motorcycle seen in the video features Honda's Repsol livery and is finished in a shade of blue. What sets this motorcycle apart is its engine. It uses a 2-stroke, single-cylinder engine that generates around 30-40 Hp. The engine is mated to a 6-speed gearbox. Both the front and rear have disc brakes for a better braking experience.
MS Dhoni has a variety of motorcycles in his garage, and some of them are vintage models. Other motorcycles in his garage include several Yamaha RD 350s, RX 100s, a Harley Davidson Fat Boy, Kawasaki Ninja H2, Confederate X132 Hellcat, and many more. He also owns cars like a Nissan 1 ton, Hummer H2 truck, Jeep Grand Cherokee TrackHawk, Vintage Volkswagen Beetle, Pontiac Firebird Trans Am, Rolls Royce Silver Shadow LWB, Kia EV6, and many more.
Also read: BSA Motorcycles unveil Gold Star 650: Will Rival Royal Enfield 650 Twins