Former Indian cricketer MS Dhoni is known for his love for bikes. He owns several expensive and rare motorcycles in his garage. Along with modern motorcycles, MS Dhoni likes vintage and classic motorcycles and has a good collection of them as well. One of the motorcycle that he is often spotted riding is a Yamaha RD350. He has couple of them in his garage and recently a video of him wiping the an of an RD350 with bare hands before autographing has gone viral on the internet.
View this post on Instagram
In this video, Dhoni is seen wiping the fuel tank of the Yamaha RD350 motorcycle with his hands. He is holding a marker in his hand and once he is done wiping the tank, he signs the tank. It looks like the motorcycle belonged one of his fans and he wanted to make the bike look special and different from others. MS Dhoni or Mahi as many like to call him even takes the motorcycle for a quick spin. The motorcycle seen here in the video looks completely restored. MS Dhoni is known to take car of his motorcycles and there are even images of him cleaning these bikes on the internet.
People who have come across this video have filled the comment section with their love for Dhoni. Some of them can be seen saying that with the autograph of MS Dhoni, the value of the motorcycle has gone up. There are others who point out how he wiped the tank with his bare hand without any hesitation. Overall, the comment section of this video is filled with positive comments.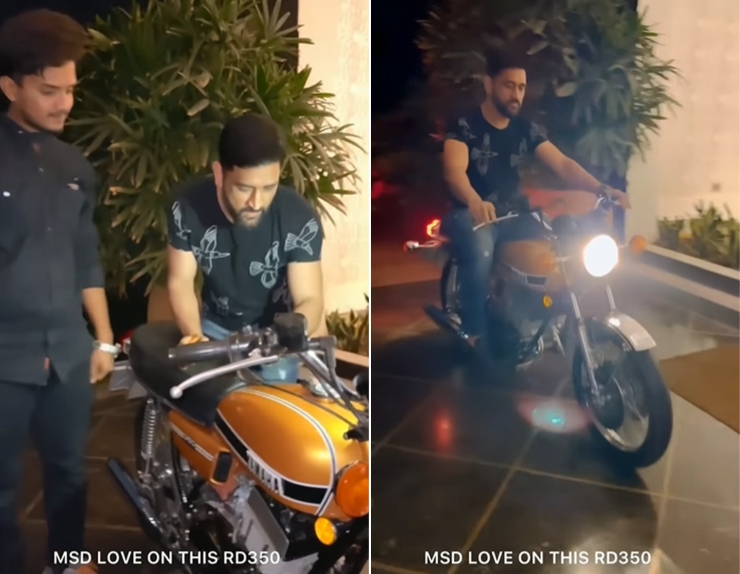 The Yamaha RD350 motorcycle is one of those motorcycles which can still fetch you a good amount of money if it is well-maintained. The motorcycle seen here in the video is finished in a Golden shade with white and black strips on the fuel tank. The original chrom elements have still been maintained. It is a legendary motorcycle and it still has a large fanbase in India. The Yamaha RD350 uses a 348-cc, twin-cylinder engine that generates 30 Ps and 32 Nm of peak torque. MS Dhoni has a desireable collection of Yamaha RD 350s and RX100s in his garage. He even has a Yamaha RD 350 LC in his garage. The motorcycle was recently added to his collection. The RD 350 LC was never officially launched in the Indian market. It was privately imported by some of the enthusiasts. Dhoni completely got the motorcycle restored and is finished in Yellow-Black dual-tone shade.
Other than these retro classic motorcycles, MS Dhoni also owns a range of modern-day motorcycles, including Harley Davidson Fat Boy, Kawasaki Ninja H2 and the ultra-exclusive Confederate X132 Hellcat. He recently bought a brand new TVS Ronin motorcycle. He also owns a good number of cars like 1969 Ford Mustang, Rolls Royce Silver Shadow, Pontiac Trans-Am, Hummer H2, Nissan 1 ton. Dhoni also bought a new Kia EV6 electric car. It is probably the only electric car in MS Dhoni's garage.