MS Dhoni is one of the most popular names among cricket fans in India. The former skipper of the Indian cricket team is known for his outstanding performance on the ground. He was often called "Captain Cool" for the way he handled stressful situations. Apart from his love for the sport, he is also known as an auto enthusiast, boasting a huge collection of cars and motorcycles in his garage. He particularly has a taste for vintage and classic cars and motorcycles. Some of these classic cars have recently been spotted on the road.
Latest Video Of MS Dhoni Driving His Vintage Pontiac Trans-Am 1973.

His New Looks 🥶
|#MSDhoni| pic.twitter.com/Nax3smaTJx

— ♔ (@balltamperrerr) July 31, 2023
In a new video shared on Twitter, we can see MS Dhoni's 1973 model Pontiac Trans Am muscle car cruising on the road. This American muscle car has been in Dhoni's possession for quite some time and has been featured in some of his social media videos. The car has been meticulously restored to its original condition and is a left-hand drive model, with MS Dhoni himself behind the wheel.
Also read: 10 DC Design cars & how they look in the REAL world: Maruti Swift to Mahindra XUV500
Though the exact location where the car was spotted is not mentioned, it is speculated to be somewhere near his house in Ranchi. This is not the first time Dhoni has been seen driving a classic or vintage car on the road. Just last week, he was spotted with his Rolls Royce Silver Shadow Long Wheelbase luxury sedan on the streets of Ranchi.
It is commendable to see that MS Dhoni is not merely a collector who keeps his classic cars in pristine condition without using them. While we respect those collectors too, maintaining and sourcing parts for these cars can be an extremely challenging task. Hence, many collectors prefer not to drive them. In Dhoni's case, it appears that he took the Pontiac Trans-Am out for a test run to ensure everything was functioning correctly.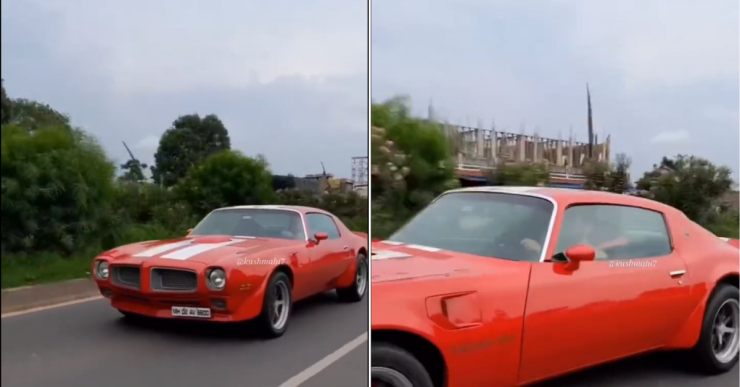 The Pontiac Trans Am is an international model that was never officially available in India. It was imported, and the one Dhoni owns seems to be one of those models. This particular Trans Am is from the second generation and is approximately 50 years old (if it is a 1973 model). Like other American muscle cars of its time, it is powered by a massive 455 big-block V8 engine that drives the rear wheels. This engine generates around 325 Bhp and is paired with a 4-speed automatic transmission.
The car appears to be well-maintained, and it is quite likely that Dhoni imported most of the parts for this project from America. Besides the Pontiac Firebird Trans Am, Dhoni's car collection includes a 1970 model Ford Mustang that has been modified to resemble a 1969 model. Additionally, he owns SUVs like the Nissan 1 ton, Hummer H2 truck, Jeep Grand Cherokee TrackHawk, and a variety of motorcycles, including Yamaha RD 350s, RX 100s, Harley Davidson Fat Boy, Kawasaki Ninja H2, Confederate X132 Hellcat, and many more, all housed in his garage. He has even built a garage to proudly display all his vehicles.
Also read: Upcoming 2022 Maruti Suzuki Vitara Brezza rendered