Former Indian cricket team captain MS Dhoni needs no introduction. Everyone knows that Dhoni loves bikes and cars and we have featured many of his vehicles on our website in the past. He has a soft corner for vintage and classic cars and bikes and that clearly reflects in his collection too. One of the motorcycle that MS Dhoni has in his garage is a Yamaha RD350. It is an iconic motorcycle and is an extremely popular motorcycle among collectors. MS Dhoni owns couple of these motorcycles and here we have a video where the former cricketer is seen struggling to start his Yamaha RD350 motorcycle.
The video has been shared by IAMHVR on their YouTube channel. The video mentioned that vlogger was trying to get a glimpse of MS Dhoni while waiting outside his residence in Ranchi, Jharkhand. The vlogger and his friends were all waiting for Dhoni and even after waiting for hours, they couldn't see him. They however did see his wife Sakshi driving out in her Mercedes-Benz SUV. While waiting, they saw the gates of Dhoni's residence opening and the cricketer rode into the house in his Yamaha RD350 motorcycle.
Also read: Modified Royal Enfield Thunderbird 500 motorcycle from Eimor Customs look beautiful
As soon as Dhoni entered, the gates closed but, the vlogger managed to record a video where the cricketer was seen struggling to start his Yamaha RD350. It looks like the motorcycle had stalled after entering the complex. The security at Dhoni's residence tried to stop the vlogger from taking the video however, he did it anyways. MS Dhoni is seen pushing the bike while sitting on it. After pushing the bike away from the gate, Dhoni attempts to start the motorcycle. After several attempts, Dhoni manages to start the bike and he rides it in. We have seen several videos of MS Dhoni driving expensive cars and SUVs. He has also been spotted riding bikes several times. This is probably the first time, we have seen him trying to start one of the motorcycles from his collection.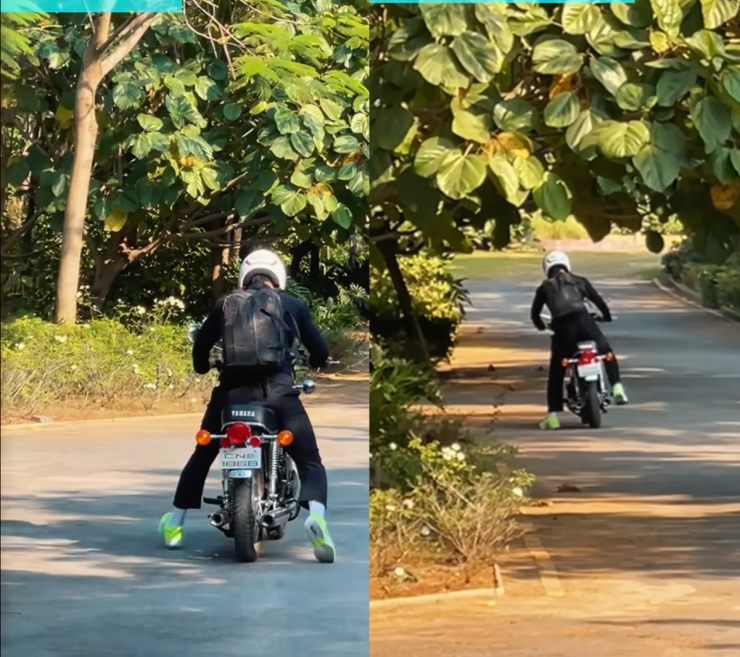 The Yamaha RD350 uses a 348-cc, twin-cylinder engine that generates 30 Ps and 32 Nm of peak torque. MS Dhoni is known to take care of his motorcycles and there are even images of him cleaning these bikes on the internet. Apart from a desirable collection of Yamaha RD 350s and RX 100s, MS Dhoni also owns a range of modern-day motorcycles, including Harley Davidson Fat Boy, Kawasaki Ninja H2 and the ultra-exclusive Confederate X132 Hellcat.
Along with bikes, Dhoni also likes SUVs and classic cars. He has cars like 1969 Ford Mustang, Rolls Royce Silver Shadow, Pontiac Trans-Am, Hummer H2, Nissan 1 ton and so on. One of the recently added car to his garage is a Kia EV6 electric car. The former Indian cricket team captain was seen sitting in his new Kia EV6 along with his companions, fellow cricketers Ruturaj Gaekwad and Kedar Jadhav. EV6 is Kia's flagship electric car in India and it is sold as a CBU. It was launched in limited numbers and Kia has already announced that it has sold over 200 units of EV6.
Also read: BSA Motorcycles unveil Gold Star 650: Will Rival Royal Enfield 650 Twins