The Ambani family is the richest in India, and they have a large collection of expensive and exotic cars in their garage. The family keeps updating their garage from time to time, and we have seen some of their cars in videos circulating online. While most of the family members travel with security officers, Mukesh Ambani gets special treatment. The billionaire businessman often uses bulletproof vehicles due to security reasons and is accompanied by several security vehicles in a convoy. He has been using bulletproof vehicles for a very long time and recently updated his car. He was spotted in Mumbai driving a bulletproof Mercedes-Benz S680 Guard sedan.
The video showing Mukesh Ambani's convoy moving towards a cut on the road has been shared by CS12 Vlogs on his YouTube channel. The security vehicles and his brand new S680 Guard luxury sedan take a U-turn and continue without stopping. The car is not clearly visible in the video as it does not slow down for pictures or videos. The convoy consists of a Range Rover, MG Gloster, Mercedes-Benz V-Class MPV, and Ford Endeavour. It appears that Ambani has opted for a shade of Maroon or Deep Red for this new sedan.
Also read: 10 DC Design cars & how they look in the REAL world: Maruti Swift to Mahindra XUV500
This is not the first time Ambani has bought a bulletproof Mercedes sedan. Before the S680, he had bought the S600 Guard for around Rs 10 crore. As for the S680 Guard, we do not know the exact cost of this sedan as it depends on the customization and level of protection it offers. This car holds the VPAM VR 10 specification, which is the highest ballistic certification for civilian vehicles. Not only is it bulletproof, but it also offers resistance to explosive charges. Just like any other bulletproof vehicle, the Mercedes S 680 sedan looks like a regular sedan from the outside, intentionally designed to avoid unnecessary attention.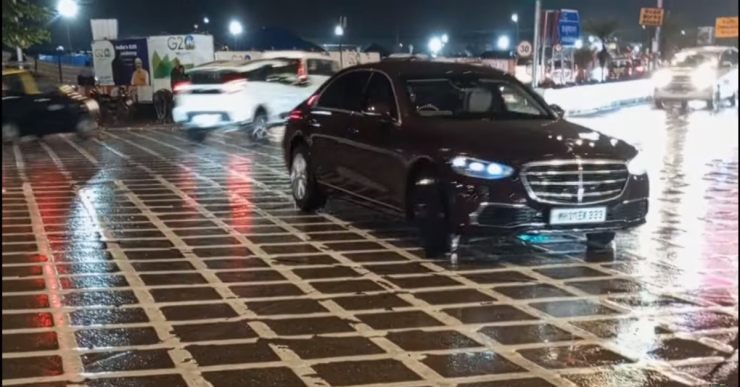 Compared to a regular sedan, the S680 Guard is extremely heavy due to the armor protection and other safety features it receives. It is almost 2 tonnes heavier than a regular sedan. The car comes with protective material integrated into the standard body shell and features a bullet- and blast-proof, multi-layer glass, which is around 3.5-4 inches thick. It also has a polycarbonate layer on the inside for splinter protection. Each door on this luxury sedan now weighs around 250 kgs.
The Mercedes-Benz S680 Guard also comes with reinforced tires that can run flat at speeds of up to 80 kmph. There is an onboard intercom to communicate with the driver, and behind the rear seat, there is a fire extinguisher and a compressed fresh air tank, which would come in handy in case of a gas attack. The car continues to offer all the premium or luxury features that the regular S Class offers. The S680 Guard weighs around 4.2 tonnes, and to make this heavy car move, Mercedes has equipped it with a 6.0-liter V12 engine that generates 612 Ps and 830 Nm of peak torque. For the first time, Mercedes is offering an AWD feature with the Guard variant.
Also read: Upcoming 2022 Maruti Suzuki Vitara Brezza rendered