Racing and doing stunts on public roads is completely illegal, and engaging in such activities could get you into trouble, as a group of 82 bikers recently discovered. The group, who were allegedly racing on public roads, were rounded up by police in Mumbai. As part of a special drive, the Mumbai police sealed the Western Express Highway (WEH) from Kherwadi to Milan subway. This operation was based on information received by the police that illegal races were taking place on certain nights, with bets being placed on the outcomes.
82 stunt bikers, who allegedly indulged in racing & illegal betting late in the nights, were rounded up and 48 bikes seized during a special drive in which @MumbaiPolice sealed the Western Express Highway, from Kherwadi junction to Milan Subway, at around 2 am on April 4. pic.twitter.com/ypzaeDw9QP

— Bandra Buzz (@bandrabuzz) April 9, 2023
The DCP of Zone 8, Dikshitkumar Gedam, asked all police stations under his jurisdiction to conduct a special drive in the area to apprehend riders who were illegally racing on the highway. Acting on the tip-off, the officers sealed the highway and conducted the special drive after midnight, which continued until 4 am last week. According to DCP Gedam, "We had received information from our sources that these races usually take place on Monday nights and go on till the wee hours of Tuesday. They have all been booked for endangering their own lives as well as those of others, and for illegal betting."
Also read: Modified Royal Enfield Thunderbird 500 motorcycle from Eimor Customs look beautiful
All 82 bikers were booked by Kherwadi police for illegal racing and betting. They were charged under various sections of the IPC and the Motor Vehicle Act, as well as the Gambling Prevention Act for placing bets on the races. All of the bikers who had participated in the race were produced in court and granted bail on surety of Rs 10,000 each.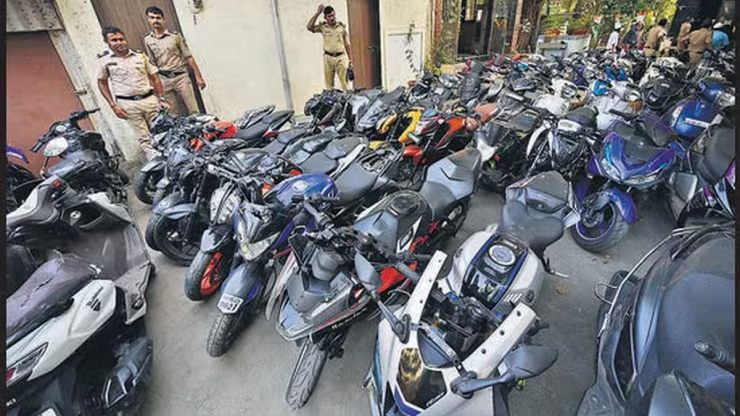 The police seized 48 bikes and scooters that were participating in the races. The premises of Kherwadi police station is now congested with bikes, and there is hardly any space to walk. The participants in the race were using a variety of motorcycles, including scooters like the Honda Activa, Yamaha Aerox, and Suzuki Burgman, as well as motorcycles such as the Honda Hornet, Yamaha R15, KTM Duke, KTM RC bikes, and Bajaj Pulsar series motorcycles. All of the riders who participated in the race were between 18 and 23 years old. Parents of these young men visited the police station to bail out their children.
Similar incidents have been reported in India in the past. In Mumbai in 2017, and last year in Chennai, groups of bikers were arrested for gathering on public roads and highways at night to perform stunts and engage in illegal races. By racing and performing stunts on public roads, the riders were not only putting their own lives at risk, but also those of other road users. If you want to participate in races and stunts, it's always a good idea to look for private properties and tracks where you can control the amount of damage and be supervised by experienced people. There are many incidents where such races have ended up in accidents and many people have lost lives too. Often other road users get afraid or distracted by such fast moving bikes and cars and it might ead to an accident. It is because of these reasons why, racing on public roads are said to be illegal.
Also read: BSA Motorcycles unveil Gold Star 650: Will Rival Royal Enfield 650 Twins