Its only mid-February, but going by the number of cars that have already launched this year (13 so far), 2011 seems to hold a lot of promise.
Agreed, most of the "new" car launches are just refreshed versions of existing models, but there are plenty of fresh models in the mix as well. And interestingly enough, it's the luxury models that are leading the charge.
Here's a quick look at the cars launched so far in 2011:
New Tata Manza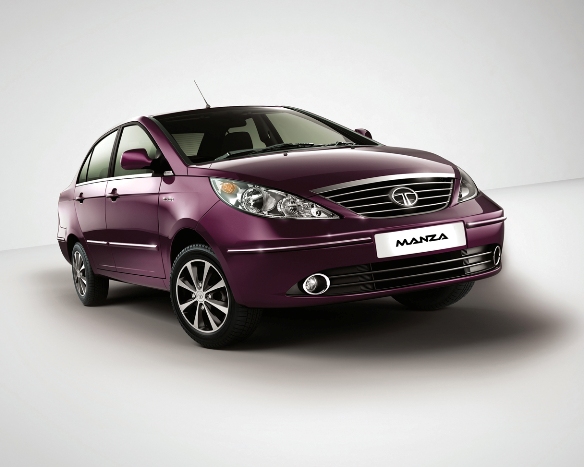 Let's face it. The "new" Manza is not exactly a new car and is more of a cosmetic upgrade. But with the Toyota Etios threat looming large coupled with the Manza's weak sales Tata Motors has done just the right thing to take its sedan to the green room. The company has also brought down the price, with the Manza now costing Rs. 5.14 lakh for the petrol version and Rs. 5.91 lakh for the diesel spec.
The top-end Tata Manza is packed to the hilt with creature comforts such as lumbar support, height adjustable driver's seat, integrated stereo with Bluetooth system for making/receiving calls, steering-mounted audio controls, Aux-in and USB support.
However, Tata has made no changes to the engines: a 90PS, 1.4-litre Safire petrol unit and an identically powered 1.3-litre Quadrajet diesel mill. Read more: Tata Motors launches new Manza with cosmetic changes
Maruti Suzuki Kizashi
Early this month, Maruti launched the much-anticipated Kizashi sports sedan in two variants: an automatic CVT and a six-speed manual priced at an introductory Rs. 17.5 lakh and Rs. 16.5 lakh (ex-showroom, Delhi) respectively.
The Kizashi is only available with a petrol engine – a DOHC, 16-valve, 2,393 cc unit that produces 176 bhp of power at 6,000 rpm and 23 Kgm of torque at 4,000 rpm. Maruti claims an overall mileage of 12.53 kmpl for the CVT and 12.45 kmpl for the six-speed manual version.
The Kizashi is being brought in as a CBU, which explains its high pricing, but Maruti may consider building it in India in case there is enough demand. Also read: Maruti Suzuki Kizashi 2.4 Automatic road test
Audi R8 4.2 FSI
Leading the luxury car charge this year is Audi with the new R8 5.2 FSI sports car priced at a jaw-dropping Rs 1.32 crore. The R8 is available in two transmission options: a 6-speed manual and Audi's R-tronic gearbox, which allows for precise and quick gear changes. Also read: Audi R8 4.2 FSI launched in India
Under the hood of the Audi R8 lies a powerful 4.2L FSI petrol engine, which pumps out a maximum power of 420 bhp @ 7800 rpm and maximum torque of 317 Nm @ 4500-6000 rpm. The car accelerates from rest to 100 km/h in just 4.4 seconds and is claimed to deliver a top speed of 301 km/h.
Audi A8L
Audi also launched the A8L at its Delhi outlet, the largest luxury car showroom in India. While the Audi A8 L 4.2 FSI is priced upward of Rs 89 lakh (ex-showroom, Delhi), the company is also planning to offer a 3.0 TDI variant sometime in March 2011.
The A8 L is only available with a petrol engine – a 4.2-litre V8 FSI unit that puts out 378PS of maximum power at 6,800rpm and 445Nm of torque at 3,500rpm. Audi claims the A8L can achieve a top speed of 250 kmph, which we agree is quite possible!
The interiors of the Audi A8 L use premium materials such as seats with Valcona leather and brushed aluminum or fine woods in the optional inlays. The seats also feature a pneumatic massage function to soothe and pamper its occupants. Among the plethora of features include LED headlights and taillights, 10-inch LCD touch screen and a 19-speaker Bang & Olufsen audio system.
Mercedes G-Wagen
The Mercedes-Benz G55 AMG G-Wagen was launched in India on February 14. At Rs 1.10 crore, this is one helluva expensive off-roader but that doesn't seem to be a deterrent for the super-rich. Apparently, 12 of these have already been lapped up. But what's so special about the G55 AMG? After all, isn't it just a glorified big box on wheels? Yes and no.
The G55 AMG is one of the most powerful 4x4s, with a supercharged 5.5-litre, V8 engine that produces 507 hp and 700 Nm of torque! So even though it has very little to boast of in terms of aerodynamics, the G-55 manages a 0-100 km/hr in just 5.5 seconds, and a top speed of 210 km/hr.
Other noteworthy features in the G-55 AMG include huge 19-inch light alloy wheels, electronic stability program (ESP), hill start assist, 'low-range' gearbox and three selectable differential locks.
Chevrolet Beat LPG
The newly launched Chevrolet Beat LPG has several pluses. First, the Beat's LPG kit is claimed to overcome the performance and mileage limitations of the regular Venturi kit used widely today. Besides, the kit's placement in the engine compartment instead of the boot helps save space. It is also the first vehicle to use high-pressure LPG pipes made of high-strength Nylon. The car comes with a 'push to change fuel mode' button that allows the driver to easily switch from LPG to petrol and vice versa.
ARAI says the Beat LPG delivers a mileage of 13.29 km/litre. Assuming the LPG price to be Rs 19.80/kg, the car's running cost will be around Rs. 1.50/km. GM has not yet announced the price of the Beat LPG, which is being offered with 3 years/45,000 km cashless ownership besides the standard 3 years/1, 00,000 km warranty.
Maybach 57S and 62
Mercedes-Benz also re-launched the Maybach 57S and 62 luxury cars in India at a staggering Rs 4.85 crore and Rs 5.1 crore respectively. Both models are powered by 6-litre, 12-cylinder engines though at 1,000 Nm, the 57 S has more power and torque.
The 550 bhp Maybach 62 claims to do a 0-100 kph in 5.4 seconds while the 630 bhp Maybach 57S can do the same task at a rip-roaring 4.9 seconds! But the Maybachs are not race cars and are meant purely for transporting its well-heeled occupants in comfort and luxury. Read related story: Mercedes-Benz relaunches Maybach in India
Mahindra Genio
Mahindra & Mahindra launched the Genio – a 1.2 ton pickup truck based on the Xylo platform. But it looks nothing like the Xylo. Actually, it looks better…and sober…and is cheaper, too! At Rs 4.99 lakh (ex-showroom, Mumbai), for the BS3 variant and Rs 15,000 extra for the BS4 model, the Genio is quite a steal!
Available in a single-cab design, with a redesigned front end, the Genio borrows several if its parts from other Mahindra cars. The headlamp, for instance, comes from the Logan. The Genio does not offer much by means of creature comforts sans the adjustable power steering, reclining semi-bucket seats and tubeless radials (a first in the segment). But it promises a low cost of ownership (the oil change interval is only once in every 20,000 km) and the 2.5-litre CRDe diesel engine develops an adequate 75 bhp of power and 220 Nm of torque. Read related story: Mahindra launches Xylo-based pickup Genio, priced at Rs. 4.99 lakh
Tata Venture MPV
Tata Motors launched its Venture van priced between Rs.4 lakh-Rs.5 lakh (ex-showroom, Thane). The van come with 5, 7 and 8-seater options in 3 rows facing front configuration in a range of 5 colors and 3 trim levels CX, EX and GX. Tata offers the Venture with two years warranty or 75,000 km and is available across 24 dealerships in the first phase across Maharashtra.
The Tata Venture is powered by a 1.4-litre turbo diesel engine delivering 71 PS of power. The mileage as claimed by ARAI is 15.42 km/l. Venture is less than 4 meter long and attracts only 10% tax (of a small car) unlike other MPVs which are bigger attracting 22% tax.
Jaguar XJ-L
Jaguar India launched the new XJ-L 3.0 diesel variant priced at Rs.77 lakh (ex-showroom, Delhi) and XJ-L 5.0 V8 SuperSport variant at Rs. 1.11 crore (ex-showroom, Delhi). The XJ-L 3.0 diesel variant also comes with an optional rear seat entertainment package for an additional Rs. 8 lakh. Read related story: Jaguar launches XJ diesel and supersports versions in India
The XJ-L 3.0 litre V6 diesel engine churns out 275 PS of maximum power and 600 Nm of maximum torque. That's enough for the sedan to accelerate from 0-100 km/hr in 6.4 seconds and achieve a top speed of 249 km/hr.
The more powerful super-charged 5.0 litre V8 petrol motor, on the other hand, belts out a mind-numbing 510 PS of power and 515 Nm of torque. All this adds up to a spectacular 0-100 km/hr in 4.9 seconds and a top speed of 249 km/hr. Both the engines are mated to 6-speed automatic transmission.
Mahindra Logan (with CNG kit)
To combat the Etios threat, Mahindra & Mahindra launched a Logan with a factory-fitted CNG kit in Mumbai and NCR region. The CNG kit comes at an additional price of Rs. 56,000, which pushes the Logan's overall cost to Rs 5,22,700. Also read: Mahindra Logan now available with CNG kit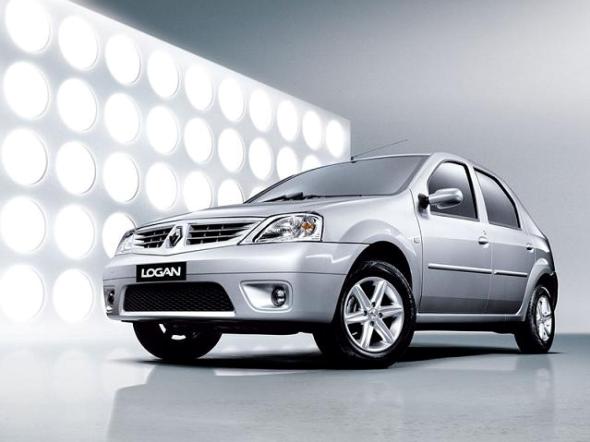 The CNG variant may also be a hit with taxi operators who are looking to drive down the cost per km figures. Mahindra claims the Logan CNG gives a mileage of 16-20 km/kg without compromising on performance. This translates to a running cost of Rs.1.25 per km as against Rs. 3.93-6.11/km for the petrol Logan. The Mahindra Logan comes with a large boot which ensures there is enough space for luggage even after installing the CNG kit.
Honda Civic (with sunroof)
This really cannot be classified as a new car and looks more like a ploy by Honda to keep its Civic sedan in the news by launching one with a sunroof. Apparently, Honda decided to plonk in a sunroof following customer feedback on what would be the most desirable feature in the Civic.
The Honda Civic with sunroof is priced at Rs 13.53 lakh for the 1.8V manual transmission as against Rs 13.08 lakh for the regular version. The sunroof is also available in the 1.8 V automatic Civic for Rs 14.27 lakh (ex-showroom, Delhi), which is Rs 45,000 more than the regular version. Read related story: Honda Civic sunroof variant launched at Rs. 13.53 lakhs
Skoda Laura Classic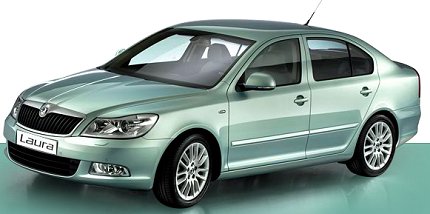 Skoda India launched a cheaper variant of its Laura TSi sedan dubbed the Laura TSi Classic at a price of Rs 11.99 lakh. The Skoda Laura Classic slots in as the base variant of the Laura and, hence, doesn't feature some of the more premium elements such as front fog lamps, rear parking sensors, lumbar support adjustment for driver and front passenger seats, automatic climate control, rear-A/C vents, etc, available in the top-end variants. It also features steel wheels instead of alloys and a single-DIN CD player instead a central infotainment system. Also read: Skoda Laura Classic launched at Rs. 11.99 lakhs