Update: Honda Civic SMT priced Rs 12.2 lakh: 7 June 2010
Honda Siel Cars India (HSCI) Ltd launched a new, restyled version of the Honda Civic, on September 8, 2009.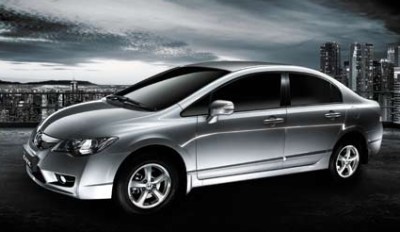 The latest version of the Honda Civic will be available in three variants:
Honda Civic SMT (5-speed manual ): priced at Rs11.80 lakhs
Honda Civic VMT (5-speed manual ): priced at Rs12.70 lakhs
Honda Civic VAT (automatic): priced at Rs13.44 lakhs
Mr. Masahiro Takedagawa, President and CEO, Honda Siel Cars India Ltd. said, at the launch, "The Honda Civic is a segment defining product both in terms of looks and performance. The new Honda Civic carries forward the legacy of the Civic which is already the most refined and advanced car in the segment."
The new version of the Honda civic will be available in a new color, Polished Metal, apart from the existing colors in the range, black pearl, white, red, and silver metallic.
The company will also offer two different trim highlight package for customers of the new Honda Civic, Inspire and Elegance.
With the Inspire package of the new Honda civic come a front underskirt spolier, trunk spoiler, rear spoiler and side spoiler.
Customers who opt for the Elegance package will get a parking sensor, door visor, and illuminated garnish for steps, reports say.
Revisions in the exterior of the new Honda Civic include a curved 5 Point Metallic Front Grille, restyled front bumper, and new stylized "Dark Smokey Headlights & Crystalline Octagonal Tail Lights," and fog lamps in the front.
The interior is furnished with new duo-tone upholstery, with matching fabric on door panels and armrest, and cruise control buttons (only in the Honda Civic CMT and VAT) on the steering wheel that will help drivers cruise at the required speed with one touch.
The new Honda Civic also has alloy wheels, USB connectivity for its audio system, and a fuel efficiency indicator in the instrument console.
Safety features, of the Honda Civic SMT, VMT, VAT, include standard ABS with EBD (Electronic Brake – Force Distribution System) and Brake Assist, Dual SRS airbags and pre-tensioner seat belts.
The company has said that the 1.8 L i-VTEC engine in the new Honda Civic brings together Honda's i-VTEC (Intelligent Variable Valve Timing and Lift Electronic Control) technology with VTC (Variable Time Control) for advance performance and good fuel economy.
Honda Siel has said that the new Honda Civic is E10 compatible and meets Euro IV emission levels.
The new version of the Honda Civic will go on sale immediately at the Honda Siel's 106 dealerships across India and will come with a 2+2 year warranty and 24-hr roadside assistance.