An owner of a Tata Safari, Rajesh Uppal, has shared a video of his SUV on fire. The incident occurred in the basement of his house and allegedly happened spontaneously. The owner claims that Tata Motors Service Centre has not provided any satisfactory answers.
The two videos by the owner on Facebook Group show the Tata Safari parked in a basement parking area, engulfed in flames. The entire car was covered in flames, and other vehicles were parked nearby. Interestingly, we can see someone trying to douse the flames with an extinguisher but it is not helping.
Also read: 10 DC Design cars & how they look in the REAL world: Maruti Swift to Mahindra XUV500
Without disclosing many details, Rajesh Uppal stated that the vehicle caught fire on its own. He did not mention when the vehicle was last driven or whether any aftermarket or third-party accessories were installed in the vehicle. He only noted that it was a top-end variant and advised other owners to be more cautious.
Car fires can occur due to the complex network of wires in modern vehicles, which can spark a fire if there is a short circuit. However, it is essential to understand that aftermarket accessories can increase the risk of such fires, and individuals should avoid using any type of third-party accessories.
First fire incident of Tata Safari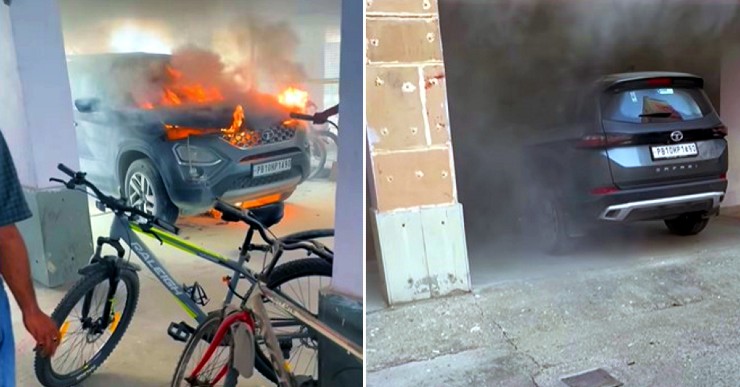 This is the first reported incident of a Tata Safari catching fire. However, in the past, a Tata Harrier caught fire while being driven on the road.
Last year, a similar car fire incident occurred in Lucknow, Uttar Pradesh, involving a Skoda Slavia. According to the owner, the car caught fire spontaneously in the basement parking. The cause of the fire could not be determined, and Skoda later replaced the Slavia with a new one as the vehicle was almost new.
The age of Mr. Uppal's Tata Safari is unknown. However, such fire incidents are typically covered by insurance.
Many individuals choose to modify or upgrade their vehicles with aftermarket accessories, such as additional lamps or infotainment systems. However, if the wiring is not properly installed, it can lead to a short circuit. A short circuit can overheat the entire electrical circuit of the vehicle, potentially causing a fire. Therefore, it is crucial to rely on trusted dealers and mechanics when installing aftermarket parts.
A similar incident happened with the Mahindra XUV700. However, after investigation, the service centre found out that it was caused due to installation of an aftermarket accessory, which caused a spark and started a fire.
Also read: Upcoming 2022 Maruti Suzuki Vitara Brezza rendered