CarToq community member Harleen Singh Rawal asked the community which car he should buy. His choices were the Maruti Suzuki Ertiga ZDI and the Nissan Sunny XLD. Here we find out which of the two cars makes more sense.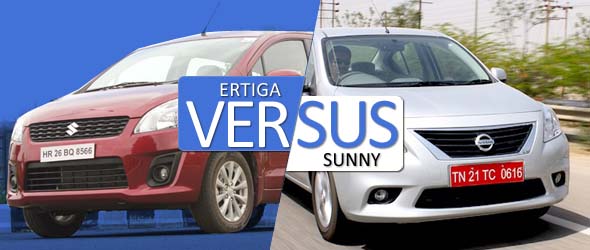 Let's take a look at how the two vehicles stand up against each other.
Price
The Ertiga ZDI is priced at Rs. 8.45 lakh costs more than the Sunny XL that is priced at 8.12 lakh. So for someone on a strict budget the Sunny is more sensible. Even in terms of fuel efficiency the Sunny with a mileage of 21.6 Kmpl is a little more than the Ertiga's 20.77 Kmpl figure.
Performance and handling
The Ertiga makes 89 Bhp of power which is more than the Sunny's 85 Bhp but both the cars have the same torque (200 Nm). Neither the Sunny nor the Ertiga are cars that are big on power and performance, both of them are ideal for sedate driving. However if we had to pick one then the Sunny diesel is better thanks to its lightweight body.
Space and comfort
There is no beating the Sunny when it comes to space but that is if you are comparing it to a five seater. The Sunny is longer than the Ertiga, but the Ertiga is taller while they are both equally wide. So if headroom is more important the Ertiga is better especially since it can also be used as a seven seater, when required.
But if you were to carry only five passengers then the Sunny with its 636 mm of rear seat legroom is much better than Ertiga. Even in terms of luggage space the Sunny has an edge. With only the third row of the Ertiga folded it has 480 litres of boot space. The Sunny which is only a five seater has 490 litres of luggage space. So it's more about your needs and an outright winner cannot be picked here. Also read: Nissan Sunny vs. Maruti Suzuki Ertiga: Comparison
Features
The Sunny XL and the Ertiga ZDI aren't very different in terms of features. The Sunny does have some tricks up its sleeves though; it comes with Automatic climate control, an intelligent key with push button start and electric folding mirrors. These features aren't available on the Ertiga. The only features that the Ertiga ZDi has and the Sunny doesn't is a rear wash and wipe, otherwise the Sunny is clearly a better choice.
Given below are some responses that the community gave to Harleen's question. Take a look:
CarToq Expert Babychen Mathew told Harleen that "If you want a car that can seat five people in ok comfort and two with some compromises by everyone, then the Ertiga is the right car. Also, if you want flexible luggage space in the back (folding rear seat, folding middle row etc) lots of space then. On the other hand, if you want a car to ferry to five people in great comfort, then the Sunny wins easily. It has amazing space for five people. So if usually you travel with family and kids etc and pick up guests and friends, then go for the Ertiga. If you want a car with maximum comfort for five go for the Sunny."
Another CarToq Expert Aravindhan suggested that: "If you are planning to keep the vehicle for 8 – 10 years, then it must be a Maruti because, service and maintenance costs should be given more importance. Hence, you should go for the Ertiga because Maruti is known for low maintenance and service costs."
CarToq Expert Roshun Povaiah seconds Aravindhan's opinion and stated that easy access to service network and availability of spares should be Harleen's priorities. He said that Maruti has a well-established network and Nissan is still in the process of expanding its service network.
In terms of utility the Sunny diesel is good for a family of four and luggage, while the Ertiga offers you more all round flexibility. It can be used to ferry four with luggage or seven people for a short trip in the city if needed. Which car do you think is better and why? Share your views in the comments section below!